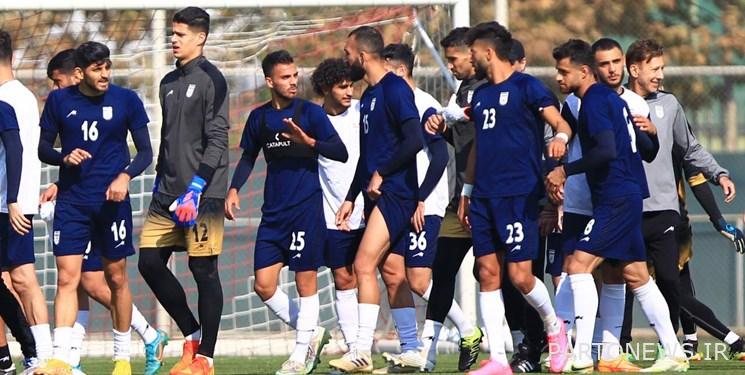 According to the sports reporter of Fars news agency, the national football team of our country is present in Qatar with 25 players to participate in the 2022 World Cup, which, apart from being called the oldest team in the tournament with an average age of 9.28 years, is a negative record in this field. He has also registered another in his own name.
Carlos Queiroz's team is the only team in the tournament that does not have any players aged 23 and under. In fact, all Iranian players are among the players whose age matches the age category of adults. This is due to the fact that in the previous World Cup, Mehdi Torabi, Saeed Ezzatullahi, Majid Hosseini and Sardar Azmoun were four players with this age.
This shows that during the time between Queiroz's return to our country's football, the cycle of using young and talented players in Iran was not carried out correctly, so that the team that was in the seventh place of the youngest team in the 2018 World Cup, is now the oldest team in the cup. Owning even one 23-year-old or under average player.
Of course, considering that Queiroz used 11 youth and Omid players in his team's camps in the national team's training for the last two weeks before sending it to Qatar, it is expected that if he continues to work with the national team after the World Cup, the process of youthization will meet the conditions. Better go.
In the field of using under-23 players, Ghana, which is the youngest team in the World Cup, has a special record with 13 players.
In the following, you can see the young players of the teams present in the World Cup:
Diameter(Homam Ahmed, Jassim Jaber, Mohammad Waad, Tariq Mustafa, Khaled Munir, Naif Al-Hazrami (6 players)
Netherlands: Mathias de Licht, Yurien Timber, Tyrrell Malacia, Jeremy Frimpong, Kenneth Taylor, Xavi Simmons, Cody Gakpo and Nova Long (8 players)
Senegal: Ismail Jacobs, Pape Matar Sar, Pape Guieh, Bamba Dieng (4 players)
Ecuador: Moises Ramirez, Piero Hinsapie, Diego Palacios, William Pacho, Jackson Poroso, Jose Cifuentes, Jeremy Sarmiento, Gonzalo Plata, Moises Caicedo, Yurkaif Risco, Kevin Rodriguez (11 players)
England: Declan Rice, Mason Mount, Jude Billingham, Conor Gallagher, Bokayo Saka and Phil Foden (6 players)
America: Sergiono Dest, Joe Scully, Taylor Adams, Brendan Aaronson, Younes Moses, Timothy Weah, Josh Sargent, Jesus Ferreira, Giovanni Reyna (9 players)
Wales: Esan Ampadu, Neko Williams, Ben Kabango, Matthew Smith, Dylan Levitt, Robin Calville, Serba Thomas, Brennan Johnson and Mark Harris (9 players)
Argentina: Enzo Fernandez, Alexis McAllister, Julian Alvarez (3 players)
Arabia: Nawaf al-Agaidi, Saud Abdul Hamid, Hassan Tembataki, Faras Al-Barikan, Haitham Asiri (5 players)
Poland: Nikola Zalevsky, Jakub Kiiver, Sebastian Zymansky, Jakub Kaminsky, Michal Skorash (5 players)
Mexico: Kevin Alvarez, Diego Lions, Eric Sanchez and Santiago Jimenez (4 players)
France: Jules Konde, William Saliba, Ibrahima Konate, Orlin Xwameni, Matteo Ganduzi, Eduardo Kamavinga, Youssef Fofana, Kylian Mbappe (8 players)
Australia: Nathaniel Atkinson, Joel King, Garang Cole (3 players)
Denmark: Oliver Christensen, Andreas Esco Olsen, Jonas Wind and Jesper Lindström, Mikel Damsgaard (5 players)
Tunisia: Hannibal Majbari, Mohammad Ali bin Ramadan, Anis bin Suleiman (3 players)
Spain: Eric Garcia, Hugo Giamon, Pedri, Gavi, Fran Torres, Yermi Pino, Ansu Fati, Nico Williams (8 players)
Costa Rica: Patrick Sequeira, Carlos Martinez, Daniel Chacon, Joyson Bennett, Brendan Aguilera, Rowan Wilson, Anthony Hernandez, Alvaro Zamora, Anthony Contreras (9 players)
Japan: Hiroki Ito, Takefusa Kobo, Shoto Machino (3 players)
Germany: Niko Schloterback, Armel Blakochop, Kai Havertz, Jamal Musyala, Karim Ademi, Yusufa Mokoko (6 players)
Belgium: Arthur Tiate, Zeno de Bast, Charles de Ketlauer, Amadou Onana, Jeremy Duko, Luis Openda (6 players)
Morocco: Ashraf Dari, Ezzeddin Onahi, Bilal Al-Khanous, Zakaria Abu Khalal, Abdul Samad Azalzouli (5 players)
Croatia: Yusip Stanisic, Yusko Vardiol, Yusip Sotalo, Luka Susic (4 players)
Canada: Ismail Kune, Tayeon Buchanan, Alphonso Davis, Jonathan David and Liam Miller (5 players)
Brazil: Anthony, Vinicius, Rodrigo, Gabriel Martinelli (4 players)
Serbia: Strahinia Pavlovich, Strahinia Erakovic, Ivan Ilic, Dusan Vlahovic (4 players)
Switzerland: Ardon Jashari, Fabian Reeder, Noah Okafor (3 players)
Cameron: Simon Ngapandotenbo, Enzo Abuse, Christopher Woh, Brian Mboemo and Swaibo Maru (5 players)
Portugal: Diego Costa, Nuno Mendes, Diego Dalot, Antonio Silva, Vitinia, Joao Felix, Rafael Liao and Gonzalo Ramos (8 players)
Uruguay: Ronald Araujo, Manuel Ugarte, Darwin Nunes, Facundo Torres, Facundo Plaisteri (5 players)
Ghana: Abdul Manaf Nooruddin, Ibrahim Danlad, Alidou Seido, Mohammad Salisu, Tariq Lampti, Mohammad Kodos, Daniel Afriyeh, Salis Abdul Samad, Kamaluddin Sulmana, Abdul Fatavu Isahako, Osman Bukari, Antoine Semenio, Kamal Sawah (13 players)
South Korea: Jung Woo-yong, Lee Kang-in, Song Min-kyu (3 players)
end of message/