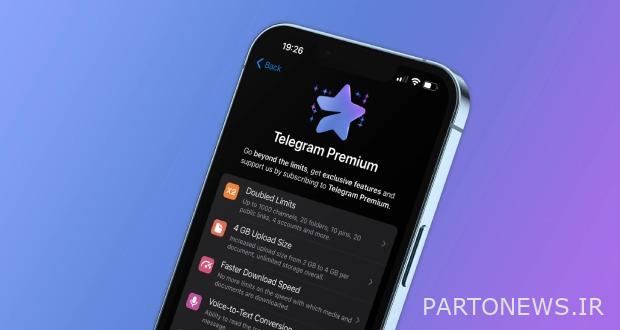 For many, the question has arisen, what is the advantage of the paid version of Telegram over the free version? Here we have mentioned 8 features of Telegram Premium.
Telegram Premium, the paid version of Telegram is now available to users. This version is a way to allow Telegram to develop its own platform. But what is waiting for you in this version? In the following, we will mention 8 new features that you can only have in Telegram Premium.
Special features of the paid version of Telegram
1. Remove ads
This version is free of any ads. This means that sponsor messages will no longer appear as pop-ups and they will not be annoying in channels. Of course, Telegram ads are limited to some countries; So you might not see them even with the free version. But in any case, if you see these ads and they bother you, Telegram Premium is a good way to remove them.
2. Doubling the limits
The main feature of the paid version of Telegram is the doubling of the current limits. The most important of these is the increase in the upload file size limit from 2 GB to 4 GB. With this change, you can now upload larger and longer files, high-quality videos or images with higher resolution to Telegram. This version also increases the number of large channels or groups you can join to 1,000.
Other limits that are duplicated include bio text length, pinned chats, public links, popular stickers, saved GIF files, folders, and chats per folder.
Of course, the number of accounts you can add to your Telegram has also increased, but it has not doubled. While the free version of Telegram allows you to connect 3 accounts to the application, the paid version has increased this limit to 4 accounts.
3. Faster download speed
By preparing the paid version of Telegram, you can experience a faster download speed on your internet. This is a good option for downloading and uploading large 4 GB files. Therefore, both your upload and download files will be uploaded or downloaded much faster.
4. Convert audio to text
Telegram has supported text messages for a long time, and the Premium version has taken these messages to a new level with a default Voice-to-Text feature. This feature actually turns your voice into a text message. The main use of this feature is when you are in a public and crowded environment and don't have headphones on, or when you are watching a movie or listening to your favorite music and you don't want to stop playing them.
5. Unique stickers and reactions
Telegram offers a variety of stickers and reactions in its free version. But you can access more content in the paid version of Telegram.
The premium stickers are much more than what you get on the free version. When Telegram unveiled this version, it also displayed more than 20 custom stickers and reactions and stated that their number will be increased in the future.
6. Premium icons and flags
When a user uses the Telegram Premium account, you will notice this by checking his profile. When your account becomes premium, a flag will be placed next to your name. You can also change the Telegram icon and replace the default program icon with 3 other custom icons to make your phone's home screen even more beautiful.
Of course, this cannot be considered a very special feature. Android users can easily replace the Telegram program icon with another icon. Thanks to the shortcuts, Apple users are now able to change the Telegram icon.
7. Animated profile pictures
Telegram currently allows you to post a video on your account profile. Now the paid version of Telegram ensures that your videos are displayed as animated images both in the chat list and in the chat page itself.
8. Better chat management features
If you follow many channels and are members of many groups, Telegram will seem crowded. The free version allows you to organize groups and member channels by creating folders. However, you are limited in the number of these folders.
But the paid version of Telegram increases the folder limit to 20 and you can choose to display one of these folders automatically when you open the app. Another feature of this version is the automatic archiving of chats of those who are not in your contact list.