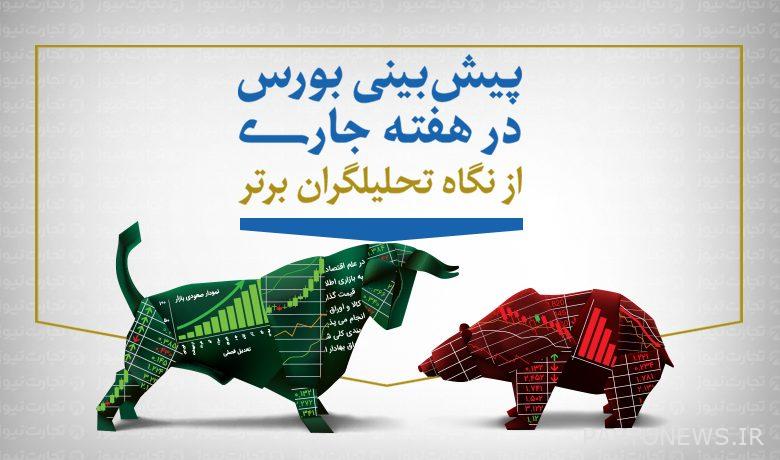 According to Tejarat News, the total index of the Tehran Stock Exchange was at 1,647,000 units last week and reached 1,579,000 units this week with a 4.2 percent decrease.
On the other hand, all the indices had a downward trend this week; The total equal weight index was 473 thousand 199 units with a drop of 1.6 percent. Total over-the-counter index also recorded a decrease of 0.98% in its record by reaching the level of 20,215 units.
Despite the drop in the yield of the index, the total value of retail transactions and premiums increased this week and reached 37,836 billion tomans.
Accordingly, the value of transactions on Saturday was 8962 billion Tomans, Sunday 7406 billion Tomans, Monday 6731 billion Tomans, Tuesday 8644 billion Tomans and finally Wednesday 6093 billion Tomans.
Stock forecast next week
In the past week, the total index of the Tehran Stock Exchange experienced a downward trend; This was despite the fact that last week most experts said that the balanced trend index will be high. But due to the increase in bank interest rates, the stock market was also affected and experienced a downward trend.
Based on the news announced this week, the bank interest rate will be determined and this issue can change the general trend of the stock market. That is, if the interest rate of state banks reaches 25% and private banks reaches 24%, we will witness the outflow of liquidity and a drop in the index; But if the interest rate is determined fairly, we will probably see weak money entering the market.
In general, next week's deals will depend on the news and we will probably see balanced deals.
Read the latest capital market forecast on Tejaratnews stock market forecast page.