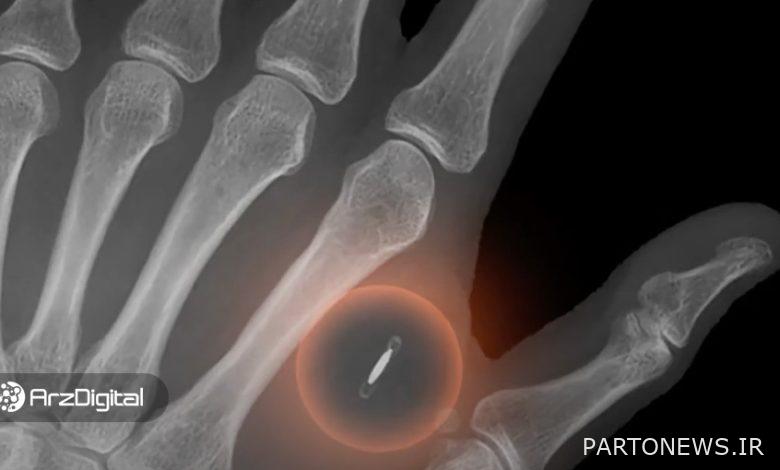 A Swiss IT expert nicknamed F418 has, in a bizarre move, surgically implanted a chip in his right hand to make Bitcoin Lightning-based payments.
This person in interview He told Cointelegraph that he did the surgery and implantation of a special Lightning payment chip for fun. However, he does not advise Bitcoin fans to put the chip of this Bitcoin Layer 2 payment network in their hands like he did.
This IT expert and bitcoiner said:
The goal was to show that this idea is feasible and that you can do such things.
He added that most people use cards; But his hand has a surprising aspect:
If you're giving a presentation, it's funny to show something like this; As I sometimes give presentations about payment methods and talk to people who work in banks and they are surprised when they see my hand; But you don't need to implant this chip.
Kevin Telegraph first met this Bitcoin enthusiast in Switzerland at the LN-friendly Plan B conference in Lugano. His first attempt at a Lightning-based payment failed; Because the chip he used was defective. Undaunted, he then went to a medical specialist to surgically remove the faulty chip before reimplantation.
The second attempt of F418 was successful. The chip was successfully implanted in his right hand and now he can make payments based on the Lightning network without the need for a Bolt Card or his smartphone. Kevin Telegraph asked him if he felt any pain. "I don't feel anything, even when I go to the gym," he replied.
Also read: What is the Bitcoin Lightning Network and how to use it + video
However, F418 points out certain risks that this method entails. While this process is medically safe, the only problem with these chips is that you cannot be sure of their safety.
He says:
It doesn't have the security of using a bullet card, you can only use the LNURL (protocol) for withdrawal. This chip is not secure.
In addition, if something goes wrong during the chip implantation process, it is not a good move to implant and remove the chip again. F418 explained that this could cause injury or infection; So, it's best to get it right the first time.
In short, the NFC chip implanted in the F418's hand allows it to make payments based on the Bitcoin Lightning network without the need for physical devices such as a smartphone or card. He can simply hold his hand close to a compatible NFC reader to make a payment. It can be said that this is the most convenient Bitcoin payment method, which allows for quick and easy transactions without the need for additional equipment.
The use of NFC or near field communication technology has become popular in the Bitcoin world. In fact, NFC-based payments over the Lightning Network have grown in popularity since the introduction of the Bullet Card, which was first tested to pay for lunch in the Isle of Man and is now available in El Salvador, the "land of Bitcoin." .
Setting up an NFC card to make payments is easy. However, F418 is the first human to have an NFC chip implanted in his body. This IT specialist covers the entire process of doing this, including health advice GitHub made available to the public.
The Lightning Network is a second layer payment protocol that runs on the Bitcoin blockchain. The network enables near-instant and near-free transactions, allowing users to make multiple payments without having to wait for transactions to be verified on the blockchain. In fact, the Lightning Protocol creates a network of payment channels between users, allowing them to directly perform any transaction without the need to register on the main Bitcoin network.
F418 is still working on Bitcoin and especially the Lightning Network. An IT professional and sports enthusiast by day, he turns into a Bitcoin enthusiast by night who likes to try crazy things. Despite the current bear market, he continues to work on his ideas alongside thousands of Bitcoin enthusiasts around the world.
F418 told Cointelegraph at the end of the interview:
An open network where everyone can do innovative things is always better than a closed system where only a few people can work on it.
However, he advised against trying these things at home alone.