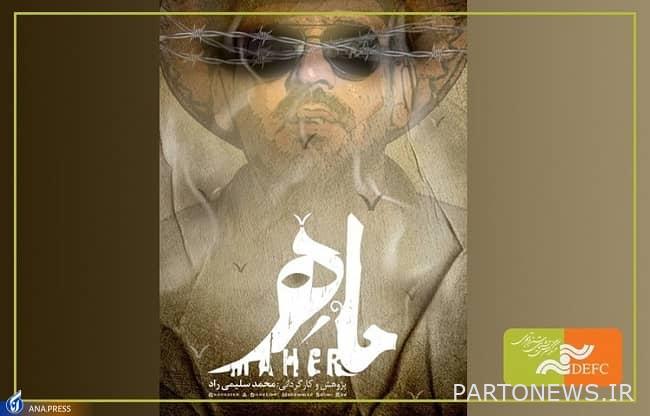 Mohammad Salimi Rad, the workers of the "Maher" documentary, among the works that were admitted to the 16th "Cinema-Ghekrit" festival, gave explanations about the central subject of this documentary.
Charso Press: Mohammad Salimirad, the director of the documentary "Maher" at the same time as this documentary appeared in the 16th "Cinema-Ghekrit" festival, explained about this work: "Maher" Actually It is the story of a retired Iraqi Kurdish journalist. Through an intermediary, he meets a family that understands It can be children This family lost their mother in Iran 32 years ago. He tries to find the mother of this family in Iran and finally succeeds. The interesting point of this narrative is that "Maher" is blind and lost his eyes in a suicide attack in Kirkuk during the war between America and Iraq.
He added: Maher had friends in Iran through his journalist connections and he also speaks Persian very well. Since the province of Kekhiluyeh and Boyar Ahmad is a small province where many people know each other, he manages to find a person who lives in Switzerland but is from Gachsaran, and through the same person, he manages to find the brother's number of the missing mother.
The vague motive of the father who got a fake death certificate for his children!
This documentary maker continued: This family does not accept Maher's claim at the beginning and they feel that he is looking for profit. Later, it became clear that the father of this family returned to Iran after taking the children to Iraq and invalidated the family's birth certificate and issued a fake death certificate for them. All these documents are in the film. Probably, this father did not want his children to grow up in Iran at all, and no matter how much I searched, I did not find out his main motivation for this. Maybe she thought to herself that this mother or her family, years later, could follow the children and take them away from her. For this reason, the woman's family first trusts Maher, and then through virtual communication and video call, this trust is formed and leads to the meeting of this family.
Salimirad said: I came to this story when I read the news about it in one of the local media. At that time, the two families had found each other, but the meeting had not yet taken place. I got Maher's number and told him that when the mother wants to see her daughter, I will come with her. Since this meeting took place, I have been involved with this subject and made the documentary "Maher".
In response to whether this mother and children had not made any effort to find each other in 32 years, he also explained: This family lived in a deprived village in a deprived area which is still deprived. At that time, this family was at the peak of deprivation and had no means of communication with others. The only way they could inquire was to ask the people around them, but they did not reach any conclusion. This mother had no means to find her children. Especially since the father of the family had changed their names so that they would not be related to each other in any way.
This documentary maker continued: The daughter of the family was only 6 years old when she left her mother, and when we asked her if she had searched for her mother during these years, she said that I only had one name from my mother and a few other names like my grandmother's name. I knew and had no other memories of that age and I could not reach my mother with these few signs. He did not even know his mother's family name.
The director of "Maher" said about the time it took for Maher to bring this family together: It took about 6 months from the time the daughter of the family met Maher to reach a conclusion. This is what a journalist like Maher was able to do in this period of time, and if this family had not found such a person, they would never have met. The girl was completely disappointed and the mother of the family believed that her children were lost. Maher had many contacts and despite his blindness, he knew which way to contact these people.
On the first visit after 32 years, the mother fainted
Salimirad also said about the reaction of mother and daughter during the first meeting after 32 years: During the first meeting, which took place in the form of a video call, the mother fainted and was taken to the hospital. I was not present at that moment. The video that they had recorded from that moment was a mobile phone and it did not have the necessary quality, and we could not use it from a technical point of view. But we were also in the face-to-face meeting. That day, the mother did not know him from head to toe. We were on the road for about 6 hours, we wanted to record better pictures, but this mother was so restless that we traveled this route without stopping.
He added: We did not think that this meeting would be so well received. A large crowd of about 200 people had gathered in front of their house for this meeting to take place. This mother and daughter were in each other's arms until the morning and they did not allow us to film anymore. They went to their solitude and cried until morning.
This documentary maker emphasized: In all this, what was interesting to me was Maher's personality. The main subject for everyone would be a mother and daughter who want to see each other after 32 years, but it was very important to me when I saw Maher's life as a blind person who has the ability to do great things. I kept asking Maher, what is the motivation of you who don't see anything yourself, so that two people can see each other? Maher's life and his marriage with his wife, which happened after he became blind, were particularly interesting to me, and that's why half of my film is more about Maher's character than the story of this mother and daughter.
///.