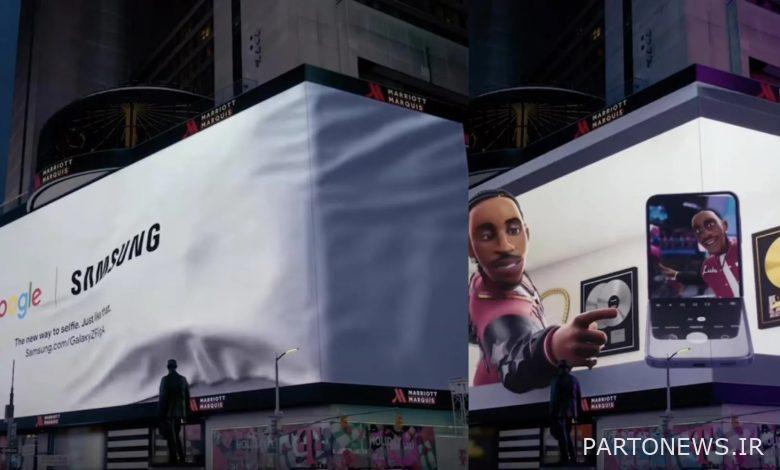 Google And Samsung In a joint advertising campaign, they displayed a spectacular video on a 3D anamorphic billboard in New York's Times Square, in which the capabilities Google's smart assistant And YouTube Music is displayed on the Galaxy Z Flip 4.
At This video From "Christopher Brian Bridges", an American actor and rapper who goes by the name "Ludacris» is known, used to demonstrate the capabilities of Google's smart assistant with Samsung's foldable phone.
3D anamorphic billboards can depict visual content more vividly, and Google and Samsung have also used New York's Times Square billboard to showcase their advertising videos.
Google and Samsung advertising campaign
In the video, a dog first uses a normal mobile phone and cannot work with it properly. next Galaxy Z Flip 4 Together with Ludacris, they come on stage and the page turns and the capabilities of the device are displayed.
Ludacris kicks things off artfully by saying "Hey Google." YouTube music starts easily and then Ludacris takes a selfie with the dog. They use hands-free capabilities to take selfies. Then, in a few demos, the 3D nature of the billboard is highlighted.
Google and Samsung advertising campaign, a very eye-catching video in collaboration with CEKAI design studio and music group Universal has exhibited As mentioned, this 3D advertising billboard has been installed in New York's Times Square.
Ludacris, who is an American actor, says he is proud to work with Google and Samsung. He is happy that these two companies have the song Stand Up as a song Advertising Campaign They have chosen themselves. Ludacris adds that it's been about 20 years since the song was released. He adds that with Google's smart assistant and the Galaxy Z Flip phone, users can take more selfies and record more memories.
He is also happy to have such a promotional video in one of the biggest Billboards And it's on display in the heart of Times Square.