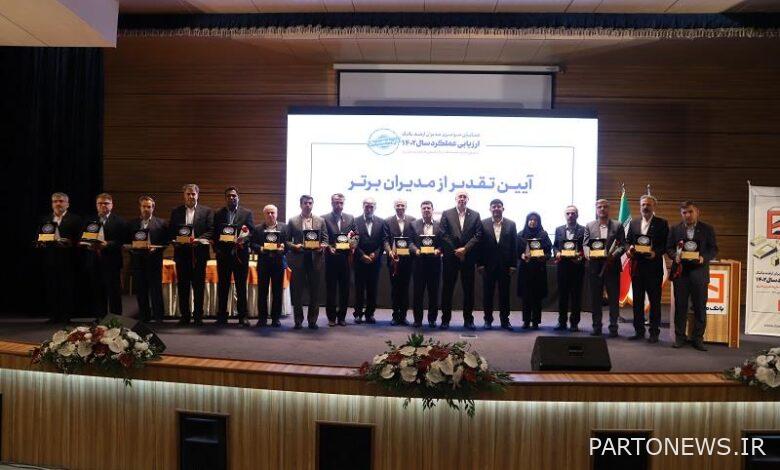 According to the report of financial financial news, quoted by Bank Maskan-Hibna news site, the conference of senior managers of Maskan Bank was held in Mashhad for two days. At the end of this ceremony, 16 top managers were honored based on the performance indicators of Maskan Bank branches in the provincial centers.
In this ceremony, Mohammad Ghafourian, manager of Yazd branches, Majid Amiri, supervisor of Tehran central region branch management, won second place, and Hamid Hematabadi, North Khorasan branch manager, won third place.
The management of the branches in the departments of resources, debt collection, finance, electronic banking and efficiency were evaluated by the bank managers in the first 6 months.
Also, in the resources sector, the deposit attraction index, in the debt collection sector, credit risk indicators, cash collection and the assignment of claims, in the financial sector, the profitability increase index, in the electronic banking sector, the virtual terminals index, and in the efficiency sector, the efficiency indicators of resources, facilities and services are evaluated. it placed.
The conference of senior managers of Maskan Bank was held in Mashhad on October 19 and 20 to evaluate the performance of the first 6 months of 1402 with the aim of explaining the policies and challenges ahead.
The other goals of this conference were to strengthen the growth of Maskan Bank branch managers, to honor the branch heads, to create a suitable platform and opportunity for interaction, participation in knowledge, monetary and banking policies, and to exchange managers' experiences. At the end of the conference, the hard work and efforts of Maskan Bank branch heads were appreciated .
Hosseini honored Hasan Rabbanikhah, the former head of the central branch of Neishabur, as the best branch in Razavi Khorasan province, at the meeting of the senior managers of Maskan Bank in Mashhad.
On the sidelines of this conference, the CEO of the bank visited the three central branches, Imamat Blvd. and Saad Abad in Mashhad and met and talked with the employees.