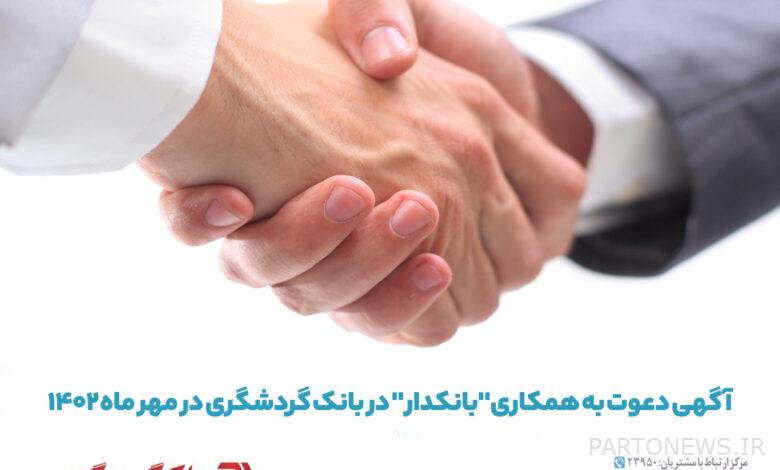 According to the financial news, Tourism Bank (Non-Governmental – Public Company) is considering to supply and complete the executive staff it needs, from respected graduates of prestigious universities, at the job level of banker (non-retired), for Tehran branches. And some branches of the provinces are invited to cooperate as described below in paragraph "C".
Registration deadline: from the date of publication of this advertisement until 30/07/1402 and this period will not be extended.
Exam date: December 10, 1402
Contents of the test:
General banking knowledge
General English
Academic aptitude and preparation (mathematics, statistics, logical reasoning, problem solving and intelligence)
A) General conditions:
Possessing Iranian citizenship and commitment to comply with the laws of the Islamic Republic of Iran
Belief in the official religions of the country
Possessing proper public relations and customer-oriented spirit and the spirit of participation and teamwork
Complete physical and mental health and no addiction to drugs and psychotropic substances
With a termination of service card/permanent exemption for men (until the date of notification of this advertisement)
No bad criminal record
Mastery of ICDL skills
familiarity with English language
b) Specific conditions:
Having at least a bachelor's degree from one of the following fields and from one of the national universities, Azad, Payam Noor
Allowed fields: management (banking trends, commerce, business, finance, government, industrial, human resources, executive, information technology), economics (all trends), MBA, accounting (all trends), banking sciences, Information technology engineering (all trends), law (all trends), mathematics, statistics, auditing, industrial engineering, financial engineering, computer engineering (all trends)
Having a minimum average of 16
Having a minimum age of 20 and a maximum age of 28 years.
Men's service period will be added to the maximum age.
Regarding the applicants working in the tourism finance group, the period of their service experience in the tourism finance group will be added to the maximum allowed age up to a maximum of 5 years.
c) List of city branches:
Branches in Tehran and the cities of Qom, Ahvaz, Abadan, Khorramabad, Hamadan, Arak, Isfahan, Yazd, Tabriz, Shiraz, Bandar Abbas, Sanandaj, Salmanshahr.
| | | |
| --- | --- | --- |
| Row | City name | The number of forces required |
| 1 | Tehran | 80 |
| 2 | Esfahan | 5 |
| 3 | Bandar Abbas | 2 |
| 4 | Khorramabad | 2 |
| 5 | Yazd | 2 |
| 6 | Abadan | 1 |
| 7 | Arak | 1 |
| 8 | Ahvaz | 1 |
| 9 | Tabriz | 1 |
| 10 | Sanandaj | 1 |
| 11 | Salmanshahr | 1 |
| 12 | Shiraz | 1 |
| 13 | Qom | 1 |
| 14 | Hamedan | 1 |
** Among those who have accepted the exam, up to 5 times the required capacity, will be invited for interview and other recruitment stages.**
It is worth noting:
Among the requests of applicants, qualified people will be selected and for the purpose of further actions, they will be notified by phone call or text message, only to the contact numbers listed in the application registration form.
If, at any stage of the recruitment process, the bank notices that the applicant does not comply with the "principle of honesty" in registering information and completing the relevant form, the issue will be null and void.
Submitting the documents required to file and participate in the test, psychological and specialized interviews, will not create any employment obligation for the bank.