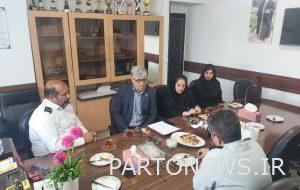 According to the financial news, on the occasion of commemorating the fire brigade day, a meeting was held on Sunday, the 9th of October, with the presence of Mohammad Hassan Sahragord, the CEO of Bojnord Fire Department, and Ahmad Faizi Rahord, the head of Bijnord Bimah Dana branch, accompanied by the head of the branch's personnel department and the representative of the municipalities' contract executive.
In this meeting, Mohammad Hassan Sahragard, while appreciating the services provided by Dana Insurance Company to policyholders from the past until now, added: fortunately, in addition to its favorable performance in providing services to the insured, this company has special and unique advantages that make policyholders welcome its services in The industry is insured.
Ahmad Faizi Rahord, the head of Bijnoord branch of Dana Insurance, also congratulated the fireman's day and explained the statistics and performance of the Bijnoord branch while appreciating the efforts of its hardworking, brave and committed employees.
The head of the Bojnord branch also said: I hope that by paying the insurance premiums on time, the insurance obligations for the honorable employees of the municipality and the fire department will be fulfilled in a more appropriate manner.