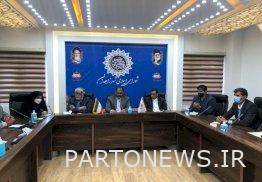 According to Aria Heritage, quoting the public relations of the General Directorate of Cultural Heritage, Tourism and Handicrafts of Sistan and Baluchestan, Alireza Jalalzai stated today, May 27, 1401, in a meeting with the mayor, chairman and members of Zahedan City Council: "It has a lot."
The Director General of Cultural Heritage, Tourism and Handicrafts of Sistan and Baluchestan added: "There are three world monuments in Sistan and Baluchestan, including the World Pottery Village of Kalpurgan, Lut Desert and Burnt City, and we are looking to register Sistan Horses as the fourth world monument of the province."
He continued: "Sistan and Baluchestan has been proposed as the tourism capital of the countries along the Indian Ocean because we border the Makran coast with two and a half billion people and the infrastructure must be provided at the Makran coast to attract tourists from "Let's achieve sustainable development through these water borders."
Jalalzai said: "If the World Tourism Council designates Sistan and Baluchestan in 1402 as the tourism capital of the Indian Ocean countries, it will certainly be a good thing that the municipality needs to work harder and cooperate more. "Be."
"Many events have been planned in various fields, and the Illard Tourism Festival is one of them, which will be held in Zahedan soon," he said.
The director general of the province's cultural heritage, tourism and handicrafts added: "For progress in the field of tourism, it is better for the governorate of Sistan and Baluchestan, like the provinces of Khorasan Razavi and Fars, to have a deputy for tourism."
Jalalzai pointed out: "In the discussion of handicrafts in the province, creating handicraft markets, creating handicraft stalls on railways, airports, etc., handicrafts training on the outskirts of the city, concluding a contract with Iran-Khodro and ordering 200 billion Rials of Quran cover by the company to put in cars. "It is produced by artisans and also empowers coaches on the outskirts of the city."
"We must use the tourism potential in the development of the city, and what can help the development of the city is activity in the field of tourism and investment," said the mayor of Zahedan.
He continued: "The General Directorate of Cultural Heritage, Tourism and Handicrafts of the province in the urban area can help the municipality by cooperating in the identification project."
"Given that Zahedan is the city of the memorizers of the Qur'an and the capital of the unity of Islamic Iran and is also the capital of the province, he demands that more measures be taken in the field of tourism in this regard," Brahui said.
"Also, considering the architecture and facade of the Maki Mosque, we can use it as one of the tourist attractions in the city of Zahedan," he said.
The mayor of Zahedan acknowledged: "It is necessary to jointly discuss the common elements in the urban area and to use the province's cultural capacities in this regard."
He pointed out: "The project of Little Iran Park and Miniature Museum Garden with the cooperation of the country's cultural heritage departments is a plan that the General Directorate of Cultural Heritage, Tourism and Handicrafts of the province should follow and launch with the construction of a symbol of other monuments of other provinces."