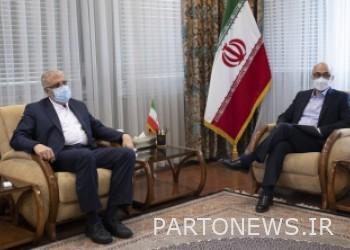 Minister of Oil praised Bank Mellat as the most effective bank in the field of energy
According to monetary news, Reza Dolatabadi, CEO of Bank Mellat, headed a delegation of senior managers of the bank and met with Minister of Oil Javad Oji at the central building of the Ministry of Oil.
In this meeting, referring to Bank Mellat's leadership in the field of oil and energy, the Minister of Oil announced that this bank has been very influential in the success of the country's oil field and is the most effective bank in the field of energy.
Javad Oji appreciated the staff of Bank Mellat, commending the bank's participation in most major oil projects in the country, especially in launching the Persian Gulf Star oil refinery, various petrochemical and gas industry projects, various phases of South Pars and the country's refineries. He expressed hope that in the new era, these partnerships will increase and the oil field, which is one of the most strategic economic fields of the country, will be able to implement large projects with the support of the banking system, especially Bank Mellat, in order for the country's economy to flourish. Took out.
He called the efforts of Bank Mellat staff very effective in helping to implement oil projects and thanked them for supporting the country's oil and energy sector.
Reza Dolatabadi, CEO of Bank Mellat, also said that it was an honor for this bank to be with the oil industry and said: Bank Mellat has done great work in the energy sector of the country and is the main supporter of this sector and seeks to take other effective measures in The future is using new financing methods.
He called one of the main strategies of Bank Mellat financing of oil field projects and announced the full readiness of this bank as an energy bank to increase investment in oil industry projects in foreign currency and Rials.
Dolatabadi stated that Bank Mellat has always played the biggest role in financing projects, especially the major projects of the oil industry, refining and distribution, gas and petrochemicals. A large part of these projects have been put into operation, which have played an important role in the development and economic growth of the country and the provision of foreign exchange resources.
The CEO of Bank Mellat also met with Mohammad Rousta, Finance Director of the National Iranian Oil Company, to review the level of interaction between the two groups and stressed the need to adopt strategies to strengthen this cooperation.
According to the report, in line with the Supreme Leader's instructions to prevent the sale of crude and the recommendations of the Minister of Oil, Bank Mellat has been actively involved in the development of oil and gas, petrochemical and petrochemical projects, both as a consortium and independently. And help the government.