Balls and nets
Sport
Biranvand: We saw one of the best recent performances of Persepolis/we have very difficult national championships ahead of us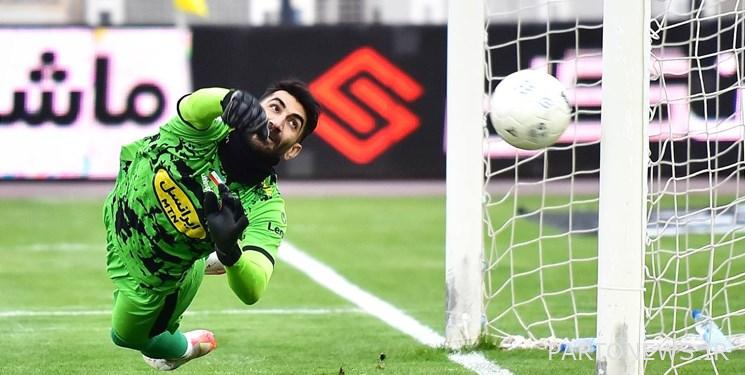 According to Fars news agency, Alireza Biranvand said about Persepolis' half-season championship: Congratulations to our dear fans for this championship. Nothing is finished yet. Before the game, Yahya Golmohammadi talked to us and said that if we are looking for a championship, we should finish this match well and play the first game of the second half of the season with Zob Ahn right here with high concentration.
He continued: It was a very good game. I think Persepolis put on one of its best shows in recent years. We had high possession and showed very good transition to attack. We saw how well the players who recently joined Persepolis, like Mohammad Omari, are working. Don't let all children's hands hurt.
The goalkeeper of Persepolis said about our pass before his goal in the game against Nasaji: I always have a duty to help my team. The Persepolis team has a different year this year and wants to start making plays from the back line, and for this reason, I try my best to help my team as an extra helper.
Biranvand stated: Thank God, I performed well today in terms of game-making and I was able to help the team to add a helper to the textile team. I hope we will continue in the same way in the next games.
Regarding his protest to the referee about Torabi's dismissal, he said: "It's a shame because Torabi is one of our main pillars."
Biranvand stated: Disrespect towards football legends, especially Gol Mohammadi and Dayi, is an incident that upsets all of us. Earlier, someone disrespected all football players. When they don't stop the previous person, someone else will surely come along and be disrespectful like this. Uncle Ali is great and dear to all of us. Most people who live outside of Iran know Iran by his name.
The goalkeeper of our country's national football team also stated regarding the state of the national team's technical staff: the federation has put all its focus to make the best decision for the national team. They want to bring someone who will do something good for the national team.
He continued: You know that this Nations Cup is very difficult because considering the performance of Australia, Japan, South Korea and even Qatar in the World Cup, it will be a difficult Nations Cup. They have a high chance of winning the championship. Our team is also a good team and I hope that the task of the head coach will be determined as soon as possible.
At the end, Biranvand supported the Minister of Sports and stated: I think Hamid Sajjadi is one of those who has worked hard for our federation and sports. Sajjadi was with the national team a lot, which is a different thing. I have been in the national team for 9 years and the previous minister was not with the national team in this way at all. He has worked hard for our sport and I hope he can continue his work.
end of message/
You can edit this article

Suggest this article for the first page