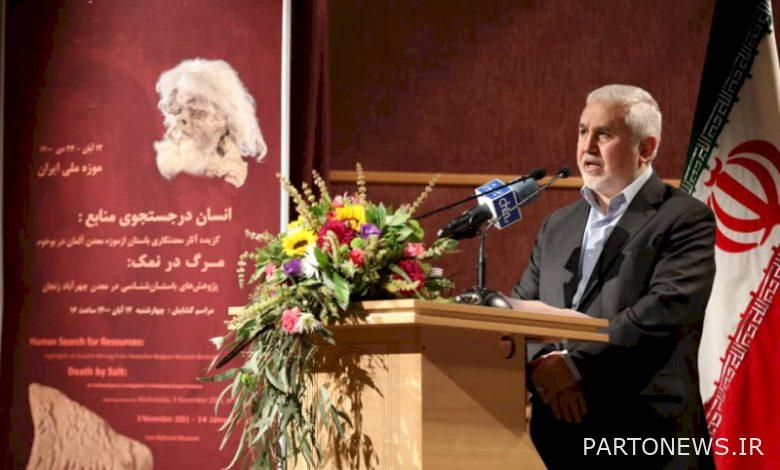 According to Aria Heritage Reporter, Ali Darabi, Deputy Minister of Heritage, Culture, Tourism and Handicrafts, this evening, Wednesday, November 3, 1400, at the opening ceremony of human exhibitions in search of sources and death in salt, which was attended by officials from Iran and Germany at the National Museum of Iran. Appreciating the officials of the two countries and the organizers of the two exhibitions, he said: "The cultural heritage of each country shows the creativity, civilization, knowledge and efforts of the men and women of that country who have formed the foundations of civilization. "The legacy of thousands of years that has been passed down to today's generation is a source of pride for human society."
He continued: "In the meantime, museums, as one of the important cultural centers, have played an important role in culture and civilization and give visitors a unique opportunity to get acquainted with the customs of their past lives." "In this sense, museums are our link with past generations."
Darabi added: "The great museums of the world try to provide an opportunity for the audience to get acquainted with different civilizations by holding an exhibition of their works and works from different countries of the world." "The result of this mutual cooperation is the recognition of more nations by each other and the closeness of human societies."
The Deputy Minister of Heritage, Culture, Tourism and Handicrafts said: "Wherever culture and art show up, it makes room for hostility. "We need to develop and strengthen cultural cooperation to spread peace and friendship in the world, and these exhibitions are an example of this cooperation."
"The cooperation between Iran and Germany in the field of culture has a history of nearly a century," he said. "The exhibition, which opened today, is part of this collaboration and paints a picture of the connection between communities on different continents."
"I wish that holding these two exhibitions would be an important step in developing cultural relations and strengthening museum ties between Iran and Germany," Darabi said.
.