International
Iran
Erdogan: My supporters will teach a great lesson to the protesters and the coup plotters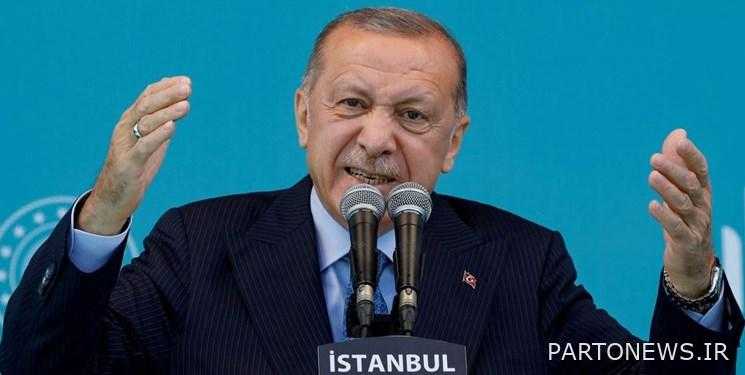 According to Fars News Agency's International Group, the Turkish president said in a speech on Tuesday that his supporters would teach them a great lesson if the opposition took to the streets to protest.
According to the website "T.Rakish Minit » Turkish President Recep Tayyip Erdogan told a meeting of the ruling Justice and Development Party (AKP) that his supporters would treat the opposition the same way they treated the July 15, 2016 coup.
The Turkish president expressed dissatisfaction with the growing criticism of his government by the opposition parties following the economic crisis in the country.
Erdogan accused opposition parties of communicating with the people only in the run-up to the election in order to gain votes and then forget about them. At the same time, he praised his party for being close to the people, listening to problems and finding solutions.
"They say they are taking to the streets," Erdogan said. Didn't you see what happened on July 15? No matter where you go, as this nation taught the coup plotters on July 15, we will do the same with you. "We will follow you wherever you go."
Turkish opposition parties are calling for early elections. Over the past few years, Turkey has suffered from a recession in its economy with high inflation and unemployment. Protesters claim Erdogan has been criticized for mismanaging the economy, emptying the state coffers and creating a one-man government in a country where dissidents are repressed and dissidents imprisoned on political motives. Critics say the decline in support for Erdogan's government has strengthened the opposition.
According to a new poll in Turkey, he is ahead of his Turkish presidential candidates. A Metropolitan poll shows that the mayors of Istanbul and Ankara, both key members of the Republican People's Party (CHP), will be ahead of President Erdogan in the next presidential election.
The poll found that Ankara Mayor Mansour Yavas won 54.4 percent of the vote, compared to 32.2 percent for Erdogan, and Istanbul Mayor Akram Imamoglu won 48.7 percent for 36.6 percent.
While the opposition party has not announced its candidate for the June 2023 elections, there are speculations that the two mayors and "Kemal Kلیlچçdaro اوlu", another leader of the Turkish opposition party, have been nominated as candidates. This year, too, Imam oglu and Yavash have surpassed Erdogan in most polls.
End of message.
Suggest this for the front page
.