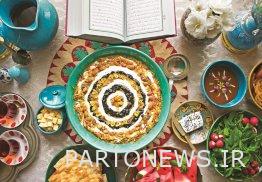 A look at the food customs of each region of Iran shows that, contrary to what we consider from the month of Ramadan and hunger, food tourism is one of the capabilities of this month. Going to any of the cities and villages and observing the different ways of holding Iftar and Sahar ceremonies, especially in areas that still resist cultural unification, can become an attraction for tourists who want to spend this month in the style and tradition of different ethnic groups in the country.
Foreign tourists are the second group who can have a different picture of Iran in mind this month. It is possible to make Ramadan the most different month in Iran in terms of food and cuisine, and we believe that in addition to the types of kebabs and chelo, the Iranian food menu has many other options.
In Iran, Iftar takes on a different color and smell with the sound of Rabbana, and the special Iftar table is spread in most houses. A table that usually includes tea, dates, bread and cheese. Zucchini, okra, halva, halim, and finally noodle soup or pen noodles are some of the foods that must be seen on the Iranian table. It becomes.
In Iran, as in most Islamic countries, if iftar is close to dinner time in summer, this table will be the same as dinner table, but in winter, when iftar is earlier than dinner, the table is usually lighter and of course healthier. Each of the cities of Iran has its own customs in the month of Ramadan and each of them celebrates the arrival of this holy month in their own way. In this holy month, all the streets and shops give a special atmosphere to this month, and people try to get more rewards by doing good deeds in this month. Restaurants and cafes are closed during the day and refuse to serve food, but are ready to serve after iftar until the end of the night.
Although Ramadan is a month of fasting and abstinence from food, but the interest of Iranians in food on the one hand and the existence of different ethnic groups on the other hand has led to the creation of a special diet in Ramadan that varies from city to city. This diversity has the potential to become an attraction for food tourism, especially since you can travel from the north to the south of the country for several hours with different foods, each with its own attractions. From its taste, color and aroma to the method of cooking and serving it.
A look at the food customs of each region of Iran shows that, contrary to what we consider from the month of Ramadan and hunger, food tourism is one of the capabilities of this month. This type of tourism is one of the less considered types of tourism, while other Muslim countries, such as Malaysia, use their food diversity to attract tourists. The food capacities of the Iranian tribes are such that it is possible to define special tours only for the month of Ramadan, which in addition to seeing the customs of the tribes in this holy month, enjoy the good cooking of the men and women of this borderland.
This month is very difficult for Muslims living in non-Muslim countries, but their presence in a Muslim country or in countries with a large number of Muslims can make these days and its worship more enjoyable. For this reason, Ramadan tourism has flourished a lot, especially in recent years, and some countries have excelled in this event.
Tourism in Ramadan
It may be impossible or difficult for some people to travel during the holy month of Ramadan, but there are places in different parts of the world that have extraordinary tourist attractions that are specific to this holy month.
In the past, fasting people traveled less and tried to rest at home as much as possible on fasting days, but today the conditions and facilities of travel have improved so much and the means of travel have been provided that people even go sightseeing this month, including conditions and facilities. Travel by plane, booking suitable hotels and other available facilities, has prepared a suitable platform for those who are interested in traveling. Meanwhile, pious and pious Muslims travel to different places during this holy month to get acquainted with the customs and traditions of those places during the holy month.
Countries that are tourist destinations for Ramadan trips
One of the tourist destinations during Ramadan is the United Kingdom, especially the city of London, which is called the melting pot of various cultures, because many Muslims live in it and can freely perform their duties and rituals. Cafes and restaurants for Middle Eastern Arabs, as well as Iranians, Turks and Pakistanis, offer special breakfast and iftar services this month. Solvent meat vendors are seeing more boom in their business this month. Also, the presence of Arabic markets, street food during Iftar, Lebanese pastry shops and the extraordinary activity of mosques during this month is a good reason for the attractiveness of the big cities of England for the tourists of Ramadan. This month, the country's hotels are also equipped to accommodate fasting Muslim guests and offer special services this month.
Spain also has a record Muslim population after France and the United Kingdom. The country has a large Muslim population, and many major Spanish cities offer special Ramadan services to Muslims. Spanish tourism officials have also planned halal tourism for Muslim tourists, and many hotels in Spain install 100% halal logos and offer Arabic and halal food for Iftar and Sahar.
Morocco is another hub of Islamic culture in Fez. The city's numerous mosques are also gateways to the rich Islamic culture. To announce the beginning and end of fasting, the sound of a ball is used in this country. Iftar is a good time to join the locals and try traditional Moroccan cuisine.
Egypt is one of the most beautiful countries during Ramadan. In this country, Islamic cultural roots are exhibited during the holy month of Ramadan. The people of the country light lanterns at sunset, which marks the end of fasting. These lanterns go out at sunrise and in preparation for fasting.
One of the countries that can be visited during Ramadan is Jordan. During this month, cafes and restaurants are open for receptions until the end of the night, and they are decorated with special tastes for the occasion of Ramadan, and they entertain the fasting people with special music and entertainment. In the streets, special tents are set up called Ramadan tents, which greet the fasting people with a variety of foods and drinks. People are also entertained with a variety of games in these tents.
Singapore is another Muslim country where, as iftar time approaches, Singapore mosques begin to distribute packaged food to fasting people and others. An interesting and popular tradition in Singaporean mosques is the distribution of packaged food among all those who are fasting and those who are not able to fast so that they can all break their fast at the same table and spend their iftar time together. The places where iftar is served are very crowded. In addition to the special iftars that are offered, restaurants and cafes also operate in the supply and cooking of sahri. In markets and shops, food is sold on the occasion of the holy month of Ramadan. These markets are also open during the night to provide services to customers and are open during the holy month.
Wherever there is talk of tourism, the name of Turkey is in between. In the field of Ramadan tourism, Turks also have a lot to say. Turkey is one of the tourist destinations during Ramadan. Because this city still adheres to the traditions and ceremonies of the holy month of Ramadan and celebrates them as glorious as before. Ramadan in Turkey is associated with a special mood. Spreading long Iftar tables in the streets and breaking the fast during Iftar is a collective ritual of the people of this country. Decorating the streets and alleys is also a tradition related to this holy month. Turkish mosques in Ramadan are also more prosperous due to the large presence of more fasting people.
The holy month of Ramadan in Turkey is associated with the consumption of special foods, Turkish Muslims in this month go to the markets to buy special foods for Iftar, and women prepare special sweets for the month at home. In Turkey, restaurants and hotels are pleasantly prepared for Iftar and offer a list of various Turkish dishes, including a variety of traditional Turkish kebabs and sweets, which are very attractive to tourists. Turkey, like Malaysia, benefits from a variety of foods that are the result of a clash of different cultures.
In Malaysia, despite the heat and humidity of the cities in this month, many tourists consider Malaysia as the paradise of Ramadan. Professional services of hotels, night markets and various street food that is the result of the national cultural diversity of this country and one of the attractions of this country for Muslims. In addition to enjoying the most beautiful nature on earth, as well as large and modern mosques, fasting Muslims can enjoy traditional food. Ramadan special auctions and sales are also among the tourist attractions of Ramadan in Malaysia. Locals and families invite tourists to their Iftar and celebrations, which include traditional dances. In Malaysia, the Iftar table is very diverse because Malaysia is very rich in terms of food diversity.
Dubai is also a tourist attraction during the holy month of Ramadan. Dubai also provides services to non-Muslims and non-fasting people. In Dubai, iftar time is announced with the sound of a ball. During Iftar, hotels set up Arab tents and decorate them with Persian backs and carpets. In this meal, a variety of foods that reflect the Arabic culture are served after the Maghrib prayer.
Lebanon is another manifestation of the Arab food culture, the Iftar table in this country and Syria almost overlaps with most of the Arab countries. Lebanese cuisine This month is a wide range of salads and olives, appetizers and delicious Lebanese food.
Now, considering the comparison of different Islamic countries in using this holy month for the prosperity of tourism, we find that Iran is at the beginning of this path and can have different tourism in all fields due to its many capacities in all fields. Offer the holy month of Ramadan. It is hoped that with careful planning and expertise, we will be able to make the best use of these capacities.