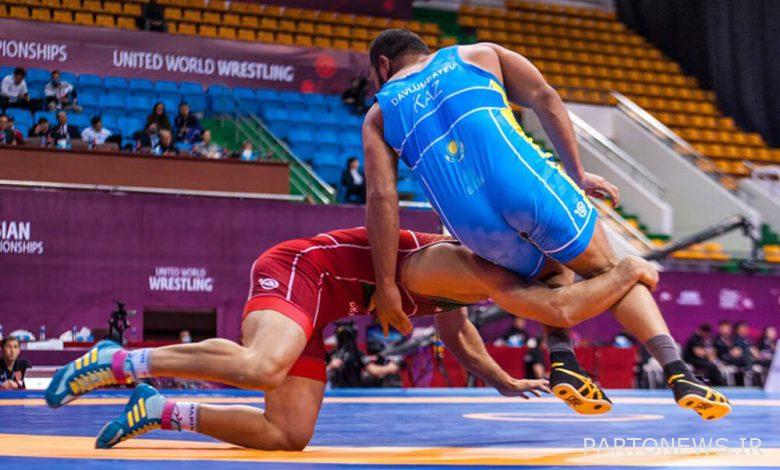 According to the Mehr correspondent, Ehsan Amini, despite the fact that the Asian freestyle wrestling championship in Mongolia was very different from previous periods, said: Valuable players such as Hassan Yazdani and Kamran Ghasempour were also present, but this year, for the first time, a young team participated in the Asian Championship and won.
Amini said that with the decision of the technical staff, the world and Olympic medalists were exempted from participating in Asia, noting that this decision gave other contenders and young people a chance, especially if the medalists participated in the national championship. Young wrestlers no longer had the opportunity to compete in Asia, but with the confidence of the technical staff, the youngsters were given the opportunity to boost their self-confidence.
Amini continued: "The average age of the team was low and young, and national team players such as Rahman Amouzad and Amir Hossein Firoozpour are only 18 or 19 years old and can be a source of pride for Iran in international wrestling for many years." Wrestling like Mohsen Mostafavi in ​​Mongolia was also his first international experience to win a bronze medal.
The coach of the national freestyle wrestling team stated: "Apart from these young wrestlers, with experiences such as Yadollah Mohebbi, Mohammad Hossein Mohammadian and Younes Emami, they were also sent to the team so that the team could repeat its championship in Asia using its youthful strength and experience."
Referring to some statements about the level of competition, Amini emphasized: The level of the Asian Championship was not low, and most of the world and Olympic champions and medalists participated in the weights, and there was no specific absence. In the weights such as 57, 61, 65, 74, 86 and other weights, there were prominent medalists, and this is the potential and capacity of the Asian wrestling.
The Asian gold medalist in 2011 added: "Contending countries such as Kazakhstan, Mongolia, Uzbekistan and Japan came to Mongolia with their famous wrestlers, and Iran's championship with the second team showed that our wrestling has moved away from Asia and has returned to good days, and I hope This growing trend will continue.
The coach of the national freestyle wrestling team, referring to the coaches' satisfaction with the medals won in Mongolia, said: "We wanted all the children to win medals, and when two members of the team did not win medals, everyone was upset. We liked them very much." Mohammad Mehdi Jafari Yeganeh will return to Tehran with a medal in 70 kg, considering that he is in the last years of wrestling.
Amini continued: Reza Momeni was another child who, despite his best efforts, could not win a medal, but this young wrestler, given his young age, has the opportunity to make up for it in the future.
In the end, he said: "The coordination that existed between the federation's managers and the technical staff and the manager of the national teams, helped to resolve the existing concerns and put the ship on the track to success."