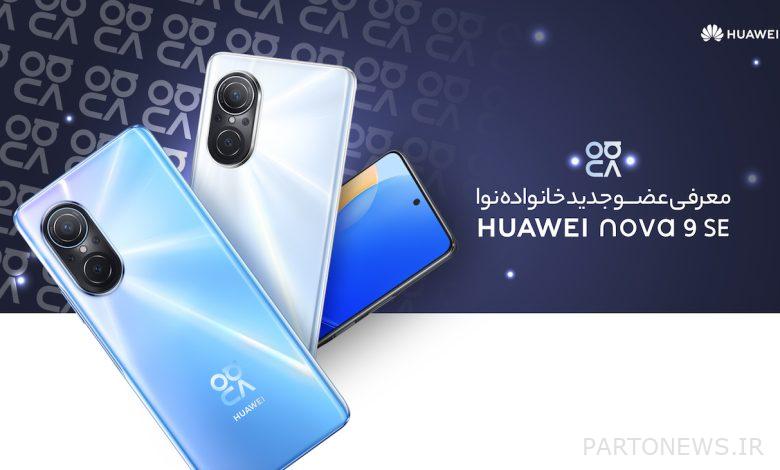 Huawei introduced the new Nova 9SE phone in an online event on May 26th. This event was held in Iran with the focus on the full introduction of this phone, its hardware features, its camera performance, as well as the announcement of special pre-sale conditions along with attractive gifts.
First, Babak Fayyaz, Vice President of Huawei in Iran, briefly introduced the different series of Huawei phones and examined the specific features of each of the Y, P, Mate and nova series.
He explained that Y series Taken from the word Young It is for young people with attractive design and economical price. P series Start the word Photography This Huawei flagship is designed and built based on advanced photography features and has always had the highest categories among all phones in the field of photography. Series Mate That of the word Ultimate Handset and phones designed for business and educational purposes and in general for people who need a powerful phone with a large screen and a great camera.
Finally the series nova It was examined that they are innovative and attractive models that come from the word Innovation They are inspired by their names.
Babak Fayyaz to the phone pre-sale festival Nova 9 SE He pointed out that if the pre-purchase is done in markets across the country and offline, the buyers will be one Band 6 smart wristband With a number Smart CupAnd if the purchase is through online stores, a handsfree number FreeLace Along with Smart Cup Will receive as a gift. Note that these gifts are only pre-sold during the festival May 6 to 18 Intended for buyers.

In the following Mehrad Karimi Focusing on the Nova 9SE, Huawei's product manager reviewed the new product in more detail. According to him, four salient features can be mentioned for this phone, which is the main camera 108 megapixelsVlog video recording capability, excellent 66-watt battery performance, and high-quality display with very narrow bezels.
In the following, we will talk about the performance of this phone and its hardware specifications and tips about charging speed Nova 9 SE Was raised. In the order that using the wall charger 66 watts Which is offered inside the product box, the possibility of charging this phone from zero to 50% only during 15 minutes And from zero to 100% only during 38 minutes There is. The design of the phone, the shiny back panel and the slim body of the Nova 9SE were also mentioned.
This phone is available in three colors Matte Black، Crystal blue And White oyster Available in domestic markets of Iran. Mentioning the possibility of searching and installing all apps and apps, even Google's affiliate apps on the AppGallery and Petal Search platforms, was another part of his talk.
Then, Reza Nasiri, an activist in the field of photography, carefully examined the camera of the Nova 9SE phone and its photography and video recording capabilities. Features include High-Res shooting with the main lens, Supermacro shooting from a distance of four centimeters of the subject, Night shooting with Night-Mode capability and shooting at a wider angle with a wide-angle lens.
He also explained about portrait and aperture photography, how these two features can be used to separate subjects such as objects or people's faces from the background and capture more attractive images. In addition, he explained about filming in Vlog mode; Ability to allow the user to record video simultaneously with two cameras, thereby producing highly creative videos.

To view the full specifications of Nova 9 SE and pre-purchase it, you can go to this link Please refer.