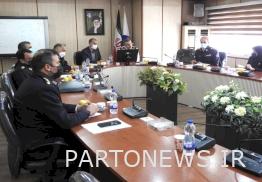 According to Aria Heritage, according to the public relations of the Tourism and Automobile Association of the Islamic Republic of Iran, on the eve of the Nowruz holiday and the beginning of Nowruz travels, a meeting was held with the presence of Sardar Teymour Hosseini, Deputy Chief of Traffic Police and Mohammad Hossein Sufi, CEO of the Association شد.
In this meeting, it was decided to take the necessary measures with the cooperation of the two sides in order to facilitate the entry of foreign tourists with private cars during Nowruz and to remove the existing obstacles that sometimes caused tourists to be delayed at the country's entry points.
In this meeting, which was attended by technical, executive, social and inspection deputies of NAJA traffic police, the implementation of the road safety ambassadors' plan for Nowruz in the Caspian Sea transportation axes, holding driving skills training courses to increase the level of safe driving culture, presented Educational topics on the topic of drowsiness while driving and increasing interaction and creating a joint working group to train general driving skills in order to reduce the number of road accidents and road safety were discussed.
Other areas agreed upon in this meeting include facilitating the issuance of license plates for historical vehicles, the strong presence of the center's car relief in the implementation of the Nowruz 1401 traffic plan in all transportation axes of the country, increasing the level of interaction and cooperation in issuing international driving licenses.
The meeting was also attended by the managers of the automotive, document issuance, legal and secretary of the working group for identification and protection of historical vehicles of the Tourism and Automobile Association of Iran.