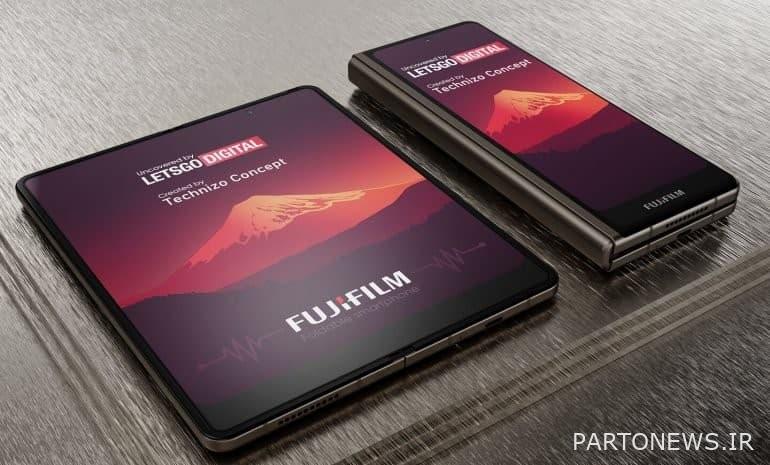 Fujifilm is reportedly working on its smartphone, which has a foldable screen. This has attracted a lot of attention because, as you know, this reputable and well-known Japanese company is engaged in the design, manufacture and production of digital cameras and printers. The news of the company's entry into the design and activities in the field of smartphones was very surprising for everyone. Along چیکاو Be.
According to LetsGoDigital, the company filed a new patent in the SPTO (United States Patent and Trademark Office) entitled "Electronic device and non-transitory computer readable medium". "Electronics and computer-readable media."
There are also a number of images from this invention that are displayed. Images show a smartphone with a large main screen that can be viewed with a smaller, foldable external screen. In other words, its design is quite similar to the Samsung Galaxy Z Fold clamshell phones.
In addition, the design of the Fujifilm clamshell smartphone makes it clear that the company is clearly inspired by the South Korean tech giant Galaxy Z Fold 3 clamshell, because in addition to being similar in design to the Samsung clamshell phone, it even The stylus is also supported. Graphic Designed Technizo Concept has created some clear product renderings based on Fujifilm's patent, which gives us a better look at the appearance of the device. It is noteworthy that the lower part of this device is quite prominent, while the edges are very thin on the other three sides.
Unfortunately, this patent does not show images of the back of the device, so we do not have information about the number of camera modules on the back and where it is located. The front panel, on the other hand, although not currently known, may have a camera under the screen, although the focus of the patent was most likely on the screen and the design of the device, so there is no reliable news available at this time. Do not take it, do not take it too seriously. It is unknown at this time what he will do after leaving the post. So stay tuned for more updates.