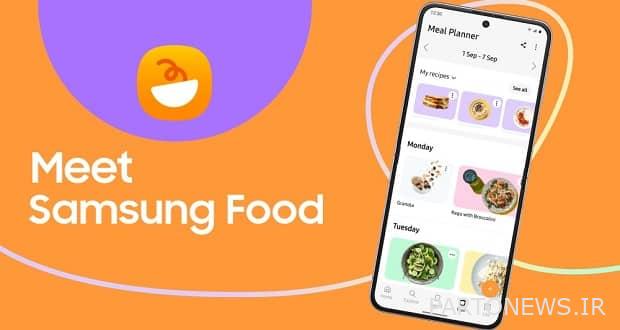 Posted by: Hossein Moradi September 18, 1402 at 09:32
The Samsung Food application was recently made available to users in 104 countries with support for 8 live languages, but what features does this Samsung application bring?
Users should pay attention to various points and things to achieve a pleasant cooking experience; These cooking tips include many instructions and may confuse novice cooks. In this regard, Samsung has provided the Samsung Food application to meet all the needs of users for cooking food.
The Samsung Food application has recently been made available to users in 104 different countries in the world with support for 8 live languages ​​to create an enjoyable cooking experience for users. In this regard, we are going to introduce you to the capabilities of this practical Samsung application.
Features of the Samsung Food application
The Samsung Food application is a comprehensive food management platform based on artificial intelligence that helps users' needs in all stages from making a shopping list to preparing food. With this application, users will have access to 160,000 different recipes and can use it to discover, save and personalize their special recipes. In general, this application will make any lifestyle easier.
At the IFA 2023 exhibition in Berlin, Samsung unveiled the new service demo of this application. The visitors in this exhibition were able to get to know directly the facilities that the Samsung Food application is equipped with for cooking at home.
Recipes for every taste and style
A large part of how we live our lives is related to our food preferences, which other people can identify with as aspects of our personality. In this regard, the Samsung Food application is equipped with a special and personalized section so that each user can access the desired recipe according to their taste and food style.
In fact, the recipe customization function of the Samsung Food app can automatically adjust the instructions. For example, if a user is a vegetarian, this program will automatically suggest recipes according to vegetarian versions. Also, this feature will even offer users a meal plan with alternative ingredients with the same benefits.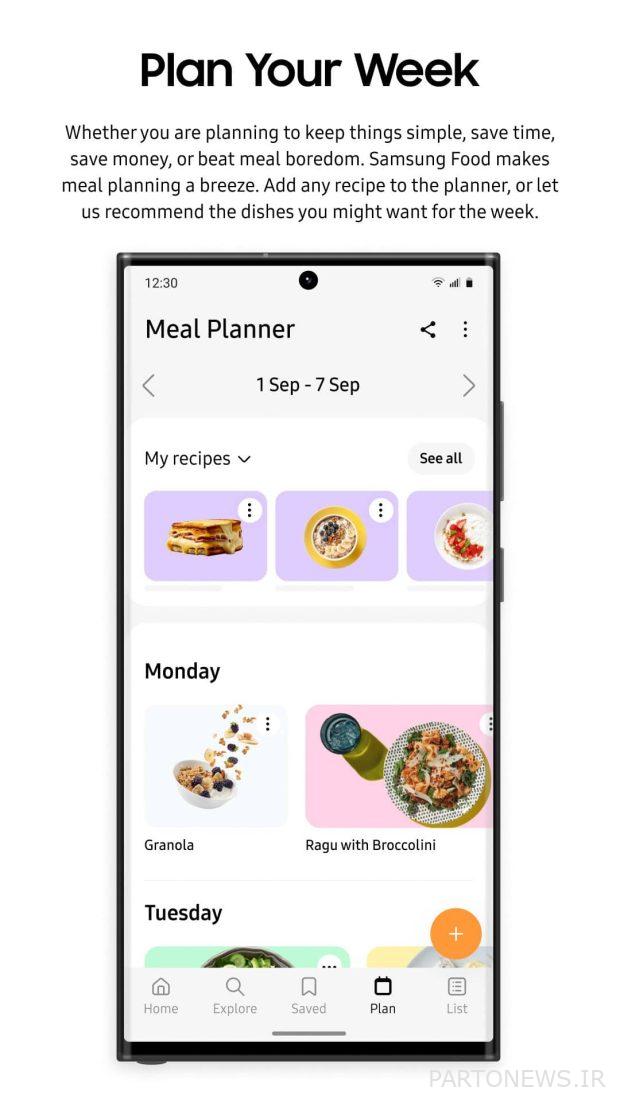 Users can ask this program to suggest a simple and faster recipe with just one tap. Also, this application is able to adjust a recipe to be more balanced in terms of calories and nutritional items. In addition, it can create a shopping list from the ingredient sections and offer fusion dishes such as an Italian recipe with a Korean look.
In the near future, Samsung plans to optimize the Samsung Food app for its Galaxy users. In fact, this app will be able to sync with the Samsung Health app to make appropriate dietary recommendations based on factors such as BMI, fitness, and calorie consumption, resulting in maintaining a balanced and nutritious diet to meet users' personal goals.
Using artificial intelligence in cooking
The Samsung Food app is equipped with Vision AI technology to recognize food with images, so if you come across a delicious meal at a new restaurant, you can easily access the recipe using this feature. In fact, users only need to take a picture of the desired food with the phone's camera, then the Samsung Food application can identify the food and provide the user with its ingredients along with the description.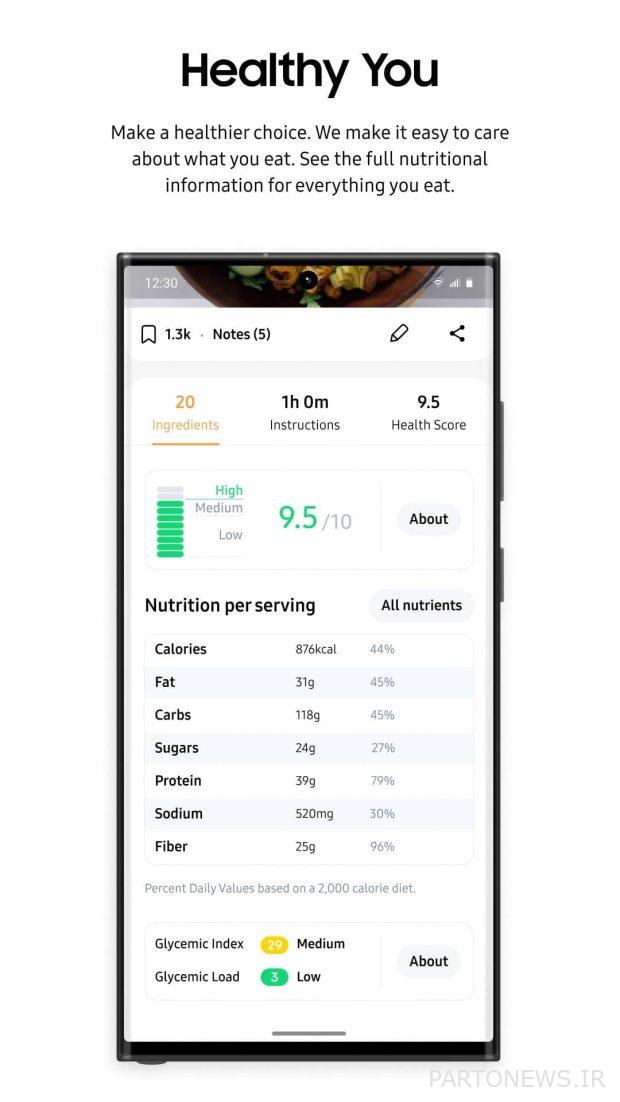 In addition, Vision AI technology is able to recognize ingredients so that users can find recipes that match the ingredients in their fridge and make the cooking process faster.
The Samsung Food application is able to connect all kinds of Samsung home appliances to create serious experiences at home. In this regard, after saving the desired instructions, you can view them through connected devices such as mobile phones to the touch screen of Samsung Bespoke Family Hub series refrigerators. You can also send cooking settings directly from the app to Samsung kitchen appliances.
The Samsung Food application also has the ability to set timers; Therefore, users will be able to preheat the oven and monitor the progress of the food during cooking. Also, all these settings can be done with the phone or the Family Hub refrigerator.
The possibility of sharing food with the Samsung Food application
Sharing food recipes and talking about them is common, but Samsung has taken it up a notch with this app. With the Samsung Food app, users can now connect with a global community of food enthusiasts and share their explorations, interests and creations to grow the app's database naturally. Therefore, all people can have access to each other's special foods.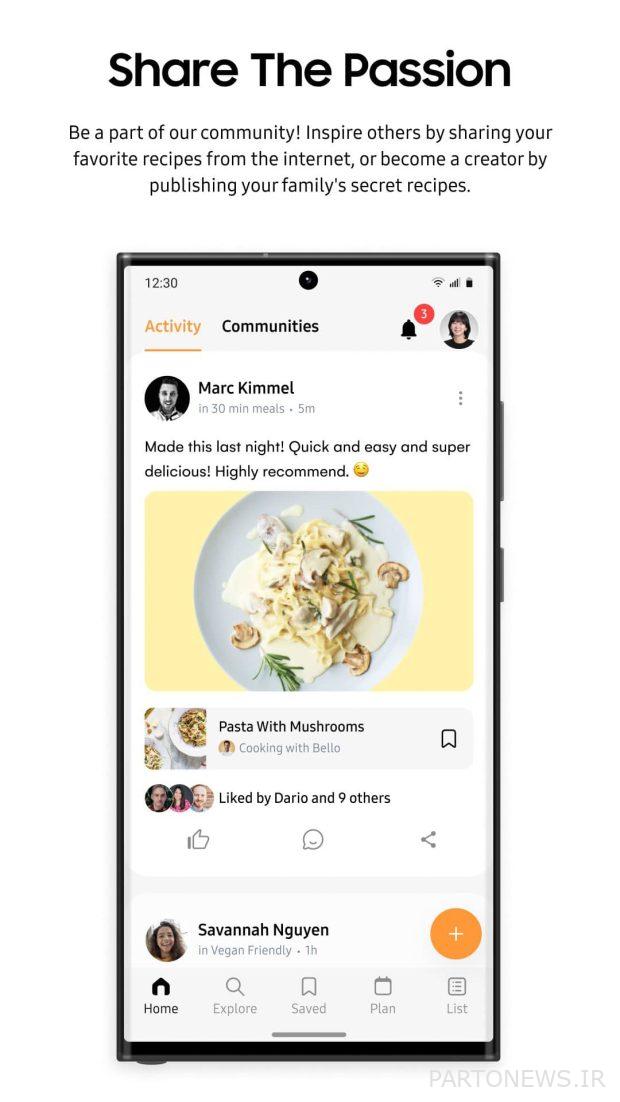 The Samsung Food application allows users to follow each other and find content producers and bloggers in different social networks. It is also possible to set up dedicated groups, such as the group for making dairy-free pastries and breads, Mexican food fans or healthy and useful nutrition groups, so that people with similar interests can find each other.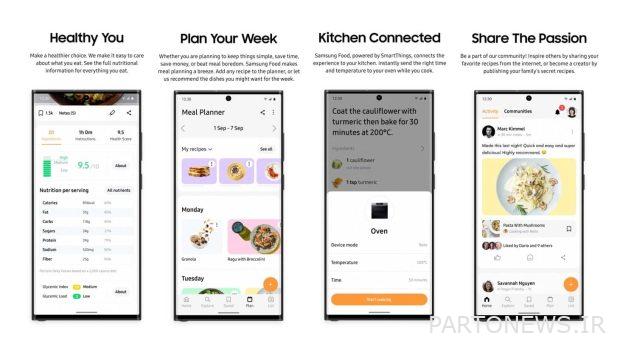 The Samsung Food application is equipped with comprehensive capabilities and advanced artificial intelligence technology to bring a new level of customization and ease to its users. Samsung will add more user features to this application in the near future. By referring to the address https://get.samsungfood.com/download You can download this Samsung application.
This article was sent by third parties as a press release or advertisement report, and Gadget News is not responsible for the things contained in it.