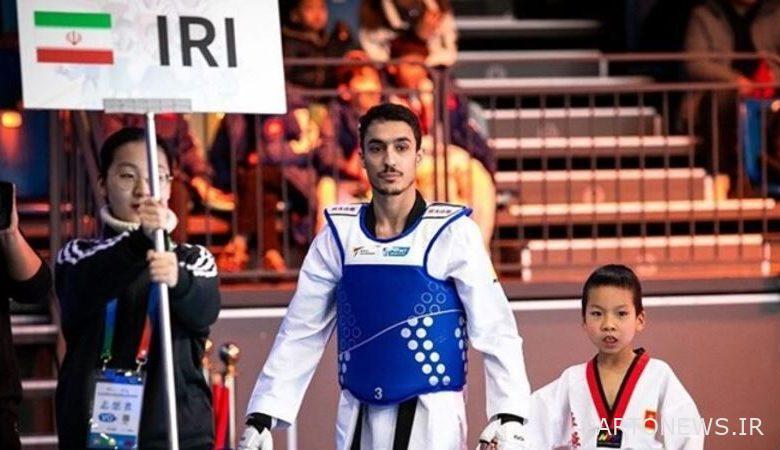 In an exclusive interview with IRNA reporter in Rasht on Tuesday, Armin Hadipour added: I had offers from several countries to compete in the World Championships and Olympics under their flag, but I did not give a positive answer to any of the offers and I will not.
He added: I will do my best and I will use all my strength and I will fight for Iran and the people of my country and I hope that I can win the Olympic quota again and participate in the 2024 Olympic Games and win a medal and become a source of pride for my people. .
He pointed out that these offers from other countries are natural for athletes who succeed in world and international competitions, and it happened to me like other national and international athletes, but I would like to make my country and nation proud.
He further pointed to the Asia Open Taekwondo Competition that was held in Pakistan from November 10th to 13th and said: Considering that these competitions were open, taekwondo players from other continents were also present, and for this reason, the quality level of the competition was very high. was high
He, who won the gold medal and the title of the Asian Open Championship in Pakistan, continued: There were 38 taekwondo players in my weight class, and I was able to win the gold medal against competitors from Nepal, Sri Lanka, Pakistan, Egypt, and Kazakhstan. .
Gilani, a member of the national taekwondo team, added: After recovering from an operation on my injured knee, it was the second time that I participated in international competitions, and fortunately, I won gold medals in both events (Lebanon and Pakistan). I became the champion.
As one of Gilani's five participants in the Tokyo Olympics, Hadipourke said: Participating in these 2 international events and winning the championship position is a good start for me, considering that I have played many competitions, and I hope that I will complete my preparation process well. spend to finally win the quota for the 2024 Olympics.
Olympic medal vacancy in Hadipur showcase
He noted: Fortunately, I have won many medals in the world, international and Asian competitions, but I did not succeed in winning the Olympic medal, and I will do my best to win the Olympic medal by winning the 2024 Olympic quota.
He said: Of course, I participated in the 2020 Tokyo Olympics, but due to an injury, I could not show my full strength and had an early farewell to the Olympic competitions, but after the surgery, I am now following my training regularly to compete in the competitions with strength. To get a quota to attend the Olympics.
Hadipour noted: Although the late Namjoo was Gilani's only medalist in the Olympic Games, I hope to participate in the 2024 Olympics and end Gilan's 60-year long dream of winning an Olympic medal by winning a medal.
Armin Hadipour was born in 1373 in Rasht city and has won many positions in taekwondo, including the bronze medal of the third stage of the 2019 Bulgarian Grand Prix, the silver medal of the Serbian tournament, the silver medal of the 2019 Japanese Grand Prix, the bronze medal of the England's 2019 World Championship, British Grand Prix gold medal, Jordan International Championship gold medal and Rio Trials Olympic gold medal.
Silver medal of the World Championship, two medals of the Asian Championship (one gold medal and another bronze medal, which is the first gold medal in the history of Iranian taekwondo), three Universiade gold medals, a World Cup silver medal, a Grand Slam gold medal, and a Russian Grand Prix silver medal. And the gold medal of the 2019 Asia World Federation President's Cup is one of the other titles and medals of this Gilani athlete.