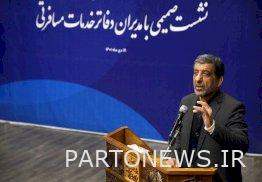 According to the report of Aria Heritage reporter, an intimate meeting of the Minister of Cultural Heritage, Tourism and Handicrafts with managers of travel service offices was held this morning, Sunday, January 18, 1401 in the amphitheater hall of the ministry.
During this ceremony, the Minister of Cultural Heritage, Tourism and Handicrafts, Engineer Seyed Ezzatullah Zarghami said: In this one year, many follow-ups were done and approvals were made, including a two-year tax exemption for hotels and tourist facilities and subsidized fuel for vessels, and marine tourism will flourish in the future. .
The Minister of Cultural Heritage, Tourism and Handicrafts, stating that we have a lot of work to do, added: In this one year, a lot of efforts have been made to change the government's view on the field of tourism, cultural heritage and handicrafts. During this time, with the conversations and clarifications I had with different people, many views have changed and have been associated with tourism.
Stating that this change of perspective costs money and I personally pay for it, he continued: "A lot of work is being done, so be hopeful." Disappointment is poison for you. Travel service offices in the provinces can give us advice. Even if the general manager fails to fulfill the missions and solve the problems of the private sector, that person should be removed.
Referring to the good relationship with other devices, Engineer Zarghami pointed to 12 memorandums of understanding signed with other devices and said about the Internet TV network: This network is currently being broadcast on a trial basis on the Telebion platform, and its official broadcast will begin soon. To be able to help tourism advertising.
end of message/