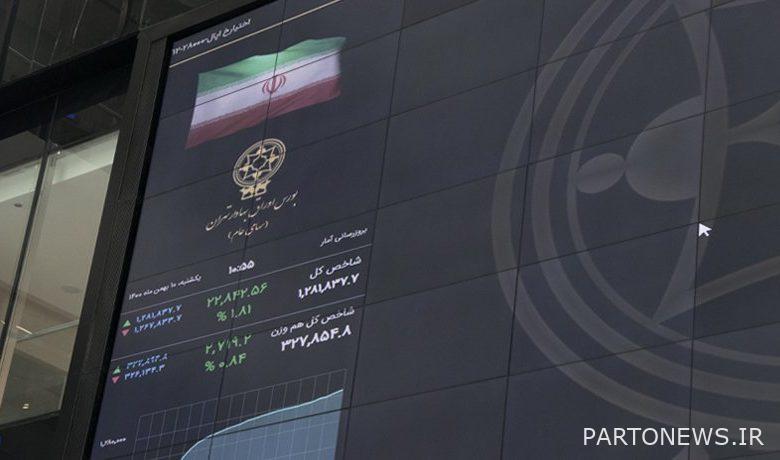 According to Tejarat News, Exchange Today, it experienced an increase of 4,912 units and finally reached the level of 1,520,000 units.
Increase in the total stock market index
Based on data Stock Exchange and Securities CompanyToday, the total homogeneity index increased by 0.5% and reached the range of 421,412 units.
Traders made 327,906 trades worth 59,915 billion tomans on this day.
Today, the symbols of Hekeshti, Shasta, Famli, Jumplin, Mobin, Shebandar, Shatran and Shepdis had the most positive impact on the overall index. Also, the symbols and mines, Shabriz, Alborz, Dasveh and Khahan had the most negative impact on the overall stock index.
The OTC index grew
On Wednesday, the OTC index increased by 108 units and reached the range of 20,946 units. The number of OTC trades was 254,08.
Today, the symbols of Bapas, Zagros, Shagovia, Dedana, Kazgal, Etkai and Fazr had the most positive effect and the symbols of Damavand, Renik, Bampna and Bahrom also had the most negative effect on the OTC index.
The symbols of Dedana, Qachar, Kerman, Zagros, Zaghiam, Management and Vespehr were also called the most over-the-counter symbols.
The latest price of 103 symbols has increased by at least 3% compared to the previous day and 57 symbols have been accompanied by a decrease of more than 3%.
The total value of micro-capital market transactions reached a total of about 4,426 billion tomans.
In today's market transactions, the symbols of Kayzad, Foolad and Dedana recorded the highest net purchases of reals. Webmalt, the Saman family, also had the highest net purchases of legal entities.
What is the reason for the stock market greening?
The stock exchange turned green today and on the last working day of the week, and this reason for turning green should be considered a change in the market trend. Fluctuation of the whole index is a natural trend, that is, the index changes according to the trading trend and the demand of shareholders.
Of course, given the state of the world news, the price of the dollar and the negotiations of Borjam, one should not hope for the growth of single shares in the stock market in the short term.
Read the latest capital market news on the Trade News page.