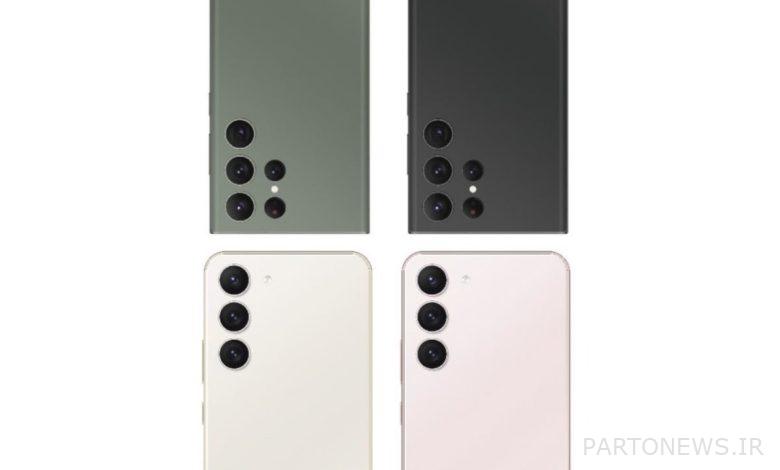 The Samsung Galaxy S23 series, which Android phone fans are waiting for, is likely to be announced on February 1. While a few days ago, renders of Samsung flagships with flat screens were shown, now new renders of the standard and ultra S23 versions have been released, showing them in different colors.
According to these images, Galaxy S23 and S23 Plus They will be similar to each other. Both have three cameras on their back panel, which are placed vertically in the left corner of the device. There is also an LED flash on the right side of the first camera. The Samsung logo can also be seen at the bottom of the device panel, and on the right side you can see the power and volume buttons.
On the other hand, the Galaxy S23 Ultra will have a boxy design and its bezels will be seen in the shape of the English letter P. Like the non-Ultra versions, the Samsung logo can be seen on the back panel of the S23 Ultra, and the volume buttons and power button can be seen on the right side. Additionally, you can see the antenna lines on the top and bottom of the device, which indicates that the S23 Ultra has a metal frame.
Possible specifications of the Galaxy S23 series
According to the information that has been revealed about these devices so far, all the Galaxy S23 series phones have an overclocked version of the chip. Snapdragon 8 generation 2 will be equipped. In addition, this year, unlike previous years, we will most likely not see the release of Samsung flagships with two types of chips. Exynos chip It will be dropped from the Galaxy S23 series.
According to rumors, this year's Ultra model will ditch the 108-megapixel camera in favor of a 200 megapixels goes. On the other hand, the Galaxy S23 and S23 Plus are said to have an improved 50-megapixel camera.