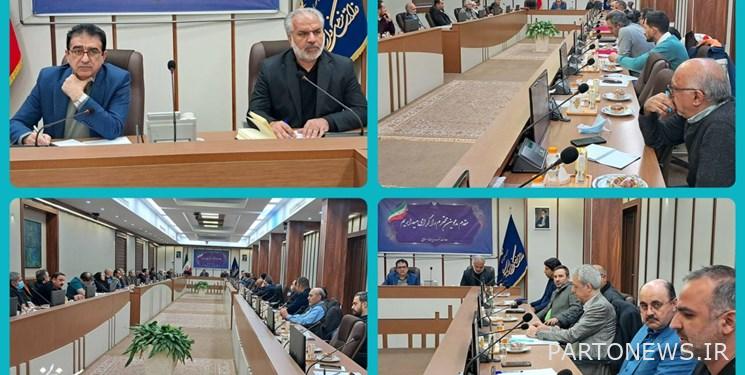 According to Fars news agency, an intimate meeting of the deputy director of technology development and cinematographic studies and the general manager of infrastructure development and cinematographic and audio-visual technologies with the directors of technical support centers across the country was held on Wednesday (January 14) at the Ministry of Culture and Islamic Guidance.
At the beginning of this meeting, which was hosted by Qadir Ashna, Deputy Director of Technology Development and Cinematic Studies and Mohammad Reza Faraji, Director General of Cinematic Technologies and Infrastructure Development Office, the directors of technical centers expressed their opinions and suggestions regarding the problems of film production and technical issues. brought up
Further, Qadir Ashna, vice president of technology development and cinematographic studies, while thanking the directors for attending this meeting, said: My opinion about technical support centers has changed a lot compared to the past days and months, and I have listened to your opinions and requests with all my heart. . I hope that as far as the rules, regulations and law allow us, we will deal with the issues and solve what you rightly consider to be a problem, with the cooperation and cooperation of the head of the organization and other cultural officials of the country.
It should be mentioned that topics such as export, import and customs cooperation, low-interest loans, attention to domestic production and material and spiritual support for it, tax exemption and cooperation of municipalities with offices with non-administrative and active use in residential centers, and dealing with active centers without licenses It was one of the requests of managers of technical centers in this meeting.
In the following, the managing directors of the technical support centers expressed their problems and suggestions in order to optimize production, and Hamed Faraji, the managing director of Vandad Ide Pardaz Paydar Company, said: We are a producer of Iranian products, and there should be a belief among the managers that Iranian goods are very It is better than foreign goods.
Also, a number of centers emphasized on supporting creative projects and innovations and allocating more bandwidth to technical centers.
Hamid Reza Kohpaei, Managing Director of Focus Film Company, also added: Zero to 100 Focus Film applications have been produced by Iranian specialists and it has the ability to provide its services to all professional projects in all stages of the production of a movie.
Sadeghi, the representative of Baath Office Machines Company, said: There should be a base in real and virtual space so that all centers can present their achievements and learn about the capabilities of all technical centers.
Also, a number of centers mentioned the decrease in movie productions and the increase in the costs of various departments, especially the technical departments after production.
Amir Hossein Saharkhair, CEO of Roshana Film cultural and artistic company, while pointing to the lack of support from official centers, stated: In holding various film festivals, all laboratory work is ordered to unauthorized centers, and in practice, authorized centers cannot benefit from the benefits of their licenses.
Fariba Fard Shahin, a representative of Media Fekar Farda cultural and artistic institute, pointed out the added value of technical center licenses and said: A number of unauthorized centers are operating and working without any disturbance, while authorized centers are involved in various issues such as taxes, insurance, places and so on.
He expressed the issue of payment of facilities to technical centers and its low amount, and added: Ministry of Culture and Islamic Guidance should provide conditions for clearance of imported goods of technical centers in customs.
Fardshahin, while referring to the pricing of the services of technical centers, said: Currently, the municipality prevents the operation of technical centers in residential buildings, while a number of centers, including clinics and registry offices, can operate in residential buildings.
Nader Rezaei Shoshtri, the CEO of Nofebet Sound Company, stated the issue of the formation of the trade union of technical support centers. Currently, the trade union of technical support centers is formed by a number of skilled veterans in technical fields, and it can perform some of the tasks of the infrastructure development office, including issuing and be responsible for renewing office licenses and pricing technical services.
Mohammad Reza Firozfar, CEO of Pirouz Gostar, among the other attendees of the meeting, said: It is necessary to prevent the release of indebted projects to technical centers by providing solutions and decisions.
In the following, a number of centers pointed to the equipment insurance, the targeting of the customs tariff, the formation of a reference authority for all technical centers as the most important issues.
Mohammadreza Tahmours, CEO of Tahmourt Company, said: A number of technical devices are sent abroad for repair and updating, but they are seized at the customs as luxury devices. A solution must be provided for this issue as well. Benefiting from tax exemption is also one of the demands of technical centers.
Nazanin Mofkham, Managing Director of Getty Film Company, added: Human resource training is one of the most important issues in the field of cinema's technical activity, because cinema is not just equipment, and cinema technicians are also important in this regard. Currently, there are many problems in this field. It should be thought about.
Fariborz Nikrad, CEO of Nikrad Media Industry Designers Company, pointed to quality in terms of technical issues and continued: There should be a difference between a center that provides quality work and a center for which quality is not important, so the Ministry of Culture and Guidance should provide facilities give it to the technical centers, not the producer.
In the continuation of this meeting, Qadir Ashna, vice president of technology development and cinema studies, while thanking all the managing directors of the technical centers, said: According to many people, cinema happens on the screen, while the art of the cinema industry is a process in which many people are involved.
He further mentioned holding meetings with the municipality, parliament members and a number of senior managers and added: We must create more opportunities for investigation and establish effective communication with all organizations to solve the problems. One of the problems is the activity of unauthorized centers, for which you need to think fundamentally.
Ashna further reminded: All cinemas in the world and professionals working in them are exempt from taxes. The same thing should happen here so that all the technical classes of cinema should be exempted from paying taxes.
While pointing to the optimization of the systems of the Ministry of Guidance, the vice president of technology development and cinematographic studies pointed out: Currently, the payment facility from the banking system is low, and considering the cost of technical services, this facility should be increased.
At the end of the meeting of all centers, it was emphasized to continue the meetings and create a system to inform about the amount of work and activity of the technical centers.
end of message/