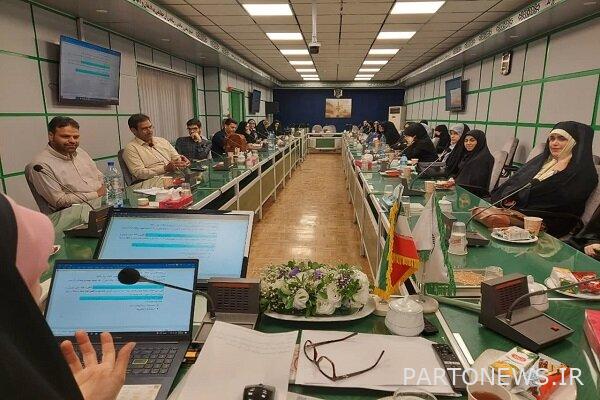 According to Mehr reporter, a training workshop on pre-marriage counseling and a specialized meeting on healthy marriage with an Islamic approach in the form of five training sessions, one day a week from 13:00 to 16:00 by the Islamic Revolution Women's Organization in cooperation with the Women's Department of the Islamic Propaganda Organization on site This general office is held.
Educational workshop and specialized meeting on healthy marriage will be held with the aim of familiarizing and training young people in the field of marriage. The speaker of this workshop is Maryam Salamat, a family counselor.
According to this report, Maryam Salamat, in the first educational workshop, examined topics such as He discussed self-awareness, self-awareness and character recognition, and emphasizing that the ability of self-awareness prepares a person to effectively deal with situations, he said: by learning this skill, a person can achieve physical health and especially psychological health with positive and balanced behaviors. Improve yourself.
Salamat said that the first step to control behavior is to master one's thoughts and feelings and added: Self-awareness skill gives people the ability to recognize their main and accurate feelings in the moment and express them in the most appropriate way possible. collide A person who becomes aware of his emotions can control them. Inability to control and restrain emotions can lead to violence and…
He stated: People with proper self-awareness use completely different strategies to regulate emotions and recognize and process emotional information, which causes positive adaptation in response to adverse situations.
The family consultant expert also pointed to the issue of knowing one's beliefs and values ​​and said: Everyone is based on the environment in which they are born, the family they grow up in, the people and conditions they are brought up under, the society they live in. And in general, it acquires values ​​during the process of socialization. Thoughts, beliefs and values ​​acquired in different ways create frameworks and structures in people's minds. Based on these frameworks or mental structures, everyone processes the information received from their surroundings and behaves and judges about themselves, others and the social environment. These mental structures are different in different people and that is why different people's attitude towards life is different from each other.
Salamat believes that a person who does not know his beliefs cannot define his values ​​in life, make choices, make correct and logical decisions and take steps towards his growth and development. The