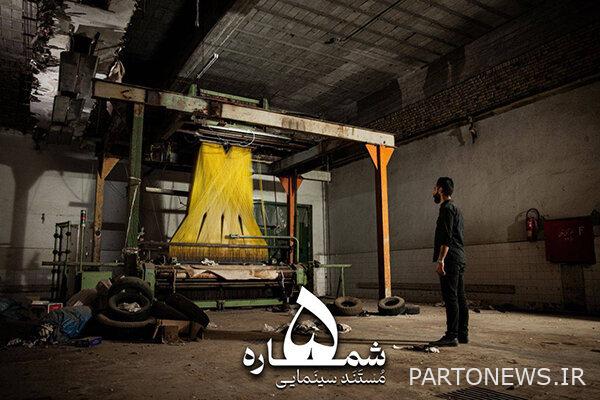 According to the Mehr News Agency, citing the public relations of the documentary, the long documentary "Number 5" directed by Daniyal Rahimi Kashani, a story about the different fate of the fifth registered factory and the most important textile company in Iran, is ready to be screened.
Rahimi Kashani explained about the subject of this documentary and said: the ancient civilization of Sialk Kashan can be considered the first origin of textiles in the world. Thousands of years after the civilization of silk, the late Hasan Tafzali, who is known as the father of Iran's textile industry, with his own investment and that of several famous merchants and businessmen of Kashan, in 1313, built the Kashan Spinning and Weaving factory complex and then the Kashan Textile Factory, which in passing Zaman becomes one of the most important industrial companies in Iran.
He added: since its establishment, these factories have been the place of employment and livelihood for more than 20,000 citizens of Kashan and surrounding cities, but this complex, like other textile industries in Iran, is struggling with severe crises in the 1970s and 1980s. Like other similar factories, it will be completely destroyed, but the fate of the fifth registered factory in Iran will be different from the others.
Rahimi Kashani, emphasizing that the long documentary "Number 5" is a different show of this huge factory, said: This film tries to have a direct narrative from inside this huge complex regarding its crisis years for the first time.
This documentary maker announced the end of the production of this 72-minute documentary and said: The process of making this long documentary film that started in November 1401 It started in the city of Kashan, after 25 shooting sessions and 4 months of post-production process, it has finished and is now ready to be shown. This work is present in the 7th Documentary Television Festival and will be broadcast on November 30 at 9:00 PM on Sima Documentary Channel. We have also sent it to the "Truth Cinema" festival.
The director and editor of this documentary is Daniyal Rahimi Kashani, and other actors include the director of photography: Amir Hossein Shakri, assistants of photography: Hossein Khani, Mohammad Reza Sabzpoushani, Mohammad Hossein Gholami, Amir Hossein Tawakli and Hamid Reza Zare, assistant director and sound operator: Ali Asghar Joypa, assistant director and Production manager: Elham Khorasani, coordination manager: Mohammad Hossein Homsian, sound engineer: Mohammad Reza Aminabadi, photographer: Wajiheh Iqbali, color and light correction: Abolfazl Sohrabi, graphic designer: Ali Mahziar Masoumi, stage designer: Vahid Sabaghian, procurement: Gholamreza Zilwi, production manager: Saeed Ghorbani and aerial cameraman: Tarmah Razzakian pointed out that Kay Ashian Institute is also the producer of this film.
The documentary "Number 5" will be unveiled in a ceremony in the coming days with the presence of textile industry managers and workers, the production crew and a group of cinematographers.