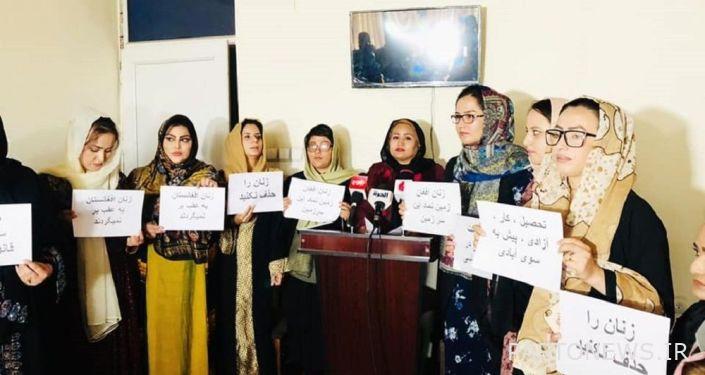 https://cdnn1.img.ir.sputniknews.com/images/07e5/0b/06/8445751.jpg
Sputnik Persian
https://ir.sputniknews.com
Sputnik
https://ir.sputniknews.com
https://ir.sputniknews.com/near_east/202111068445766-%D9%85%D8%AF%D8%A7%D9%81%D8%B9%D8%A7%D9%86-%D8%AD%D9% 82% D9% 88% D9% 82-% D8% A8% D8% B4% D8% B1-% D9% 85% D9% 85% D9% 86% D9% 88% D8% B9-% D8% B4% D8 % AF% D9% 86 -% DA% A9% D8% A7% D8% B1-% D8% B2% D9% 86% D8% A7% D9% 86-% D8% AA% D9% 88% D8% B3 % D8% B7-% D8% B7% D8% A7% D9% 84% D8% A8% D8% A7% D9% 86-% D8% A8% D8% AD% D8% B1% D8% A7% D9% 86 -% D8% A7% D9% 81% D8% BA% D8% A7% D9% 86% D8% B3% D8% AA% D8% A7% D9% 86-% D8% B1% D8% A7-% D8% AA% D8% B4% D8% AF% DB% 8C% D8% AF-% D9% 85% DB% 8C-% DA% A9% D9% 86% D8% AF /
According to Human Rights Watch, the Taliban (banned terrorist movement in Russia), which has come to power in Afghanistan, is banning most women from humanitarian work, exacerbating the general crisis in the country. Slowly
"As of October 28, 2021, the Taliban have given written consent in only three of Afghanistan's 34 provinces, allowing women to work in the humanitarian field," Human Rights Watch reported, according to Sputnik. In most parts of the country, women social workers face severe restrictions, such as being accompanied by male family members, which make it difficult or impossible for them to perform their duties effectively.
According to the report, in a number of provinces, women were only allowed to gather information about the needs of the people but were excluded from participating in aid distribution. In other provinces, women were only allowed to work on educational and health projects. According to human rights activists, the Taliban mainly explain labor laws to women in the humanitarian field. The lack of written instructions increases the likelihood that women will be harassed by some members of the movement.
Earlier, UNICEF Representative in Afghanistan Salam Al-Janabi said that since early 2021, the situation in this country has been one of the most unfavorable in the world. More than half of Afghanistan's population is projected to face severe hunger as the country's humanitarian needs peak.