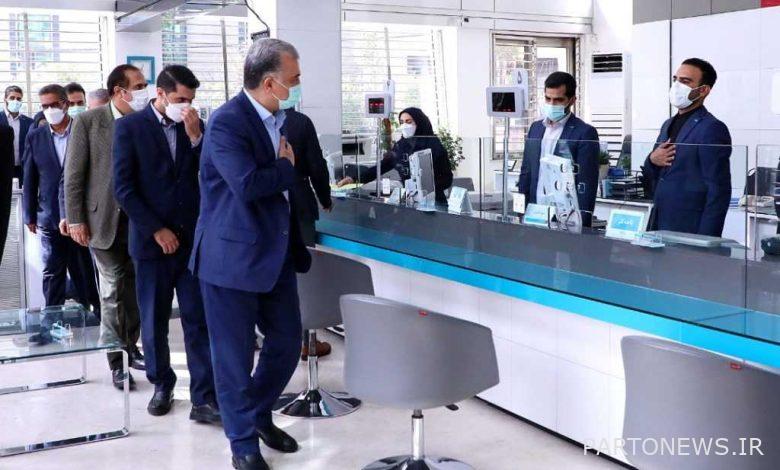 With the collective efforts of branches and headquarters units, the following is achieved:
According to the monetary news, quoting the public relations of Bank D, Gheitasi, CEO of Bank D, during his visit to the branches and headquarters units located in the Ministerial Building, was closely acquainted with the activities of the Bank's Legal Department and Anti-Money Laundering, Risk Management, Inspection, and Branch Affairs. Sale of proprietary property, internal audit, legal affairs, lawsuits and enforcement.
During his visit to the branch office, the CEO of Bank D called for continuous monitoring and accurate and momentary monitoring of ATMs and evaluation of the quality of facilities and services provided to customers.
At the beginning of the visit, Gheitasi, while attending the Ministerial Branch, while appreciating the efforts of colleagues to advance the branch's goals, emphasized on strengthening the principle of customer orientation and making every effort to increase Bank D's share of the country's monetary banking market.
While reviewing the latest status of resources, expenditures and actions of the Ministerial Branch, the CEO of Bank D said: "Various plans should be presented in order to attract customers and increase the quality of services, especially for the target community of the bank, the families of martyrs and martyrs in all branches of Bank D." To take.
He added: "It is expected that the Ministerial Branch, which provides Rial and foreign exchange services, will redouble its efforts to increase the share of cheap deposits, attract customers, collect current and non-current receivables and attract new foreign exchange resources."
During this visit, Ghasemi, the head of the branch of ministers, while presenting a functional report on the process of operational indicators of the branch in the field of resources, expenditures and receivables, expressed his issues and views on advancing the goals of the branch. They thought and exchanged views on various issues.
Continuing the visit, Gheitasi, while attending the Tamlik Property Office, stressed the need to determine the legal obligation of the bank-owned properties and assets and called for speeding up the actions of this office in handling the assigned affairs.
During his visit to the Legal Department, the CEO of Bank D stressed the need for continuous and continuous legal follow-up to conclude cases, and also made points about the continuous reporting of the activities of Bank D's lawyers and the holding of legal training courses for branch heads.
At the end of the visit, Gheitasi also visited various departments and other offices of Bank D in the Ministerial Building, including the Office for Combating Money Laundering, Risk, Internal Audit and Inspection, and issued orders to improve administrative processes and follow up on various issues.