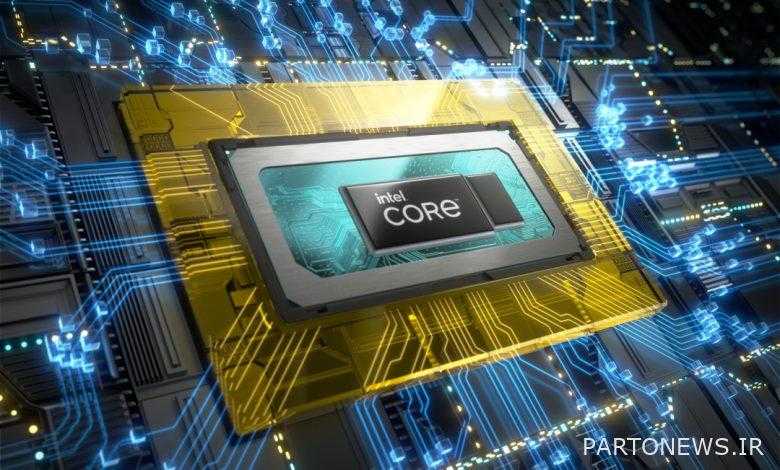 At CES 2022, we saw that Intel Alder Lake H processors with interesting capabilities Introduction Were. The flagship of this series is the Core i9 12900HK, which is said to improve raw performance and offer better consumption performance than the Apple M1 MAX and Ryzen 9 5900HX. The two families Alder Lake P and Alder Lake U were also unveiled.
GeForce RTX 3090 Ti unveiled – the most powerful desktop graphics
AMD has officially unveiled the Raizen 6000 APUs – 5 GHz Zen 3+ cores
AMD to launch 3D processors in 2022
Intel Alder Lake H processors were introduced along with the Alder Lake P and Alder Lake U.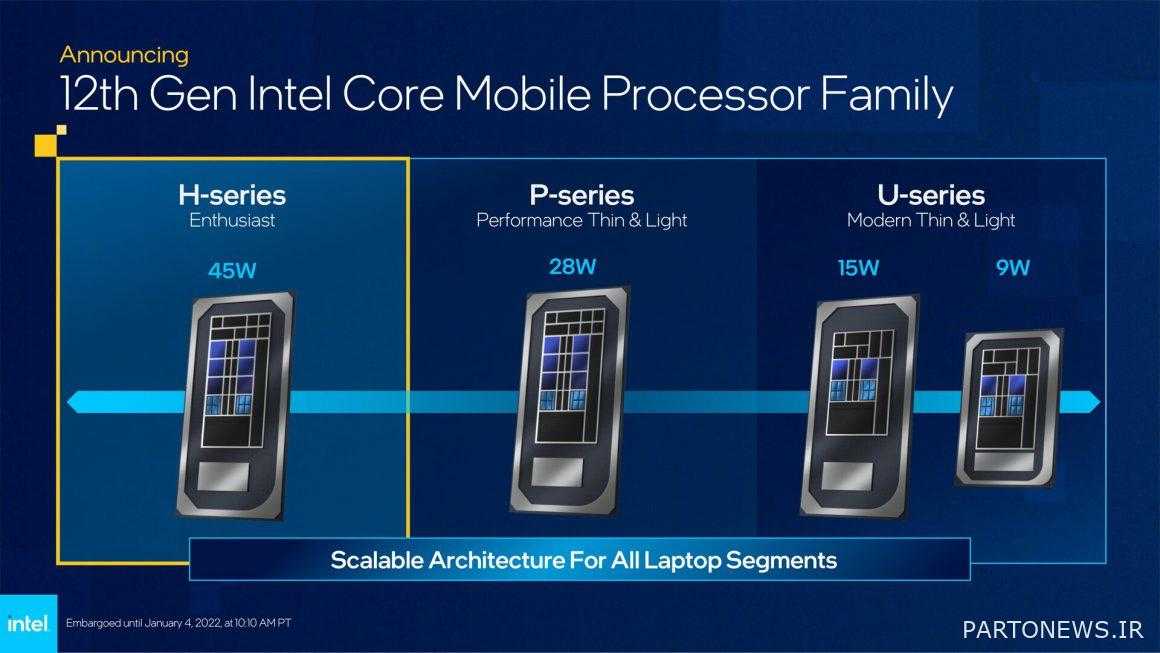 Following the successful launch of the twelfth generation Alder Lake S desktop chips, the blue giant has moved to mobile models and introduced them at CES 2022. The Alder Lake mobile platform ranges from 9-watt to 115-watt models and uses Intel 7 (or 10nm Enhanced SuperFin) technology.
Twelfth Generation Alder Lake H Family
The Alder Lake H series consists of eight different models. The Core i5 12450H with 8 12-core cores is the lowest and the Core i9 12900HK with 14 20-core cores are the highest. The base heat output of this family is 45 watts, but the Core i7 12650H, Core i7 12700H, Core i7 12800H, Core i9 12900H and Core i9 12900HK will have a maximum consumption of 115 watts. Core i5 models, however, are limited to a maximum of 95 watts.
The H-Series platform supports DDR5 4800 memory along with DDR4 3200, LPDDR5 5200 and LPDDR4x 4267. In addition, up to 20 PCIe lines are included, including eight PCIe Gen 4.0 for graphics and twelve PCIe Gen 3.0 for other components.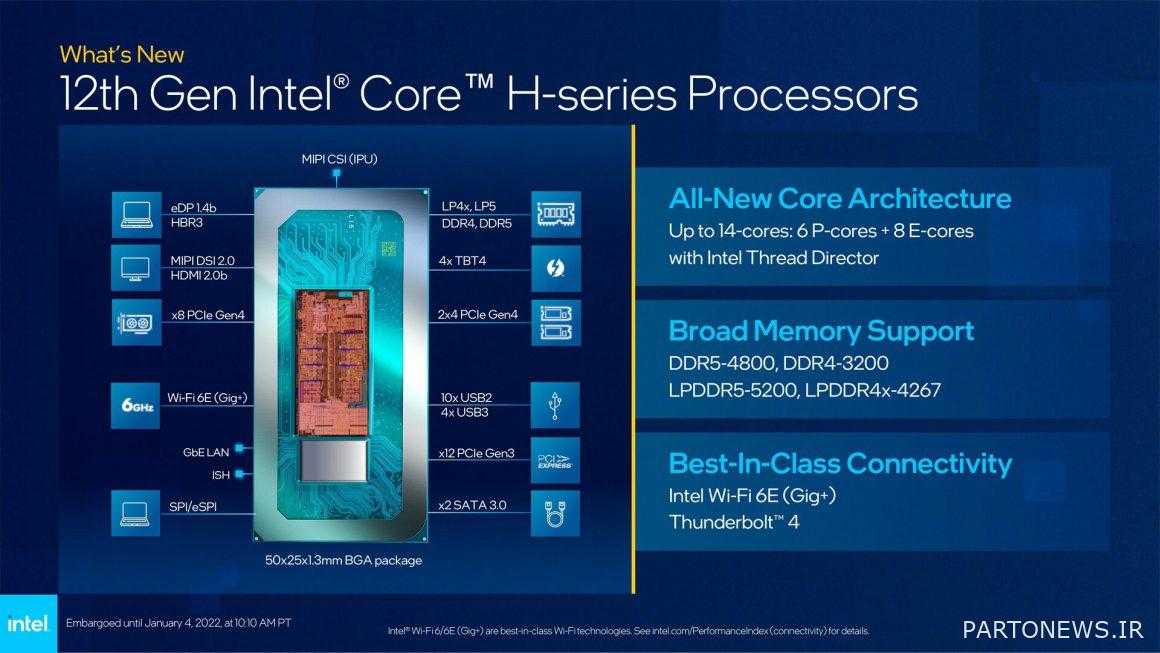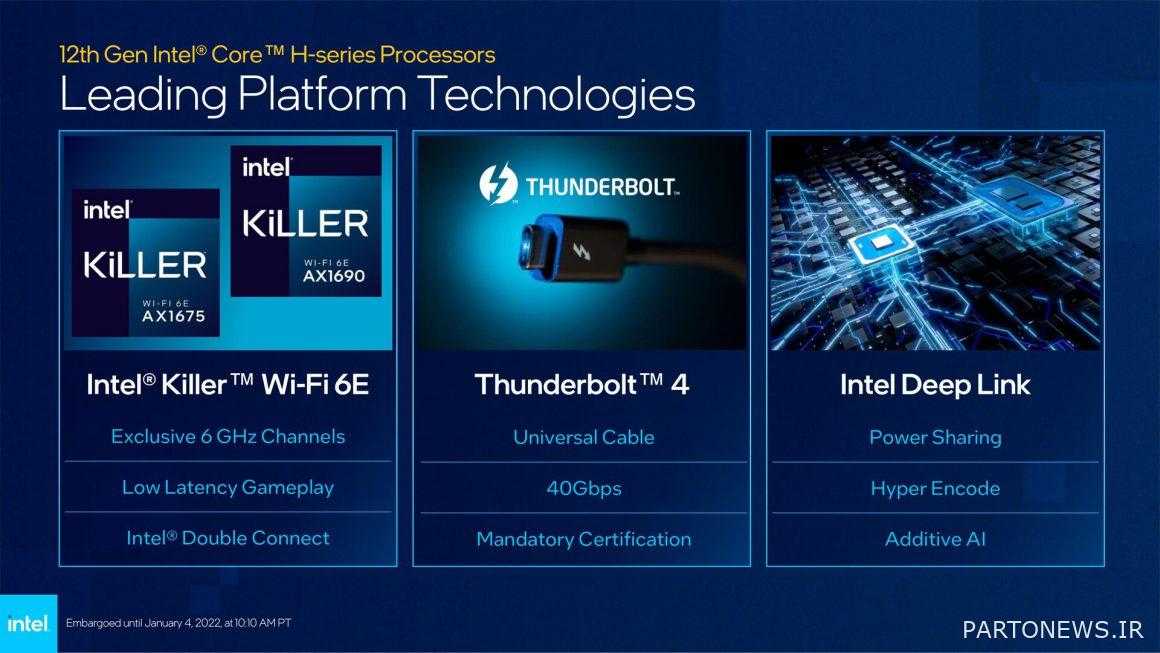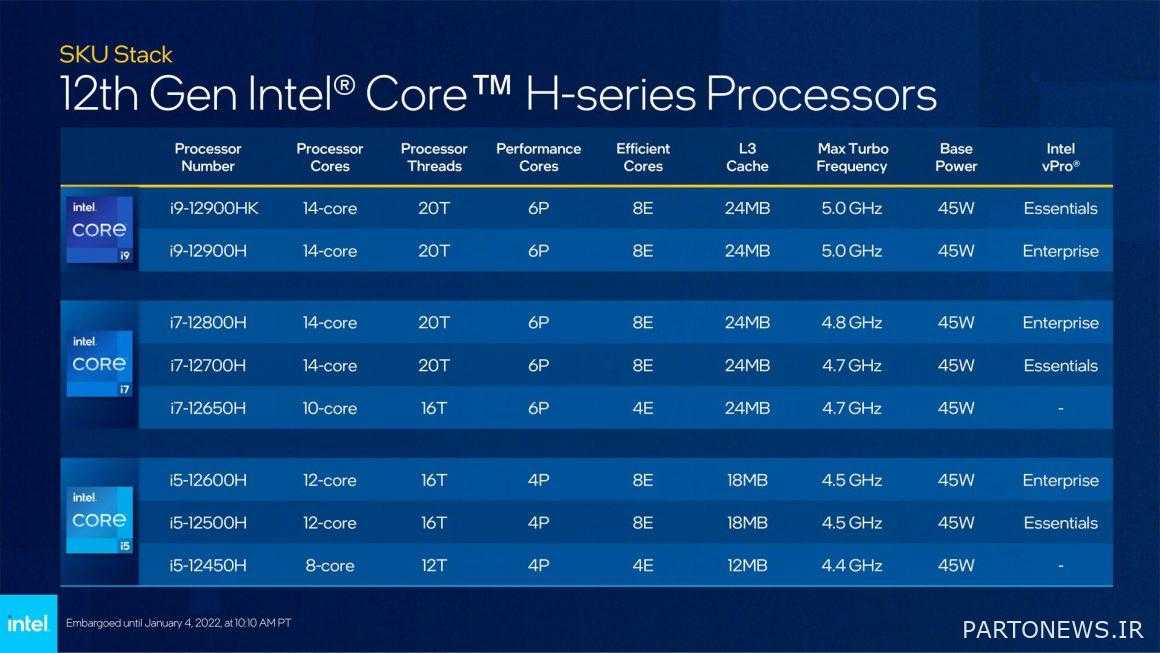 Not surprisingly, Intel claims that the Alder Lake H offers the best fuel economy over its competitors such as the Apple M1 Max or AMD Ryzen 9 5900HX. Although we have to wait for independent tests, let's take a look at the Intel slides.
According to the blue giant Core i9 12900HK, up to 28% better in gaming than the Core i9 11980HK with the same graphics GeForce RTX 3080 laptop in 1080p resolution and High quality. However, Intel has mentioned that the RTX 3080 with the Core i9 12900HK in the MSI GE76 Raider notebook has a heat output of 165 watts, while the compared version is 155 watts. The 165-watt version of the same graphics is also used in the Lenovo Legion 7 laptop with Ryzen 9 5900HX processor, which Intel claims to be 28% superior in gaming.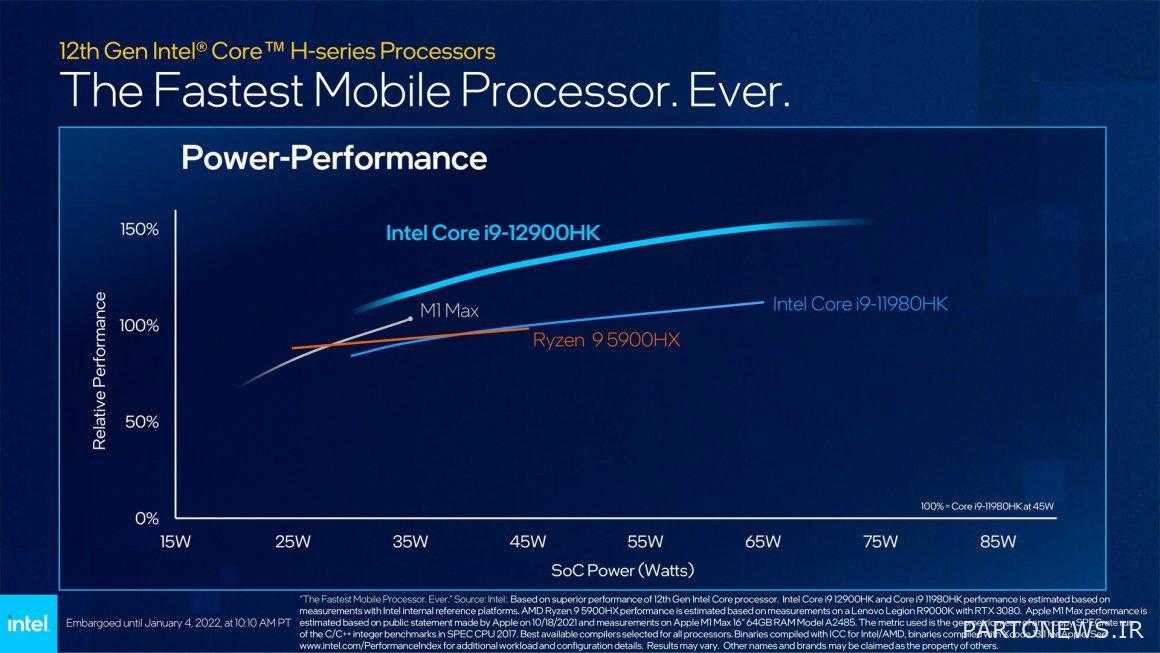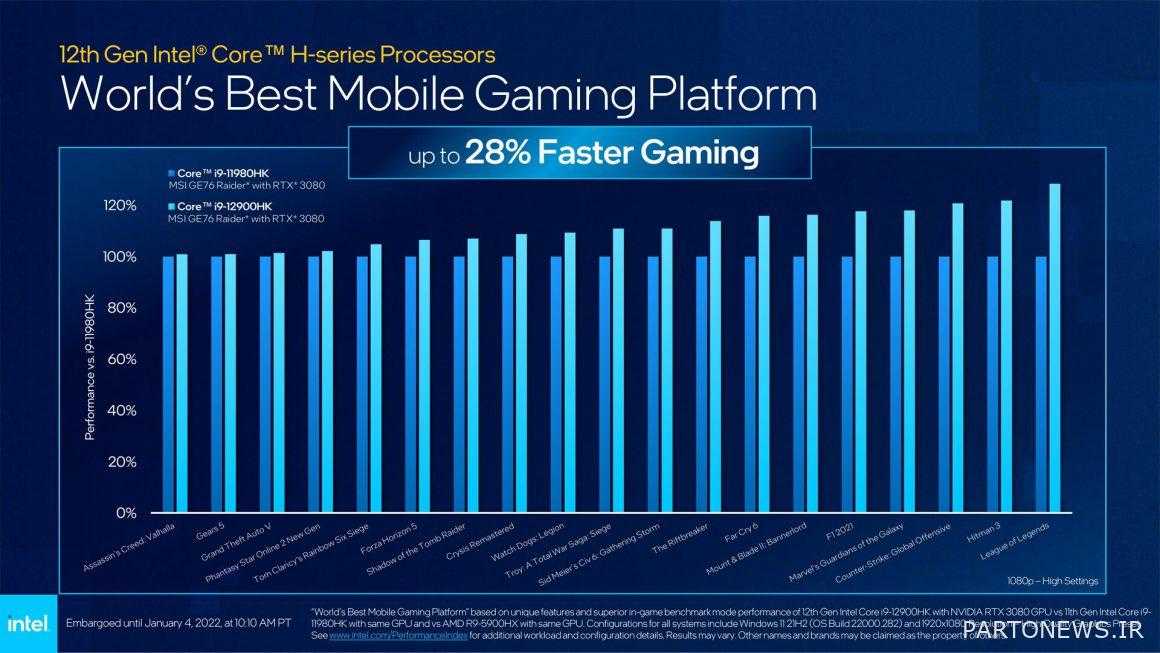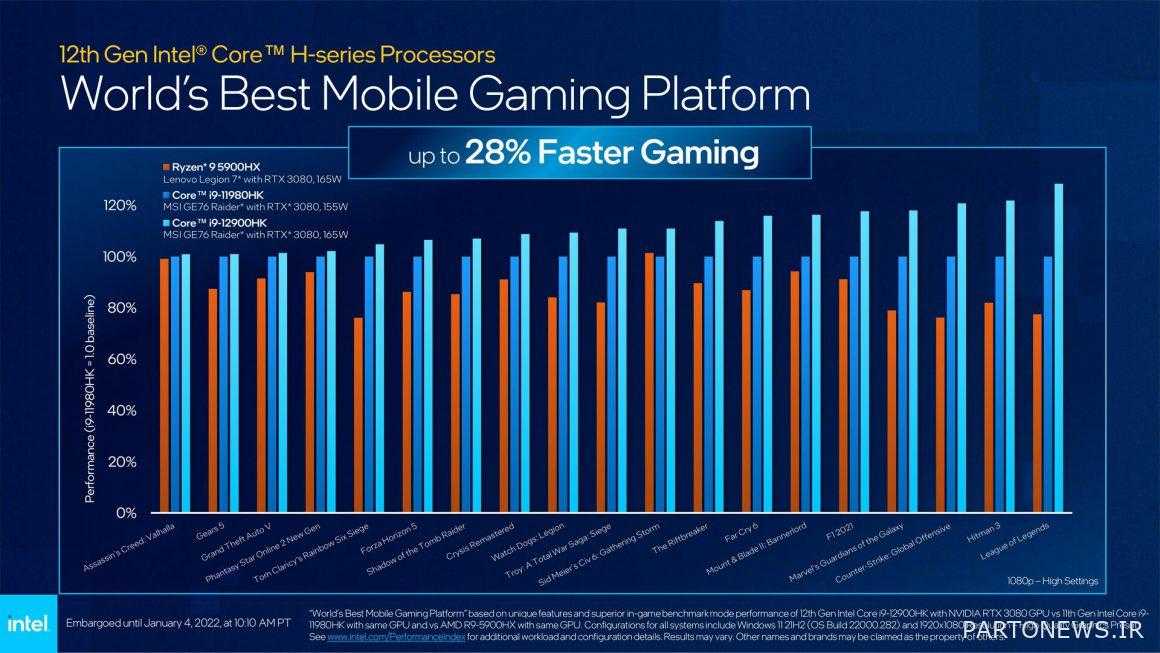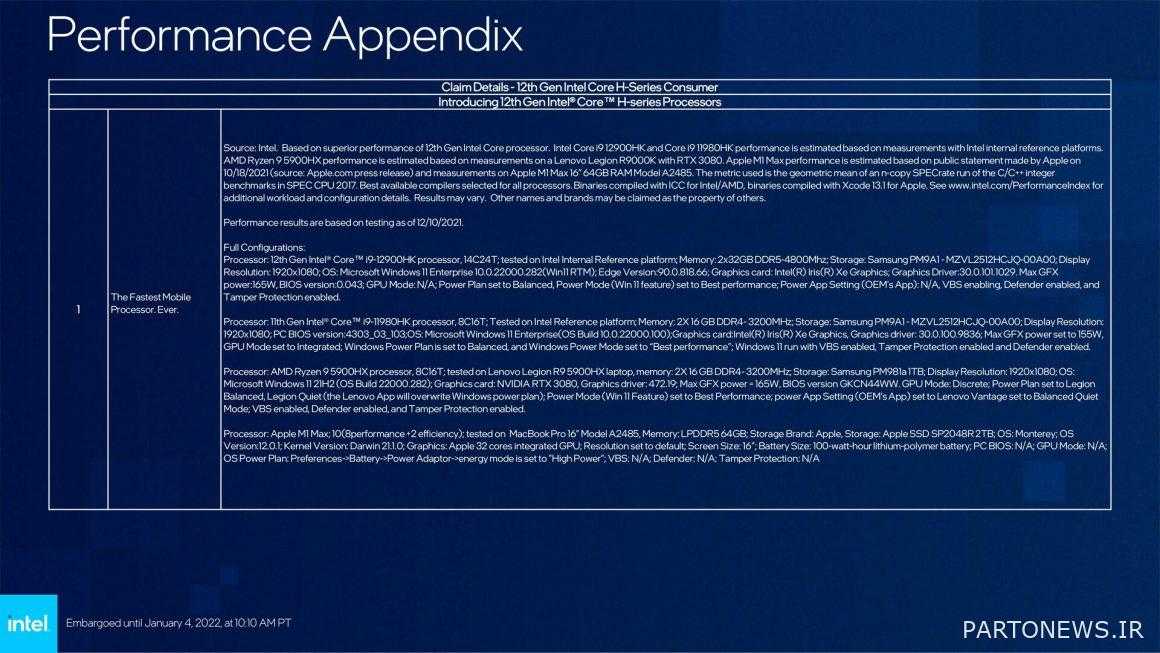 Of course, Intel also mentions much better performance in content creation applications such as Adobe Premiere, Lightroom Classic, Blender, and Autodesk.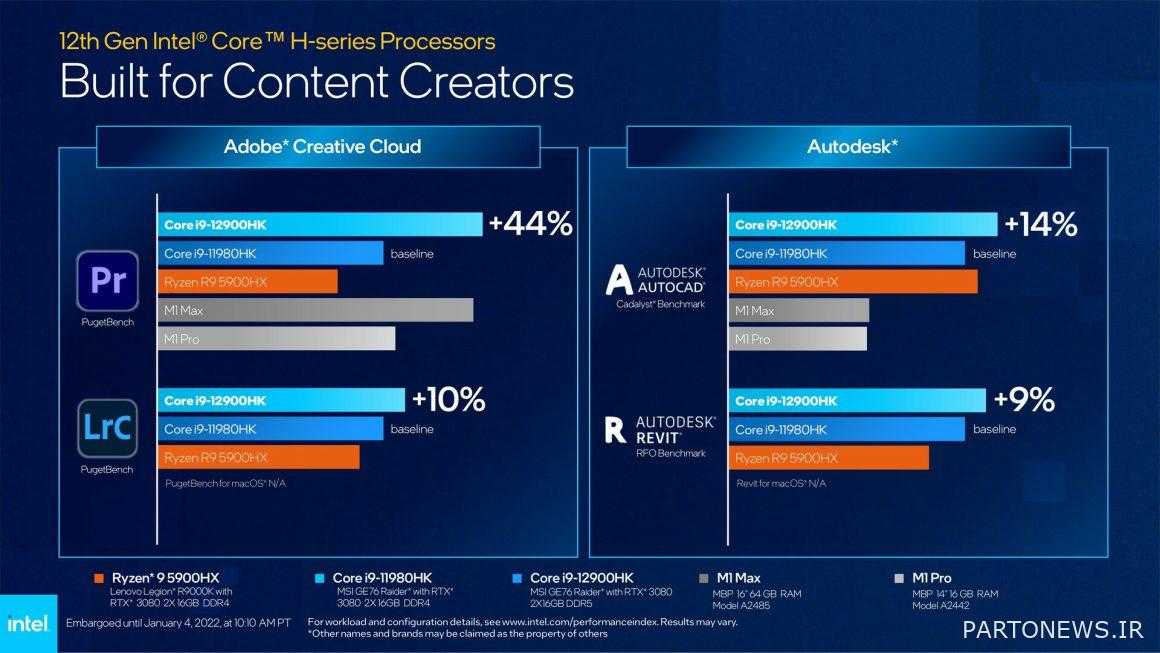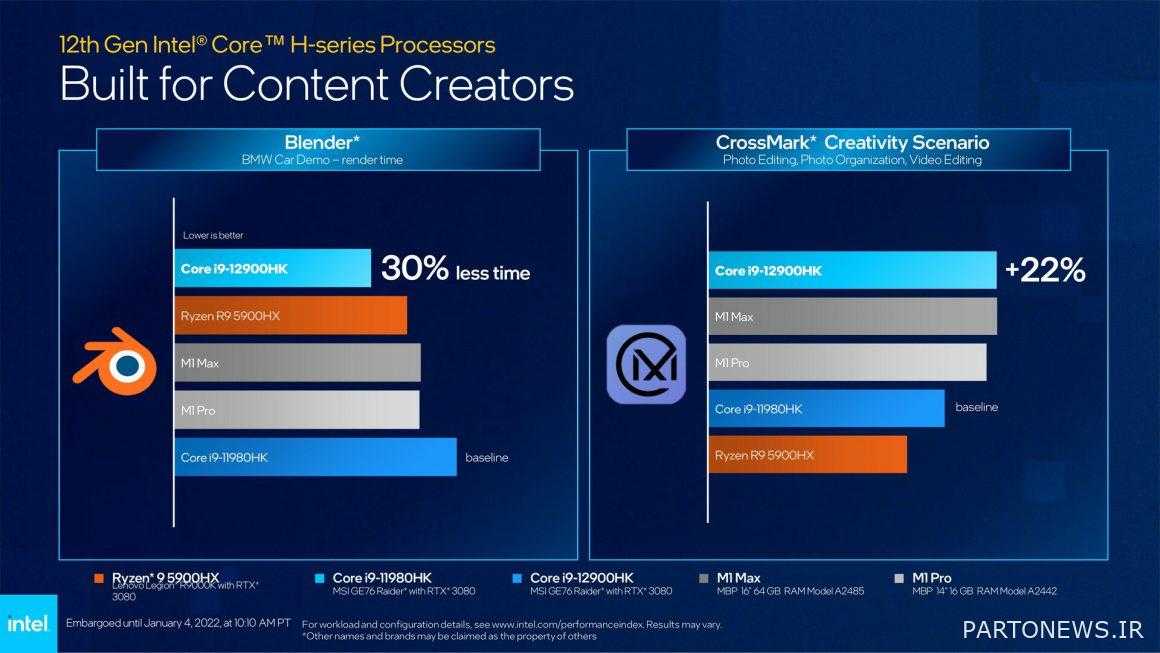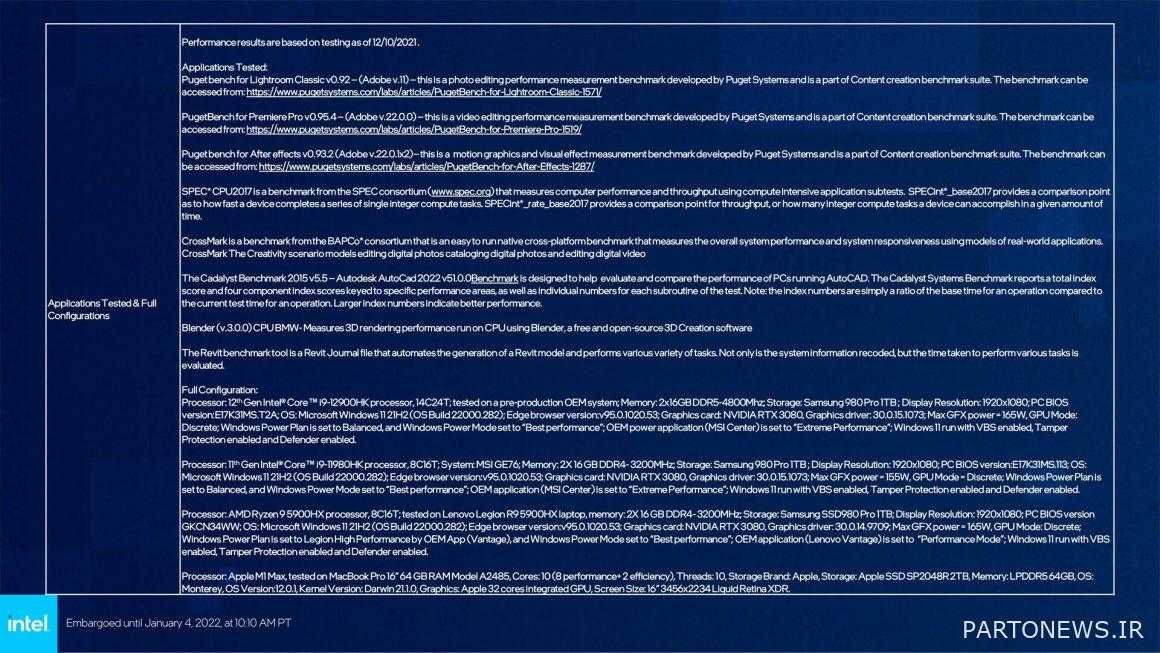 More than 100 different laptops with twelfth-generation Alder Lake H processors will be available in 2022, with many manufacturers showcasing them at CES 2022.
Twelfth generation Alder Lake P and Alder Lake U families
Apart from the H series, which are high-end processors, Intel has also unveiled the P and U families, but does not provide much detail about their performance.
The Alder Lake P series started with the Core i3 1220P chip with 10 12-core cores (two powerful cores and eight low-power cores) and continues until the Core i7 1280P with 14 20-core cores (six powerful cores and eight low-power cores). The Alder Lake P series operates at a base temperature of 28 watts, which increases to 64 watts.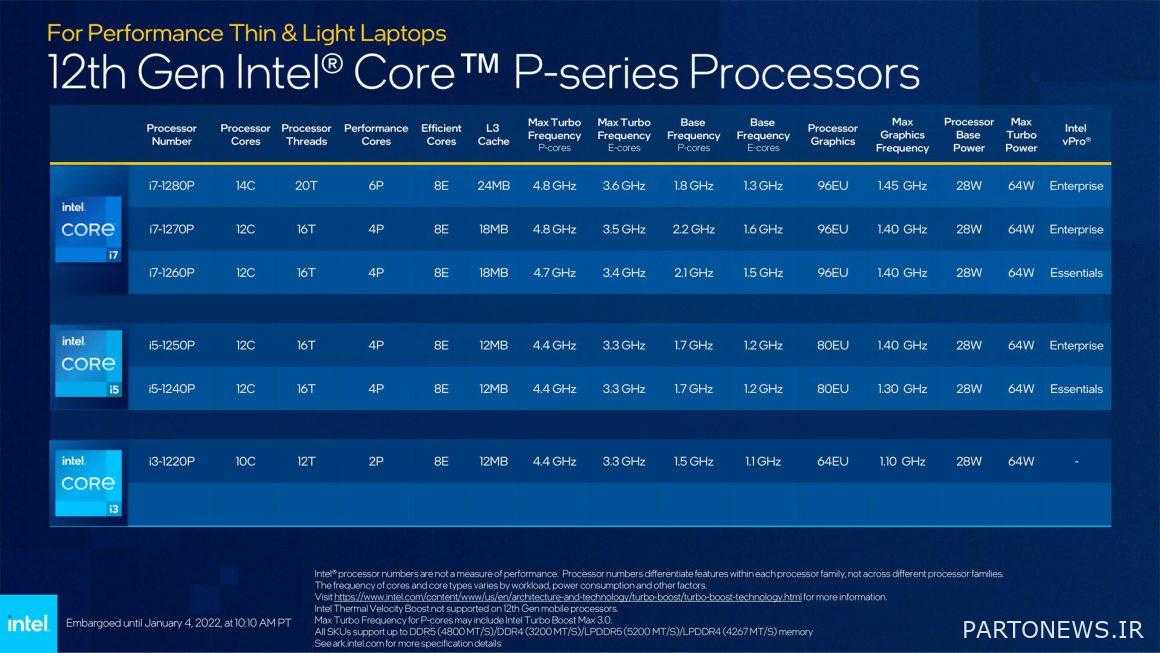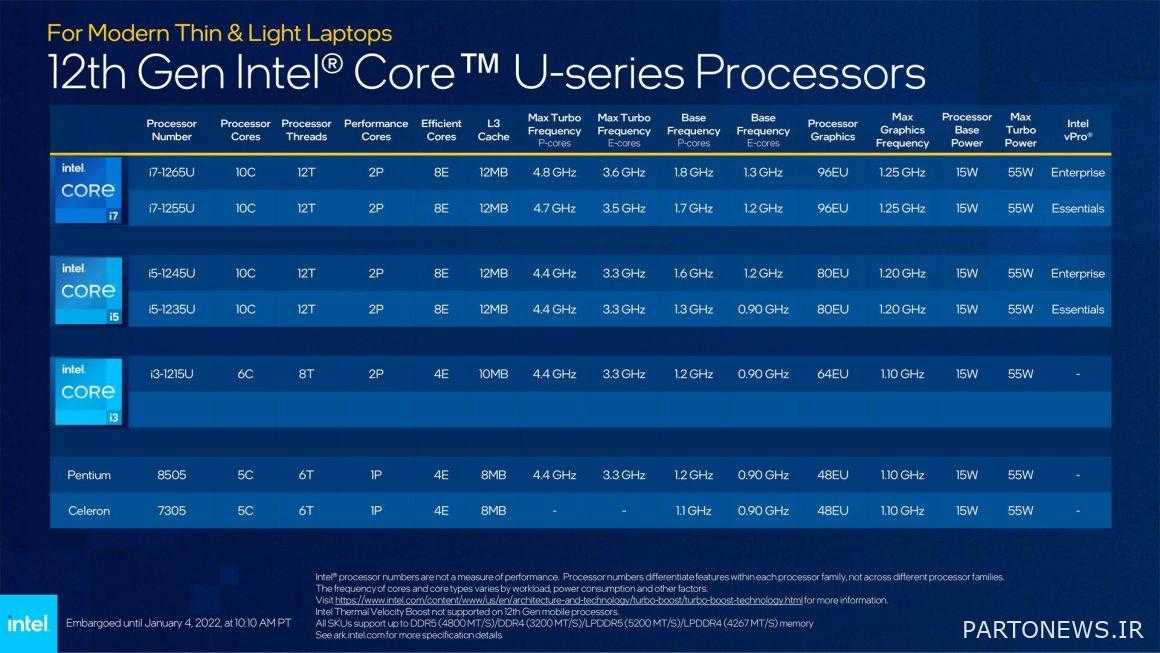 The Alder Lake U line-up is also divided into two categories, 9 and 15 watts. The 9-watt Alder Lake U chips start with the 5-core 6-core Celeron 7300 and Pentium 8500 models, and the highest example is the Core i7 1260U with 10 12-core cores. The 15-watt processors also start with the 5-core 6-core Celeron 7305 and Pentium 8505, and end with the Core i7 1265U with 10 12-core processors. The maximum thermal power of 9-watt models will be 29 watts, while 15-watt to 55-watt models will also consume energy.