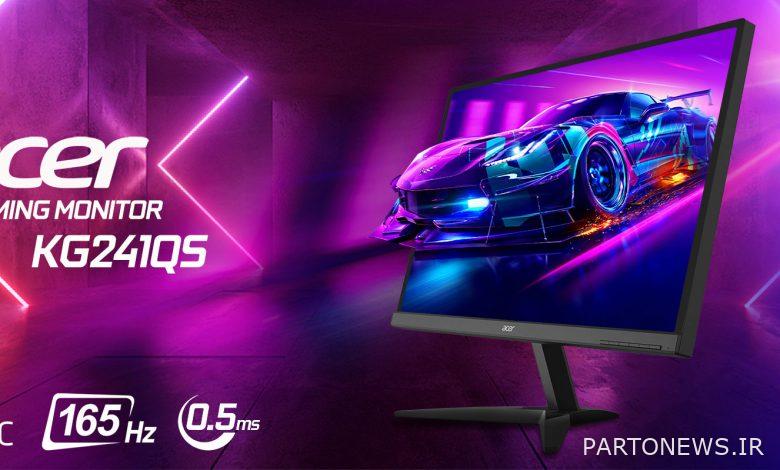 Study time:
5
Minutes
Recently, in Lyon Tech, we have introduced attractive and expensive monitors to you dear ones. From the professional and curved TUF Gaming monitor VG24VQE to the attractive and fast VG248QG monitor and of course the economical and highly desirable monitor VG240Y from Acer.
Each of these monitors, based on their features and capabilities, was considered one of the best in its price range; So if you buy any of them, you are unlikely to tell yourself that with the money and cost of this product, I could find and buy a better monitor.
Today, once again, we want to introduce you to the gaming monitor, which offers a very reasonable price, considering its capabilities and possibilities. Talking about Gaming monitor KG241QS from Acer Are. A fast monitor that, despite meeting the needs of professional and competitive gamers, has a very affordable price and can be desirable and enchanting for any gamer!
Before talking about the salient features of the Acer KG241QS gaming monitor, let's take a look at its technical specifications:
Panel size: 23.6 inches
resolution: 1920 × 1080
Panel type: TN
Update rate: 165Hz
Response time: 1 millisecond GTG
Contrast ratio: 1000: 1
Maximum brightness level: 300cd / m²
Vertical rotation of the screen: Has (up to 20 degrees)
entrance and exit: An HDMI 2.0 and a DisplayPort 1.2
Image anti-tear technology: AMD FreeSync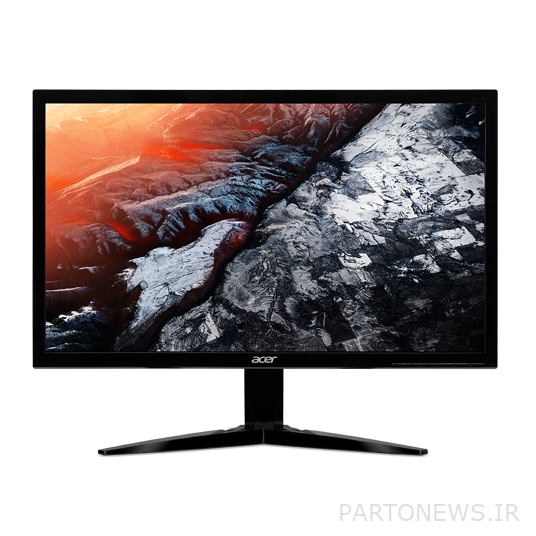 Looks like the previous one!
The KG241QS monitor is very similar to the previous model (VG240Y) in terms of design, shape and icon. This model still uses the same two-piece and attractive bases, and the appearance and design of the KG241QS, despite being repetitive, is very gamer-friendly and beautiful. Also, the Zero Frame mode is used to design the frame or screen frame, which does not place any annoying frames around the LCD.

Every single frame matters!
But apart from the looks and design, the KG241QS bears almost no resemblance to the lovely VG240Y. The most important thing that attracts our attention about the KG241QS monitor from Isor is its high and professional update rate. With an update rate of 165 Hz, this model has become an ideal and great option for open and competitive multiplayer gamers; Gamers who always love serious competition in first person shooter games, third person shooter games and even racing games (racing and sports).
But this 165Hz update rate is not free. To achieve this high and professional update rate, Acer has restricted the IPS panel and this time uses the TN panel in the KG241QS model. We all know that high refresh rates are very difficult to achieve in IPS panels, and IPSs with high refresh rates (such as LG's Ultra Gear series with Nano IPS panels) are always expensive and fall into the category of highly advanced monitors. . With these advanced models, you have both good color accuracy, high viewing angle and satisfying image depth of the IPS panel, and with a high update rate, you can enjoy fast and smooth gameplay in your favorite games.
However, Acer's KG241QS monitor, using a faster but more mundane panel like the TN, achieved a 165Hz refresh rate to keep costs as low as possible. Although many professional e-Sports monitors use the TN panel, we do not need to describe the visual limitations of this panel.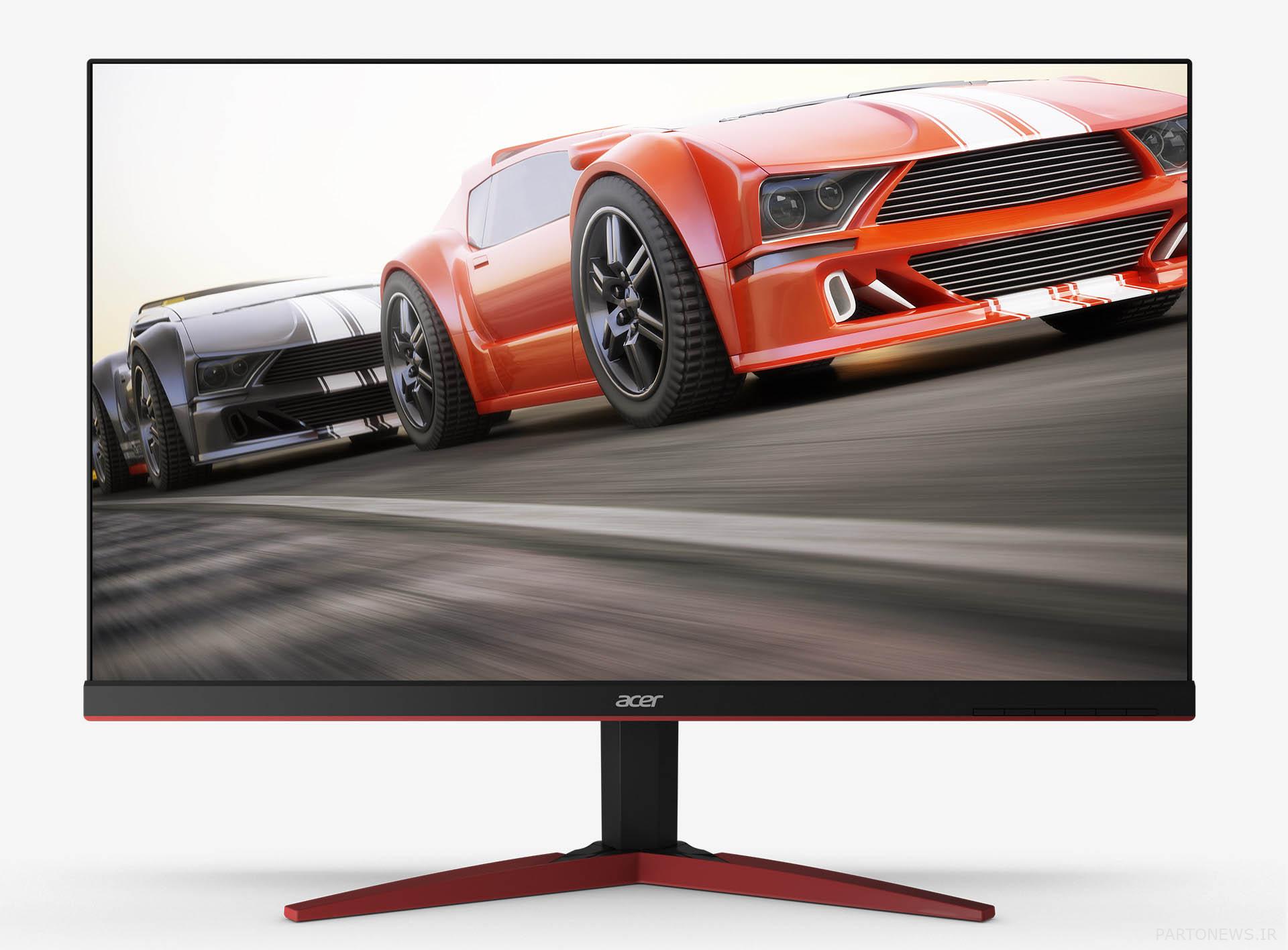 About speed…
Another technical feature of the Acer KG241QS monitor is its very low Response Time. We've explained in the past that achieving short response times on IPS panels is a bit difficult, but with the TN panel, the KG241QS monitor's 1 millisecond response time does not surprise us that much. This short response time can eliminate all the artificial shapes and extras that occur when displaying fast and moving images. Such pixels disappear altogether because the pixels in this monitor move very quickly and insignificantly between their off and on states.
In addition, KG241QS monitor support for AMD FreeSync technology is a prominent feature. You must know that with the inconsistency of the game frame rate and the monitor update rate, an annoying and ugly phenomenon called screen tearing occurs. With image rupture technologies such as FreeSync and G Sync, your game frame rate is instantly synchronized with the monitor refresh rate so that if you experience gaming at any frame rate (for example, 100, 120 or 140), with Soft image without problems and a pleasant experience.

The cheapest 165 Hz in Iran ?!
As far as our research and information is concerned, Acer KG241QS monitor، The cheapest and most cost-effective 165Hz gaming monitor, at least in the Iranian market. Sold in the price range of 6 to 7 million, the monitor also offers a refresh rate of 165 Hz, 1080p resolution, a response time of only 1 millisecond, and free sync technology. It can be said that no gaming monitor with these technical specifications and features is sold in the market at this price, and this makes the KG241QS an ideal and extraordinary option for competitive gamers.
Those gamers who can play shooter, racing, and generally competitive titles in 1080p resolution at high frame rates (120 or higher) can get the best and most economical way to enjoy titles with the Acer KG241QS. Experience different.
What do you think of the Acer KG241QS monitor? Do you know of a monitor with these specifications and a lower price (or equivalent) in the Iranian market? Be sure to tell us about your options. In general, share your good reviews about the KG241QS monitor with us.