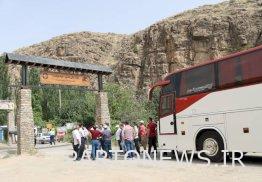 According to Aria Heritage, quoting the public relations of the General Directorate of Heritage, Culture, Tourism and Handicrafts of Khorasan Razavi, Yousef Bidkhori announced this news today, Saturday, July 25, 1401, adding: "They were present."
The Deputy Minister of Tourism of the General Directorate of Heritage, Culture, Tourism and Handicrafts of Khorasan Razavi continued: "They got acquainted with Drongar Dam, Tandoora National Park (Chehlmir Valley), paddy fields, eco-tourism resorts of Emarat Khorshid, Baba Ismail, Safa Garden and Dargaz Dream Road."
Bidkhori stated: "Considering the creation of eco-tourism resorts and the possibility of tourists staying in this city, we hope that by holding this tour, we will provide a space to introduce these tourism capacities and the stakeholders will take action to hold tourist tours to this city." »
"Dargaz city has a high capacity in the fields of natural, historical, religious, wildlife, sports and mountaineering, rural and nomadic tourism," said the deputy director of tourism at the General Directorate of Cultural Heritage, Tourism and Handicrafts of Khorasan Razavi.
"Dargaz city has 180 identified historical, natural, hill and site monuments, 103 of which have been registered in the list of national monuments," he reminded.
Also, Mohammad Karami, the governor of Dargaz city, introduced himself to the participants in this tour and said: "This city has many beauties, but more important than the visual beauties is the behavior, mood and hospitality of the people of Dargaz."
"There is a readiness to introduce the city as a tourism hub," he said. "Let's develop tourism and take advantage of the tourism potential of this city."
Farajullah Eghbali, one of the elders and elders of Nokhandan, also referred to the historical background of this region and reminded: "This region is more than 7,000 years old and is a historical hill in the center of Nokhandan."
"The existence of these words shows an ancient history of several thousand years, and it is an honor to explore this area," he said, referring to the use of some ancient words by locals.
Eghbali pointed to some commanders and heroes of this region throughout history and said: "Once Nader Shah Afshar took the Iranian flag and stood against the invasion of Iran's enemies, and in the contemporary era, the son of Diar Dargaz, the martyr Sayad Shirazi, vigorously defended Iran. "Iran was one of the zealous men of the present age."
Dargaz city is located about 270 km from Mashhad, the capital of Khorasan Razavi province.