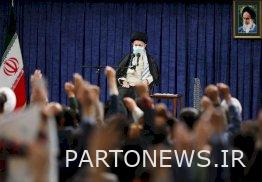 According to the report of Aria Heritage, quoted by IRNA, on the anniversary of the epic and sacrifice of the people of Isfahan and the burial of 370 martyrs of the Muharram operation in the city of Isfahan, a group of people from this province, this morning, Saturday, November 28, 1401, attended Imam Khomeini's Hosseiniyeh (RA) and met with the leader of the Islamic Revolution. they did
The Supreme Leader of the Revolution said today in a public meeting with the people of Isfahan: There are not one or two people in Isfahan. Isfahan is the city of science, the city of art, the city of Jihad, the city of life. Regarding science, in Isfahan, perhaps in these last four hundred years, the number of great scholars of Isfahan, whose importance, value and fame are not related to Isfahan, some have covered the entire Islamic world, some have covered all of Iran, if we want to name them, in fiqh and in Philosophy, Hadith, Tafsir, and the like would be a thick book if we only write their names.
He said: Our great scholars, even until the time close to us, such as the late Mr. Naini, the late Asid Abolhasan Isfahani, the late Ashikh Mohammad Hossein Isfahani, these are all the great scholars of different eras, before these, before these, before these for about four hundred years. They are from Isfahani. It is a city of knowledge. That is, it is educational, not only in jurisprudence, it is the same in philosophy, some are not from Isfahan, but they grew up in Isfahan, developed in Isfahan, Isfahan brought these things. This is the characteristic of Isfahan. It is the city of faith and love for Ahl al-Bayt (AS).
Isfahan's water issue is an important issue and I followed it
The Leader of the Revolution stated today in a public meeting with the people of Isfahan: Isfahan's water issue is an important issue. I have also been looking for this issue. Many friends wrote letters, we also referred and followed up. Recently I also followed. Alhamdulillah, they are busy, which means good things are being done; Five or six steps. Now, for example, it may be said that some of these are long-term, so be it, finally, the work is being done, it is moving forward, and God willing, it will be resolved. I now order the honorable government officials who are really trying to work, to work as hard as possible in this field, to work as fast as possible; It means that the people of Isfahan really deserve that we do not know day and night.
It will be completed..