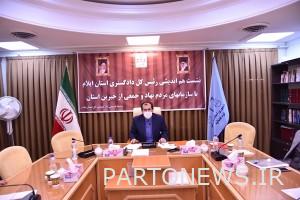 Chief Justice of Ilam:
The Chief Justice of Ilam said: "Non-governmental organizations are helping the judiciary in the fight against corruption and reducing social harm."
According to the Public Relations of Justice of Ilam Province, in a symposium with non-governmental organizations and a group of benefactors of the province, Ali Dehghani, Chief Justice of the province, while appreciating and thanking the presence and participation of non-governmental organizations and donors in the meeting, held these meetings. In order to eliminate injuries and social problems with the benefit of the experiences of guests and professors and experts evaluated.
Referring to the transformation programs of the judiciary in various fields, Dehghani mentioned that one of the most important of these programs is to strengthen close relations with society, especially the elite community, and added: "The purpose of strengthening relations with people is to hear their problems and concerns." Reduce social harms and strengthen demand among people in the community.
The highest judicial official of the province considered participation in solving the problems of the society as a great and rewarding task and specified: One of the ways to reduce social harms is to strengthen non-governmental organizations and charities in various cultural and social fields.
Emphasizing that non-governmental organizations have a colorful role in society, he added: "Samans can help to institutionalize responsibility in society, which can increase the accountability of officials and solve many problems in society." کرد.
The Chief Justice of the province further pointed out: The social deputy and crime prevention of the province's judiciary is a bridge between the judiciary and non-governmental organizations, and through this, many problems can be created by forming specialized working groups and with the help of these organizations. Reviewed and resolved.
Dehghani emphasized: "One of the duties of the judiciary is to prevent crimes and social harms, and to demand from the responsible agencies and institutions in order to reduce crimes and injuries, which can play an effective role in demanding from the relevant agencies."
He also said that the Samanids can help in various fields such as the defense of public and civil rights, the prevention of crime and social harm, the proclamation of corruption and the promotion of peace and reconciliation of the judiciary.
Addressing the representatives of non-governmental organizations in the province, the Chief Justice of the province said: "Your voluntary efforts and helping to solve the problems of the people and society is a great and valuable work and the justice of the province is fully prepared to meet the legal needs of the people by holding training classes and meetings." Raise specialized.
It is worth mentioning that at the beginning of this meeting, the representatives of non-governmental organizations and charities of the province expressed their views, problems and suggestions in order to communicate more with the judiciary and reduce social problems and harms.