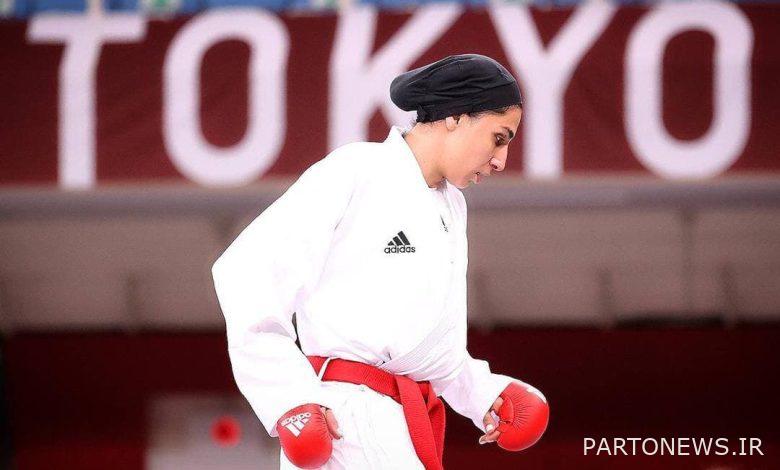 According to IRNA; Iranian karate is facing a busy year and must participate in important events such as the Islamic Games, the Asian Championship and the Hangzhou Asian Games.
In this regard, the fourth stage of the team's training camps is being pursued and will continue until May 4th.
There are 11 karatekas in the army. Sara Bahmanyar and Masoumeh Mohsenian in minus 50, Taravat Khaksar, Fatemeh Saadati and Avyshan Bagheri in minus 55, Rozita Alipour and Atosa Golshadnejad in minus 61, Mobina Heidari and Mobina Kaviani in minus 68 and Shima Algosali in Positive 68 Are national karate.
But while the women of karate are training hard under the supervision of the technical staff to succeed in important leading competitions, there is still no news of "Hamideh Abbas Ali".
Iranian karate national team, which was left empty-handed at the Tokyo Olympics and was injured again in the last fight. He operated on his injured knee for the second time in early September last year.
Eight months after his surgery, he must have fully recovered in those few months. Professional athletes after cruciate ligament surgery usually need 6 months to return to training and competitions, but it has been eight months since Abbas Ali surgery.
However, he is not in training and is heard to be abroad now.
"I talked to Abbas Ali and he announced that he is not in Iran and that he is preparing for the World Games," Ashraf Amini, the vice president of the Women's Karate Federation, told IRNA.
He added: "He does not want to participate in the games of Islamic countries and the Asian Championship, and after going on the tatami on World Games, he will come to Iran to join the army."
In response to the question that this decision is a clear example of player domination and the rights of those who are now in the army will be violated, Amini said: "We are examining all aspects and we will not allow the right of athletes to be lost." We must first evaluate the performance of Abbas Ali in World Games and the people who will be sent to the Asian Championship and the Games of the Islamic countries, and then we will make a decision.
"We will have a choice, and for the Hangzhou Asian Games, there are different filters for the selection of individuals, and you can be sure that the right will not be violated," said the vice president of the Women's Karate Federation.
Meanwhile, the women's national karate team will be selected to attend the three major upcoming events in June to determine the tasks of the expedition members. We hope that the officials of the federation will not allow the rights of the young and motivated people who are now in the army and are enduring hard training to be violated and those who are not in the camp to be sent to important competitions at once.