International
Iran
Kokhawi: Tel Aviv and the US are forming a rapid military capability against Iran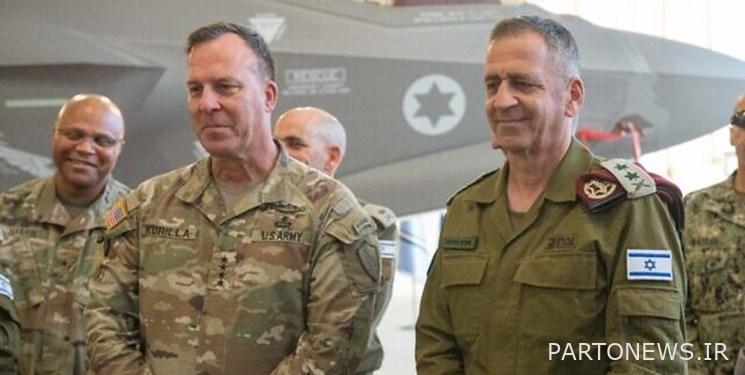 According to the report of Fars News Agency, Aviv Kokhawi, the Chief of the Joint Staff of the Zionist Provisional Army, spoke about the development of joint military capabilities in dealing with Iran in a meeting with the American general on Wednesday.
According to the websiteThe Times of IsraelGeneral "Michael Eric Korilla", the head of CENTCOM, the US Central Command in the Middle East, entered occupied Palestine on his fourth official visit on Wednesday and met and talked with senior officials of the Zionist regime.
Kokhawi said in this meeting that Israel and the United States are developing rapid joint military capabilities against Iran and other threats in the Middle East. He added: "In the face of developing threats in the Middle East and especially against Iran, we are training and developing rapid joint military capabilities."
According to this report, Kurila, Kokhawi and other senior officials of the Zionist Provisional Regime and the United States present in this meeting discussed Israel's efforts against Iran.
Kurila, together with Tomer Bar, the commander of the Israeli Air Force, visited the Navatim air base in the north of the Negev desert, the location of the F-35 stealth fighter fleet of the Israeli Air Force.
In an analytical report on Wednesday, Al-Mayadeen Network website discussed the consequences of Iran's acquisition of a hypersonic missile in international deterrence and emphasized that this missile has surprised Washington and Tel Aviv with its unique capabilities.
According to this report, the "Hypersonic" missile, which has all the characteristics of similar missiles in the hands of major countries, will act like a lightning bolt against the efforts of Iran's enemies and will ultimately strengthen the coalition against America led by Russia and China.
In another part of this report, it is stated that Tehran's unveiling of this hypersonic missile is a serious warning to Tel Aviv and its leaders to stay away from any conflict with the resistance axis.
The Ministry of Defense of the Islamic Republic of Iran announced in the past few days that the "Bavar-373" missile defense system can deal with all kinds of aerodynamic and ballistic threats such as drones, fifth generation fighters with a very low cross section, cruise missiles, ballistic missiles and helicopters.
Following this success, several American bombers and jets of the Zionist regime flew over the occupied Palestinian airspace. In this demonstration flight, several American B-52 bombers flew over the Middle East on Thursday.
For the first time, the F-35 fighter jets of the Israeli regime escorted two B-52 bombers belonging to the Centcom forces in the occupied Palestinian airspace (more details).
end of message/m
You can edit this article

Suggest this article for the first page