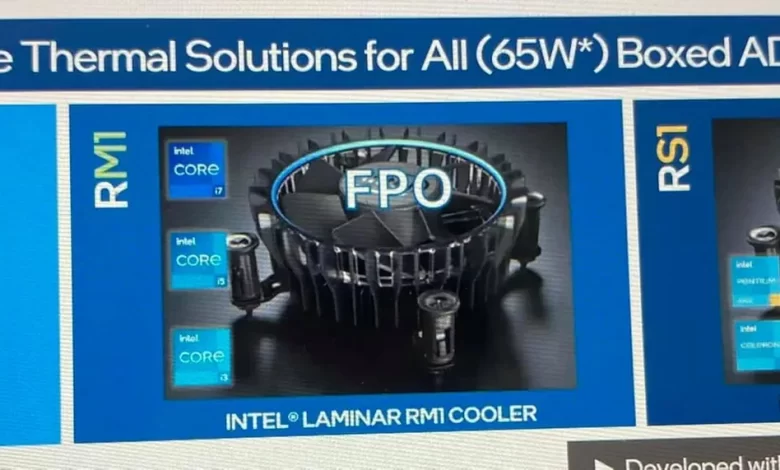 Study time:
2
Minutes
Intel is set to launch Alder Lake processors in November. These processors have a new architecture with a new lithography, a new platform and, in addition, a new CPU fan. It seems that after years, Intel has decided to change the design of its coolers. New coolers are offered under the LAMINAR brand.
New Intel CPU fan
LAMINAR cooling images announce a new design for all 65 watt 65th generation processors. According to the published images, at least three new CPU fans will be released, all of which are compatible with the LGA 1700 socket, which is a big upgrade over the existing air conditioners.
The base cooler is called RS1 and is to be used for 12th generation Pentium and Celeron processors. The next CPU fan is called RM1 and we meet it in the packaging of Core i3, Core i5 and Core i7 processors. The high-end RH1 air conditioner is also intended for Core i9 chips.
We start with the flagship air conditioner. The Laminar RH1 cooler is a long CPU fan with multiple aluminum blades. These blades are attached to a plate whose material may be copper. In the middle of the blades is a fan with RGB lighting. The connection clamps of the coolers have also been changed in the RH1 cooler, and instead of screw clamps, four screws have been used in it.
The two coolers, RS1 and RM1, are very similar, but with minor differences. For example, the RM1 cooler has more aluminum blades and a larger internal heatsink. In addition, the RM1 CPU fan uses an RGB LED strip, but the RS1 cooler has no lighting at all. The RS1 CPU fan has a smaller central heatsink than the RM1 cooler, and it probably does not use aluminum blades at all, and the blades we see in it are plastic and just for beauty.
The new CPU fan is only for non-K processors
As it turns out, the Laminar series CPU fans are only used for non-K processors in the Alder Lake family, and K processors will normally be available without a cooling fan. For these processors, which generate 125 watts of heat at base, Intel recommends more powerful coolers.
What do you think about the new generation of Intel CPU fan? Intel has decided to follow AMD's path for Wraith coolers for Ryzen processors. Will these new air conditioners, like the previous ones, have poor build quality and poor performance, or will users need to buy expensive air conditioners with them? Be sure to share your views with us.