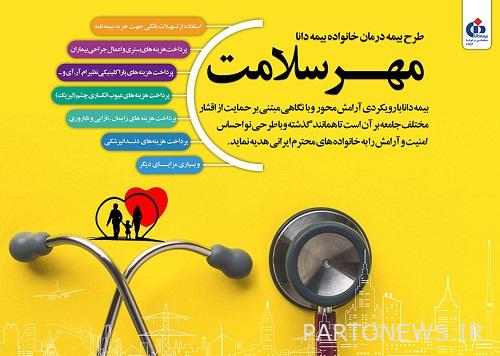 According to the financial monetary news quoted by Dana Insurance Public Relations, this company, after the implementation of the successful Mehrdana and Refah Dana plans, which have recently expanded in the insurance industry, offers another new service in the field of health to families, which is called "Mehr Salamat" plan. Is famous.
Mehr Salamat Dana plan is provided by insurance insurance companies with about half a century of experience in the field of personal insurance in order to cover insurance for members of the community, especially people working in institutions, workshops and shops and members of classes, clubs and residents of residential complexes, families. .
In this plan, various insurance coverages such as hospitalization, including medical treatment and general and specialized surgeries, delivery, refractive errors (LASIK), tests, medication visits, dentistry, etc. are provided.
In the health seal plan, the main insured can be covered together with the dependents (except parents) and each insurer (family) is allowed to choose the plan according to their tastes and needs from various plans.
The ceiling of the facilities of Mehr Salamat plan is 100 million Rials and the insured of the plan can pay the relevant insurance premium in the form of 12-month installments by using bank facilities (according to the arrangements made). Those interested in using Dana Insurance Health Seal plan for more information can refer to all branches and agencies of this company throughout the country.