ecosystem
Neuronio, a startup in the field of cognitive health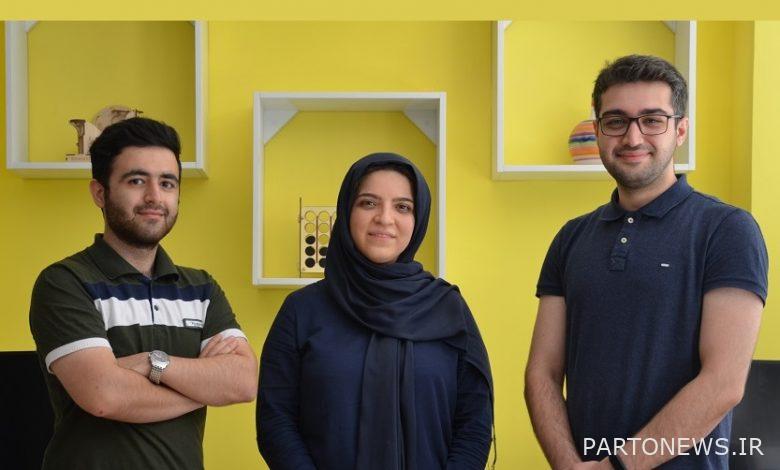 The age of Iran's population is increasing. And this phrase is an undeniable truth. By 1430, we will change the age structure of the population and increase it in the country. With age, new needs arise and maintaining health becomes one of the most important points. One of the most important factors that affects people's health is cognitive health or prevention of cognitive diseases. Accomotive spoke with an active team working in this field. Stay with us.
please introduce yourself :
I am Maryam Mohammadi, I have a master's degree in MBA. In my past experiences in strategic management and performance management, I have worked with companies large and small for many years. I am currently working as a CEO in the field of cognitive health at Noronio.
I am a student of Seyed Mohammad Mehdi Reiszadeh, a pharmacy student, and I was a member of the University Health Entrepreneurship Entrepreneurship Olympiad team for some time. I am currently working in the marketing department of Noronio.
I am Ali Ganjizadeh, a graduate of Tehran University of Medical Sciences and a general practitioner. For a time, I was the co-founder of Madeline and vice president of Osen. I am currently the product manager of Noronio.
What does Neuronio do?
نورونیو Is active in the field of cognitive health and the departments of prevention, evaluation, screening and cognitive rehabilitation; We work in the field of digital health in general, but at the moment our main topic is cognitive health. Neuronio provides tests and services to people over the age of 45 who are concerned about their health so that they can be aware of and take care of their cognitive health, and provide cognitive rehabilitation services to improve their health.
How are cognitive health services provided in the market and offline?
Most digital health services are currently operating in public areas such as online counseling, appointments, etc., and have not been very specialized in a particular subject. On the other hand, individuals and clinics in the field of cognitive health often work in the traditional way in the office, and patients usually go to the clinic and doctor when they have these problems. We try to use technology like Artificial intelligence, Use cloud computing and virtual reality (VR) and .. and work in the field of digital health and specialized in the field of cognitive health so that people refer to Neuronio before the disease. In fact, we are active in the field of health care (Healthcare) and we prevent more than the treatment of the disease.
Do you provide all services digitally?
Yes, we provide most services digitally. We have platforms where people do self-assessment tests. Users can also take integrated intelligent cognitive tests online after taking turns. In this test, artificial intelligence is used to prepare cognitive profiles, and with game-making methods, the tests become more attractive to people. There is also a platform for users to communicate with the doctor. Each person's cognitive profile is sent electronically. Patients' data is kept in their health record, and individuals can take care of their cognitive health by re-performing assessments at one-month or one-year intervals. See your changes.
Where did the idea for Neuronio come from?
Neuronio company initially in Peer accelerator Deployed, this accelerator is an accelerator in the field of artificial intelligence. Dr. Khaliq Razavi, CEO of Hematak Accelerator, has been involved in cognitive health activities in the past. Given the need that was observed in the community and we realized that the population is moving towards aging, we decided to form this team with a focus on cognitive health, as a subset of peer accelerators. This Startup It was created with the aim of creating services for the care and rehabilitation of community cognitive health.
Where does the Noronio team find its customers and what has it done in terms of marketing?
Neuronio's goal is to provide cognitive health services to those who are interested. One of the main goals of Neuronio is to influence society and create value for each individual. We look for the best ways to influence and familiarize people with Neuronio services in a variety of ways.
Digital marketing helps us to have a better understanding of our customers and to get closer to them and to have more knowledge and understanding of their needs and to be able to convey our message to them so that people understand the importance of cognitive prevention and Take care of your health.
We have also started marketing methods with companies and organizations. Leading companies are interested in using cognitive services to enhance their employer brand and the importance they place on the overall health of their human capital, especially cognitive health, so that they can see the impact of services on improving people's lives.
. We also started negotiations with large organizations such as the country's pension fund, etc., so that we can connect with more people through these organizations and provide our services to them.
How important is the slogan "prevention is better than cure" in cognitive issues, and to what extent can people prevent disease?
One of the most important steps in the treatment of diseases is awareness of the disease. Unfortunately, in the field of cognitive sciences, especially Alzheimer's disease, they show their symptoms when there is no possibility of treatment. In fact, the work is over. But doctors believe that the first symptoms appear 10 to 15 years ago, but no one pays attention to them. So in cognitive diseases, especially Alzheimer's, it is very important to prevent because there is no cure. With a healthy lifestyle and preventive activities, the onset of the disease can be delayed
After being diagnosed with Alzheimer's, the disease can be delayed by doing certain activities, not doing some other activities, and doing mental rehabilitation programs. For example, a person who may develop Alzheimer's disease at the age of 55 or 60 can pass the disease on to the age of 70 or 80 by preventing it from occurring. This can save a lot of financial, emotional and care costs for families and the community.
In general, experts believe that preventive measures to avoid Alzheimer's disease should be started by all people from an early age and before old age. Lifestyle modifications including healthy eating, regular exercise, memory enhancement, learning and cognition, engaging in enjoyable and satisfying social activities, and mental and social health care protect individuals against Alzheimer's disease.
Preventive measures to prevent cognition of these people and the optimal functioning of their nervous system with the help of artificial intelligence technologies in the field of health, can greatly help the cognitive health of these people and disease control.
What are your plans for developing your business?
Currently, the dominant focus of health complexes in society is on increasing the age of the population. Because only 10% of the population includes people over 60 years old. But that number will rise to 20 to 25 percent in the next ten years; Therefore, in the future, we will have people at this age whose needs must be met. For example, one of the main needs of these people is the needs of the cognitive domain. Doctors usually take several types of blood tests from these people, but do not provide cognitive care. Given that we intend to enter the field of cognition and the population is growing and the needs of the population will also increase, we are currently trying to gain more market share. In this direction, we will have collaborations with influential people so that in the near future, as the population ages, we will be active as the main player in this field.
How important are cognitive issues?
In the next ten years, about 25 percent of the population will be in middle age and old age; It is estimated that in middle age, one in four people over the age of 50 develops some form of dementia; The burden of this type of disease is higher than diabetes, hypertension and many other diseases. We are currently trying to stay close to the rest of the ecosystem of treatment, care and prevention, and to be able to work on raising people's cognitive reserves so that more people can experience quality middle-aged and aging.
What series have ever supported you?
Since we were based in the same accelerator, the parent company of this accelerator called "Cluster Company" is one of the main Investors It was us. In this direction, founders such as Dr. Khaliq Razavi, Dr. Jalali, who gave us advice in the field of business and cognitive sciences, and along with these loved ones, several neurologists and cognitive physicians also provided us with scientific support.
What are your plans for raising capital?
The health market in the world and in Iran is increasing and many investments in the world and inside Iran are interested in investing in digital health. We are currently negotiating with several investors and we want to make the best decision based on their portfolio and prospects.
What services does Neuronio Rehabilitation Services include? And are neuronio tests validated?
Our tests are licensed in the European Union and are even used in Europe.
One of the topics that Neuronio works on is "rehabilitation". When we find out that a person has cognitive impairments, we help the person to feel better by using medication or non-judgmental interventions. Types of cognitive disorders include MS, Parkinson's, Alzheimer's, depression, and more. We have long-term rehabilitation programs for people with Alzheimer's and MS specifically with the help of the Cognitive Science Headquarters, and we have already launched areas in the field of rehabilitation such as occupational therapy at home, nutrition modification, personal trainer, VR games, and To improve Alzheimer's and MS patients, we use 2 VR games, which are our own designs. Therefore, in addition to screening for disease identification, we also focus on rehabilitation. If a person is in good condition, he can prevent disease and increase his cognitive reserve by doing these activities.
What fascinating goals, please tell, whats the story of them big puppys …..
Our vision is to make quality health services available to everyone. Because we believe that timely prevention of cognitive diseases such as Alzheimer's and Alzheimer's can be delayed, we try to provide our services in the country in public.
How do you rate this article?