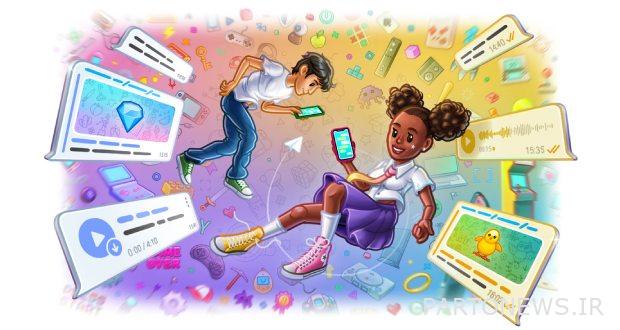 Posted by: Moin Karimi 29 September 1400 at 11:32
A new update of Telegram has arrived. In version 8 of the Telegram application, you will receive separate skins for chats, message receipts in groups, and so on.
yesterday New Telegram update With attractive features such as the ability to select separate layouts for private chat pages, new animated waves with full screen view, view the receipt of messages read in the group, as well as the ability to record live broadcasts were released. In the following, we will introduce you to all the new features of version 8 of Telegram.
New Telegram update
Separate layouts for private chat pages
In the latest Telegram messaging app update, you can have a separate layout for each private chat page. Telegram has created 8 different skins that can be synced across all devices. These skins can be selected with different message bubbles and colored backgrounds, animated backgrounds as well as a unique background pattern.
So if you are one of those users who have a lot of private chat pages, you can easily distinguish each conversation from the other by choosing a separate layout for both parties. By doing this, you will no longer send any wrong message to your boss instead of your friend!
To set a custom skin on Android, tap on the Talk tab and then click Change Colors. You should follow the same path on iPhones. If your opponent has also updated his telegram to the latest version, the theme change will apply to him as well.
Each theme has two versions, day and night, and is fully compatible with your phone's night mode. It is said that Telegran will soon add more themes to these 8 themes.
Moving waves
Moving waves are lovely and users have been able to use them in their telegram chats for some time now. The new Telegram update now offers different animated waves that you can send to a private chat to cover the entire screen. Suppose you want to congratulate a friend on his birthday. All you have to do is send him a greeting wave and then tap on the animated wave so that both of your phones vibrate at the same time and a moving wave covers the entire screen. This way you can convey your feelings better and closer to your friend.
Telegram says it will soon add more full-screen animated animations to its app.
Receipt of message reading in small groups
One of the new features that Telegram version 8.0.1 offers for groups is the ability to receive a message reading message. So from now on, in addition to showing two ticks as the message is read in the group, you can tap your message and see the names of the members who read your message.
To protect the privacy of users, Telegram will display this receipt for only 7 days and then delete it.
Record live performances and video chats in the new Telegram update

Telegram hosts millions of communities that can broadcast live with an unlimited number of viewers. It does not matter if it is a live broadcast of a music concert or your classroom, in the new Telegram update you will be able to easily record live broadcasts and video chats so that you can see and share them again later.
A variety of recording options will also be available to you. For example, you can specify whether to record the image vertically or horizontally, or to record only audio or audio with video. To record videos, just tap on the player menu and select the recording option.
To download the new version of Telegram, you can now go to Google PlayStore on Android phones and Apple App Store on iPhones.