Balls and nets
Sport
Premier League of Volleyball The first win away from Urmia municipality/ the most proud one point to Gaarneshin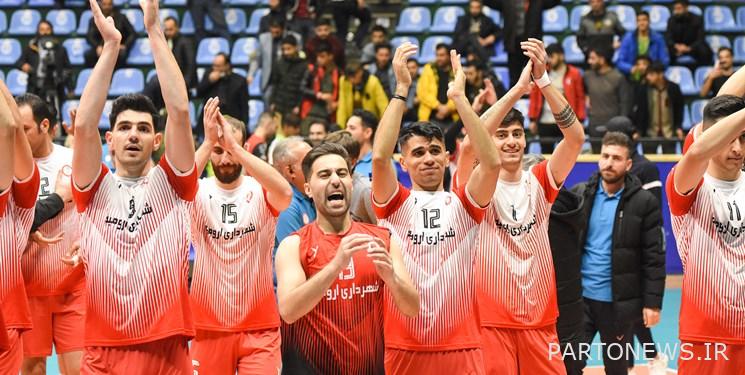 According to the sports reporter of Fars news agency, the 15th week of the volleyball championship of Iran's top men's clubs will be held on Wednesday, January 14, with seven matches in the cities of Gorgan, Mashhad, Tehran, Yazd, Rafsanjan, Amol and Isfahan.
In the fourth match of this week, Gittipasand of Isfahan faced Urmia Municipality in the Telecommunication Hall and lost 3-1 at home and in front of 100 spectators.
This is the first win away from Urmia Municipality and this team had previously defeated Sirjan Steel (6th week), Nian Electronics Khorasan (11th), Horsan Ramsar (12th) and Gonbad Municipality (14th) in Urmia's Ghadir Hall.
In this match, Urmia Municipality did not start well in the first set and lost 17-25 to the opponent, but returned to the game in the second to fourth sets and defeated Gitipasand at home with scores of 25-22, 26-24 and 26-24. Kurd to remain in the twelfth place with this sweet victory with 5 wins and 14 points.
Gittipasand of Isfahan remained in the 10th place with 6 wins and 20 points.
Mohammad Hossein Shafaqi, Mohammad Ebrahimzadeh, Mohammad Reza Kavian and Mojtaba Aspargham supervised and judged this 133-minute match as technical supervisor, referee supervisor, first referee and second referee respectively.
Homan Bagheri, the player of Gittipasand, and Vali Qoli Begi received a yellow card from Urmia municipality, and Mohammad Berbast from Gittipasand received a red card for this match.
The fifth match of the fifteenth week of the Men's Premier League was dedicated to the meeting between Mes Rafsanjan and Pikan Tehran. In this meeting, which was held in the 9th Hall, the Rafsanjani team did their best to defeat the proud opponent, and in the end, they lost three to two.
Peyman Akbari's students in Pikan team finished the first set with a score of 25-15 in their favor, but in the second set they lost 16-25. The third set ended with a score of 25-23 in favor of Pikanis, but in the fourth set, Rafsanjani defeated the opponent 31-29 to reach the fifth set.
In the final set, Pikan Tehran defeated the opponent 17-15 to increase its number of victories to 10 and remain in the third place with 32 points.
Mes Rafsanjan remained in 14th place with 3 wins and 12 points.
Ebrahim Eshghdoost and Behrouz Jafari as technical supervisors and referees and Qadir Sadeghi and Mohammad Aghaei as the first and second referees were in charge of supervising and judging this match.
This match lasted 120 minutes and had two yellow cards, Ali Sharifi from Pikan and Youssef Kazemi from Mes were the recipients of the cards.
end of message/
You can edit this article

Suggest this article for the first page