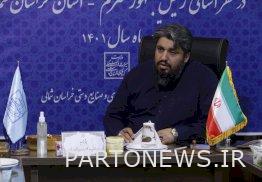 According to Aria Heritage, citing the public relations of the General Directorate of Cultural Heritage, Tourism and Handicrafts of North Khorasan, Meysam Asupa, who was in charge of the service desk of the Ministry of Heritage during his visit to North Khorasan, stated today, Thursday, July 23, 1401: "A total of 7 hectares have been designated for that area."
"There are a number of license plates in the Imamzadeh area that, for legal reasons, the owners are not allowed to demolish, build or repair," he added, referring to a field visit to both projects.
Asupa, referring to the many problems that have been created for the owners, said: "A request was made to review the area of ​​the hill; "During the meetings, it was decided to review the area of ​​the hill and its historical parts, and to put two solutions for cleansing or rescue excavations for the lands on the agenda."
"The final decision to choose one of the two proposed solutions is the responsibility of the owner, and the owner can take over his replacement property in the non-historic part of the same hill or government land on the outskirts of the city," he added.
The representative of the president at the service desk of the General Directorate of Cultural Heritage also said about the Mufakhm complex: "Determining the old sanctuary has created problems for the people of that area, and the specialized team has been ordered to re-examine the sanctuary."
He added: "After the final study on the boundaries of the Mufakhm complex, the problems of the residents of this neighborhood will be solved.
"Many people who came to the service desk during the two working days agreed that no such solutions and operational solutions to these problems had been issued in the last 20 years."