Balls and nets
Sport
Rahmati: I am not satisfied with myself and the players/our managers and football officials are impatient!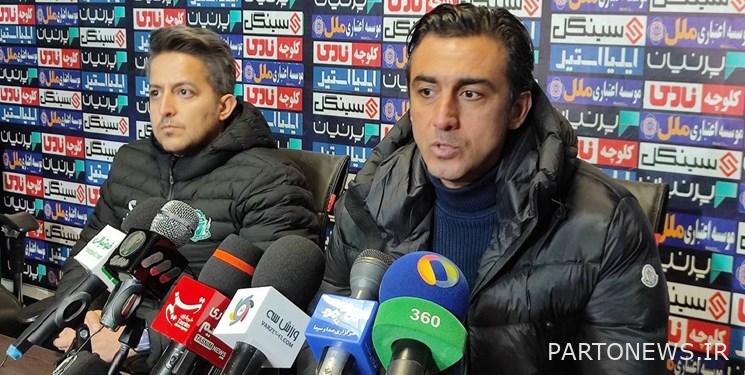 According to the sports reporter of Fars news agency, Seyed Mehdi Rahmati said in a press conference after the 1-0 defeat of Aluminum against Foulad: "Before talking about the game, I have to talk about a more important issue." For some time now, it has been mentioned in our radio and television that people very easily allow themselves to disrespect the country's legends and people who have worked hard for Iranian football. This issue I am saying is completely football and I have nothing to do with its aspects. Ali Dayi, Yahya Golmohammadi and other people who have worked hard for this football are not people that we want to allow ourselves to insult them on the country's radio and television.
He added: "I and many good people of my country are sad about this incident." From this platform where my interview is broadcasted on radio and television, I am asking the respected authorities to put a filter on the people who are given the platform. There have been many days that we have been happy with the goals of Ali Daei, Golmohammadi and other great people who have worked hard for this football. Do you remember the game between Iran and Australia? I was not a football player at that time, but after the victory of our national team, I was happy with the efforts of these loved ones and their pride in the street.
The former goalkeeper of the national team added: There is no one who does not know Ali Dayi in world football. Mr. Gul Jahan has been known for many years and everyone knows him. Maybe many people in the world don't know Iran's flag, but they know Daei. According to statistics, maybe 20 to 30 percent of people in the world don't know the British flag, but they knew David Beckham. Again, I request from this platform to put a filter and not allow anyone to disrespect the legends of the country in sports, art, music, cinema, etc. We have to deal with this issue.
Rahmati explained about the game: Congratulations to Foulad team. May these three points be blessed. I am not satisfied with myself and the aluminum children. Although we didn't give Foulad a chance before the goal and we didn't give them a chance after the goal, we had full control of the game during the match and the Foulad team defended its reserve. Because of their good defense, maybe we could not create a chance.
He added: Vahid Mohammadzadeh's header should have been a goal at the end of the first half. We had other situations as well. The responsibility of the loss is with me and this issue is on my shoulders. I apologize to the dear fans of aluminum. We must find character and know our place. If we are looking for progress, both I and the players of my team must work much harder than this. Maybe we didn't start the first 20 minutes well. If we started well, we definitely wouldn't have scored, but we are trying to make up for this home loss.
Aluminum's head coach said: I congratulate Foulad, but my expectations from my players are much higher than these. I really want them to focus much more than this. I don't say in terms of working hard because they ran very well and put in a lot of energy, but if we are looking for a good position, our team must focus much more than this.
Regarding the reason for the low number of goals and the problems of the first half of the Premier League season, Rahmati answered: Our football is very difficult and you can't talk about it because you have to spend hours on it, but our fans, managers and football officials are a bit impatient. For this reason, most coaches are looking for not scoring goals and playing defensively. In this way, they seek conclusions. In football, defending is easy, but attacking and creating chances is very difficult. Our team did a good job today, but sometimes we got unlucky and our balls didn't turn into goals.
He added: This is the main problem. Javad Nekonam has been working in Foulad for three years and has taken the players he likes. He transferred all his thoughts to the players and did these things on the field. We also need time. We will be much better in the future. In the mid-season transfer window, which is my second transfer window period with Aluminum, some players will leave the team and add people who have passion and motivation to play and are not saturated. We are trying to get players who will help the aluminum team.
Aluminum's head coach explained that today Foulad played with a combination of Carlos Queiroz's team and Arab countries: We must respect the style and style of each coach. I am not talking about the Foulad team, as I have not talked about the opponent in any of my press conferences, but we also lost against Persepolis in this way. Against Tractor, we attacked for 90 minutes and had 12 chances above 90%. This brings aluminum team strength. For this reason, I am completely satisfied with the energy and power that the players put in, but our concentration is low.
Rahmati continued: If a team is going to be at the top of the table, stay at the top of the table and reach high ranks and good positions, it should focus more than this.
Regarding whether Aluminum has a more serious plan for these competitions this year, considering the last season's runner-up in the elimination cup, he said: We have a plan to gain and improve a good position in both cups. From the very first day, we try to participate with all our strength. I really don't have the habit and it's not in my mind to see a team as weak. We will go with all our strength for the knockout cup match because there is no question of resting and giving the field to the young player. Because so far this season, I have come to some conclusions about which players can help us and which players should be separated from us in the second half of the season.
Aluminum's head coach stated: We have a plan for the elimination cup, but in general, Aluminum's vision this year is to maintain the previous year's position and maintain our good process. You see big teams come here or when we go to their city they can't beat us easily or at least we play with minimum goals. Most of our goals are for next year, but we are also preparing for the elimination cup to get a better position.
Regarding Alumi's transfer list and whether he has talked to Persepolis to recruit Hamed Pakdel, Rahmati said: We have not talked to any players yet, but I have provided the club with a few players whose names you can ask the club's CEO. 3-2 other people who have been with us until today will be separated from aluminum. I really don't have the energy anymore to insist on some pointless things. If something were to happen, it would happen by half of the season, and now that it hasn't happened, these people will be separated from us.
end of message/
You can edit this article

Suggest this article for the first page