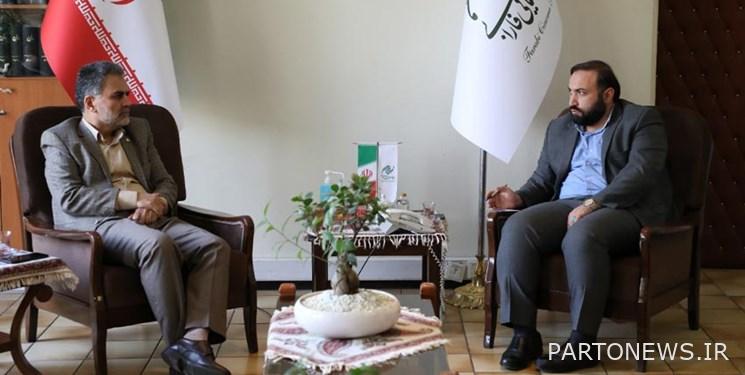 According to Fars News Agency, quoting the public relations of the Farabi Cinema Foundation, Seyed Mehdi Javadi, CEO of the Farabi Cinema Foundation, and Nematullah Rezaei, CEO of the Omid Entrepreneurship Fund, discussed ways to continue supporting the filmmakers.
In this meeting, Farabi CEO thanked the former cooperation of Omid Entrepreneurship Fund with the country's cinema community and stressed the need to continue and develop this cooperation to revive film jobs.
Referring to the hard times of Corona and its serious injuries, Javadi told filmmakers: "According to the missions of the Omid Entrepreneurship Fund to revive jobs damaged by the Corona, one of the most important guilds that can be revived with lower per capita activities is the movie guilds." . Unfortunately, we still have films that have been borrowed, but it is not their turn to release them, and it is natural that they will have problems repaying the facilities.
The CEO of Farabi, enumerating the concerns of Dr. Mohammad Khazaei, the head of the Cinema Organization, stated in this regard: "Apart from these issues, creating employment in cultural fields, including cinema, can be achieved with the least capital." Therefore, in a meeting we had in Farabi during the Fajr period with the Vice President of the Fund and the Vice President for Rural Development and Deprived Areas, it was decided that with the participation of the Omid Entrepreneurship Fund, we will have plans to revive and create cinematic jobs.
Also in this meeting, Dr. Nematollah Rezaei, CEO of Omid Entrepreneurship Fund, expressed his satisfaction with attending one of the most effective cultural institutions in the country and emphasized the fund's efforts to support the country's cinema community.
Rezaei also reviewed the strategies for developing cooperation between the two companies, referring to the coronary conditions, and announced the full readiness of the fund to help cinematographers to overcome these conditions.
* Giving credit to corona loans
During the meeting, which was also attended by Sajjadi, Treasurer of the Farabi Cinema Foundation, and Hossein Nazerian, Deputy Inspector, Legal and Provincial Affairs of the Omid Entrepreneurship Fund, it was agreed that filmmakers who had previously received loans but could not pay their installments due to Corona could not pay the installments. Delay the repayment of their installments.
According to the news, in addition to extending the tripartite memorandum of understanding between the Omid Entrepreneurship Fund, the Art Credit Fund and the Farabi Cinema Foundation to provide facilities to filmmakers, a new memorandum of understanding was signed between the Farabi Cinema Foundation and the Fund to support the production of strategic works.
End of message / T172
Suggest this for the front page