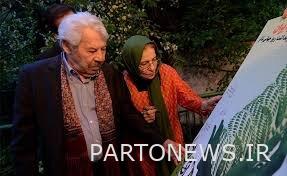 News ID: 43820 Publication date: 24 July 1401 15:38 Number of views 0 | Posted by:
Tasbeh Broumand, Dawood Rashidi's wife, announces at the same time as the artist's birthday that a book about Dawood Rashidi will be written and published.
Charso Press: This veteran artist says: Fortunately, last year, we were able to prepare Mr. Rashidi's artistic biography with the efforts of Mr. Mansour Khalaj, who has published works about other artists.
He continues: This book focuses more on the acting activities of Mr. Rashidi, but it also contains information about the early years of his career in cinema as well as his private life.
Broumand explains about the publication time of this book: The book has been prepared and is going to be published with the efforts of the Drama Society. We were very interested in this book being unveiled at the same time as his birthday, but due to the changes and developments of the General Department of Performing Arts and the transfer of managers, naturally the publication of this book will be delayed for some time, but we hope and follow up that this book will be released at the same time as the 5th of Shahrivar. The month and anniversary of his death should be published.
After the death of Dawood Rashidi, he presented the badge of this artist to some cultural and artistic figures in his memory and on the anniversary of his death, he also says about the continuation of this program: In the last three years, Corona did not allow Let's hold this program and now there are other problems that we thought it better not to hold this program this year. Anyway, those who pass away, if they have done something effective, their name remains.
Broumand is also pleased that, thanks to the efforts of the Cinema Museum, a part of Daud Rashidi's equipment will be exposed to visitors in a showcase named after this artist.
Daud Rashidizadeh was born on July 25, 1312, and died on the fifth day of September 1395.
In addition to acting in theater, cinema and television, he translated and directed many plays in his many years of activity.
This veteran artist also had an effective presence in trade union activities and was the president of the Cinema House Actors Association for many years.
In the years before the revolution, Rashidi was in charge of managing the entertainment department of television, and his effective presence in this position led to the expansion of theatrical activities on television, and in this way, the general public of the country benefited from this art by watching live television theaters.
At the same time, Rashidi activated the children's group and the first children's programs were made and broadcasted on television during his management period.