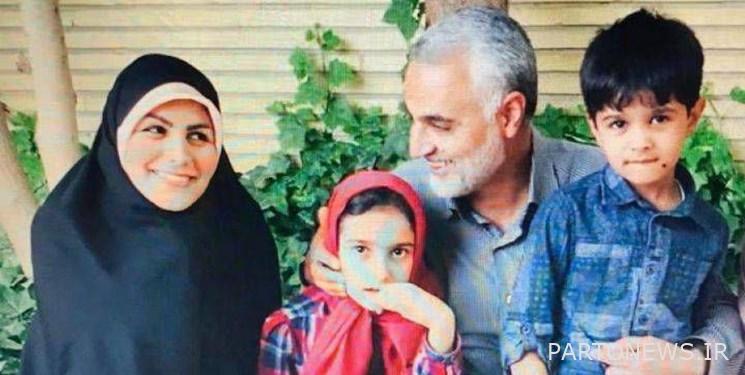 According to Fars News Agency's Radio and Television reporter, the Supreme Leader of the Revolution's meeting with the family of martyr General Hajj Qassem Soleimani on January 13 of last year had unrepeatable and unique moments. For example, in the moments of this meeting, when the Supreme Leader of the Revolution mentioned a memory from the book of one of his martyred comrades, hatred rose in their throats and they cried in an unprecedented way in memory of Sardar Delha.
The memory of Martyr Soleimani's presence in the hospital and the place of surgery is the grandson of one of the holy defense martyrs. Martyr Mehdi Moghfouri, the commander of the Kerman Corps, who was martyred in the Karbala operation, and now, with the follow-up of Resistance Radio, Fatemeh Moghfouri, the child of the martyr and the mother of the same girl who Haj Qasim laid on top of her head during the surgery, has become a special guest of the program "Heavenly Soldier" and in In an interview with the resistance radio, he revealed unsaid things about Sardar Delha. Follow along with the detailed text of this conversation.
*how many children do you have?
We have two children named Zainab and Hossein, and our own names are Ali and Fatemeh. Haj Qasim liked the names of our families very much and used to tell everyone, do you see these? These are Ali, Fatima, Hossein and Zainab.
* What was the essence of the incident that the supreme leader of the revolution mentioned with malice?
It was at the beginning of 2018 that first Hossein Agha fell ill. We found out that he has diabetes. When he was in the hospital for about a week, Haj Agha was very kind to us. They visited us regularly and told the head of the hospital that whatever you do for me, do it for them. After Hossein Agha was discharged, we suddenly realized that there was a problem for our Zainab.
Those were very difficult days, but we were only encouraged by the fact that Haj Agha was with us. Because Zainab had to undergo surgery, we needed time to look for a competent specialist to handle the surgery. During this time, Haj Agha never left us alone. If they were from Iran, they would visit us directly, and even if they were not from Iran, they would call and inquire about our condition. That too in a situation where sometimes even the sound of bullets and mortars could be heard behind their voices and the phone was disconnected and reconnected regularly.
On the morning of Zainab's surgery, Mr. Pour Jafari called us and said that they are sending Hajj Agha today. We were sure that Haji would not come, that's why we only took Zainab to the hospital, but to our disbelief, we saw that Haj Agha took himself to the hospital again and gave us strength with the same fatherly spirit. A prominent example was more visible when a group of doctors and medical students entered the ward, Haji quickly went to the reception desk and pointed out to the head of the hospital that he had heard that Haj Agha was here and that is why he had come. Has the crowd entered the department with this noise? Here is a hospitalized patient, a hospitalized child. The children were afraid and to this extent they managed the situation with a fatherly view.
I insisted to Haj Agha to come because I knew that they were going on a mission, but in one situation when Mr. Pour Jafari was there, Haj Agha said to me, "Daughter, I sent your father to where he was supposed to go, and I went to you instead of him." I am comming". After this sentence, during the entire time that Zainab was in the hospital, Haj Agha was with us. When we were anxious and impatient, Haj Agha would hit my hand with his rosary and firmly say, "Fateme, calm down." everything is going to be alright.
Even though it took 45 minutes to recover, Haj Agha still stayed until Zainab regained consciousness, they personally went to our daughter and when they were sure that the grandson of Martyr Moghfouri was fine, they left for the mission.
*Tell us about the character of Shahid Soleimani. How did he behave in the meetings you had together?
Generally, Haj Agha's friends and family members talk about the memories of Martyr Soleimani's battlefield and combat and operational department, but the story of our hospital is only a small aspect of the tender and kind part of Martyr Soleimani that has been neglected.
I remember that one morning, Hajji came to our house for breakfast and their ceremony coincided with Ali Agha's arrival, but since Ali is a pilot and had not slept for 48 hours, he greeted Haji with excruciating fatigue and went to the room. The next day, Haj Agha called me and inquired about Ali.
I explained to him that Ali was in that condition due to continuous insomnia during the flight, but Haj Agha still refused and sent a doctor from his unit's medical unit to take care of our problem. I believe that these cases were not limited to us, but spread to many martyrs' families.
They never explained these things themselves, but we heard from the people around them that once in the minibus that takes passengers from the airport to the plane, Haj Agha noticed a person who was very worried and impatient. They go forward and greet. It turns out that the servant of God was an Armenian compatriot and even a non-Muslim, but at the same moment Haj Agha called several places and solved the problem of that compatriot.
They had a close relationship with flowers and plants. Every time I went to their house, she would enthusiastically tell me, "Fateme, let me show you the garden" and they would talk with enthusiasm about every flower and bush they had planted.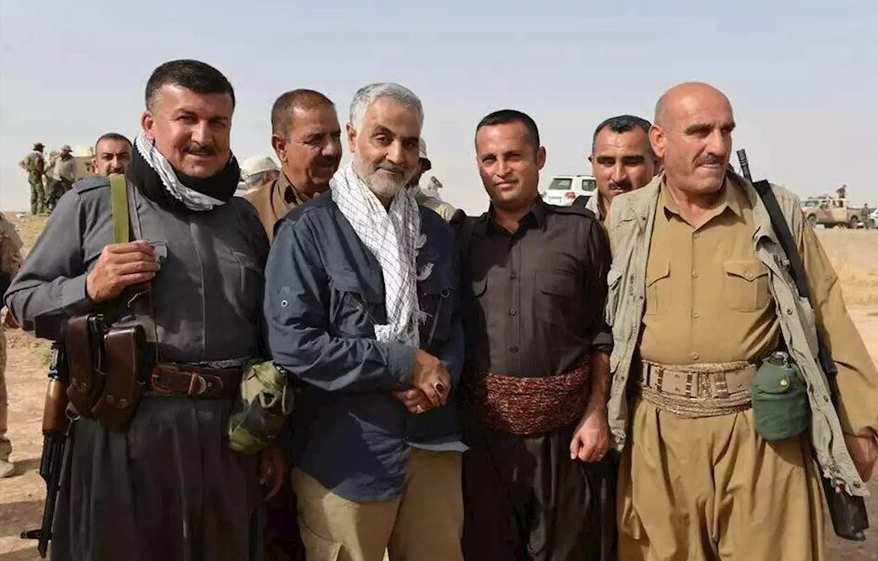 They always said very privately that I don't take a Koran for the missions I go to. I say now that Haj Qasim has been martyred. They used to tell me that most of the time I get caught in the income and expenditure of the last days of the month. They even told the person who was shopping for them to count these purchases carefully so that I don't end up waiting for a piece of bread on the Day of Judgment.
They once told me that they were given a red BMW by Hamas, and Mr. Khalid Meshaal repeatedly emphasized that it does not belong to the Quds Force, but to you. By the way, Haji said that it is one of these cars whose roof opens and closes, and Ali and I laughingly said that it is a sunroof, but they never accepted and used it, and in general, I never saw Haj Agha ride above Samand and Pars. Many times he even rode Pride.
I remember that once a building was prepared and presented to him by a friend who had bought a large plot of land in one of the suburbs around Tehran, but Haj Agha rejected it. I asked Haji why you did not accept this building, Haj Agha simply answered "because I don't have the money to pay for it" and when he saw that this answer seemed very interesting to me, he continued: "I avoid these things because It separates me and the people."
end of message/
You can edit this article

Suggest this article for the first page