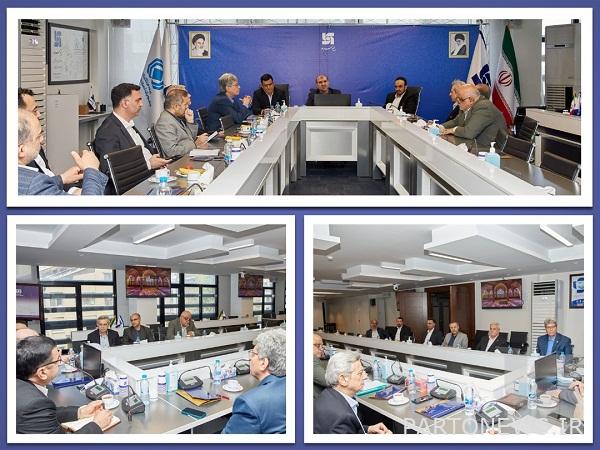 In the meeting with the representatives of the Retirees Association of Bank Saderat Iran, it was discussed;
According to the monetary financial news quoted by Sarmad Insurance Public Relations, Yaghoub Rashnavadi and a group of managers of this company met with the representatives of Bank Saderat Iran Retirees Association in order to improve the level of service to the bank's retirees.
Yaghoub Rashnavadi, who has been pursuing the promotion of service levels and increasing the satisfaction of Sarmad customers in particular since the beginning of 1401, this time went to the retirees of Bank Saderat Iran to host them in an intimate meeting and discuss ways to improve Sarmad services to these insurers. .
The CEO of Sarmad Insurance in this meeting, emphasizing on providing appropriate services to the retirees of Bank Saderat Iran, said: The main goal of Sarmad Insurance is to provide services and increase customer satisfaction, but in achieving this goal, we also have challenges that we must identify and solve. .
He added: "By expanding the circle of interactions with the Retirement Association of Bank Saderat Iran, we must increase the level of service delivery and reach a desirable point that is worthy of the name of Sarmad and honorable retirees."
Referring to the effective proposals presented at the meeting, Rashnavadi said: "Important issues and suggestions were raised at the meeting, which will be followed up to reach a conclusion, and these meetings should continue until the desired point is reached."
The CEO of Sarmad Insurance also said about Sarmad Insurance red line in relation to customers: "There is no justification for Sarmad customers' dissatisfaction and our red line in the company is customer satisfaction, which should be at the highest level, and it is this satisfaction that guarantees our success."
Referring to the attraction of large insurers such as the Social Security Organization, he said: "Attracting such large customers along with the extension of contracts with Imam Khomeini Relief Committee, University Jihad, Sugarcane Development Company and 4 big events that show the position of Sarmad Insurance in the insurance industry." Country and high customer satisfaction.
Rashnavadi re-emphasized the interaction with the retirement center of Saderat Bank of Iran and said: "This interaction can increase the satisfaction of esteemed retirees and maximize their satisfaction with insurance services."
Afshin Sanati Moghaddam, the representative of Saderat Bank of Iran Retirees Association, also emphasized on special interaction with Sarmad Insurance and said: Sarmad is the son of Bank Saderat Iran and retirees are the first defender of this company and defend Sarmad Insurance along with criticism.
He added: "Wherever necessary, we are ready to help Sarmad Insurance and retirees to improve the level of services so that their satisfaction with Sarmad insurance will reach the highest level."
In the continuation of this meeting, after the speeches of Toloui and Naseri from the representatives of the Retirees Association of Saderat Bank of Iran, the strategies for improving the services of Sarmad Insurance to the members of the association were reviewed.