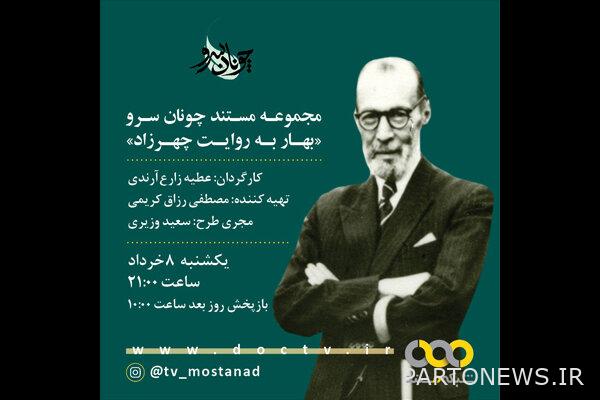 According to the Mehr news agency, the documentary "Spring according to Chehrzad" dedicated to the protection of the poet's poet Bahar, a well-known Iranian poet and writer, will be broadcast on Sunday, June 28, 1401, at 9:00 PM on the Sima Documentary Network. The repetition of this documentary will be aired on the documentary network on Monday, June 29, at 10:00 AM.
The producer of this TV documentary is Mostafa Razzaq Karimi, its director is Atieh Zare Arandi and the director of this documentary is Saeed Vaziri.
According to the director, the narrator of a major part of the life of Malek al-Shaar Bahar in this documentary is his son "Chehrzad", who has provided the audience with new dimensions of the life and behavior of this prominent Iranian poet, writer, politician and journalist. "Chehrzad" is the only relic of Mohammad Taghi Bahar (nicknamed the King of Poets) who lives in Iran, so his speech and memories in this film will expose the unspoken dimensions of his father to the viewers.
"Spring according to Chehrzad" is the third film in the 10-part series "Like a Cypress", which was commissioned by the Sima Documentary Network and produced by Mostafa Razzaq Karimi about ten prominent cultural and scientific figures of the country. The media consultant of this collection is Sadra Sadoughi, a journalist in the field of thought and history.
Mohammad Taghi Bahar (nicknamed the King of Poets) was born in 1265 AD in Mashhad. His father was named Mirza Mohammad Kazem Sabouri. Mirza Mohammad Kazem Sabouri was the queen of poets of Astan Quds Razavi during the reign of Nasser al-Din Shah; The position that after his death, by the order of Muzaffar al-Din Shah, passed to his son Mohammad Taghi Bahar.
Malek al-Sho'arai Bahar, the last great Persian ode poet, composer of the famous song Morgh-e-Sahar, Damavand ode, and… During his short life, he was not content with being a poet. He contracted tuberculosis in 1329.
Under his leadership, the "Iranian Society of Peace Supporters" was formed in Tehran, and he signed a contract with the Ministry of Culture to write the book "Stylistics of Persian Poetry", which remained unfinished due to illness. "Bahar" finally died of tuberculosis in 1961. His body was buried from Sepahsalar Mosque (Shahid Motahari) to the tomb of Zahir Al-Dawlah in Shemiran and was buried there.