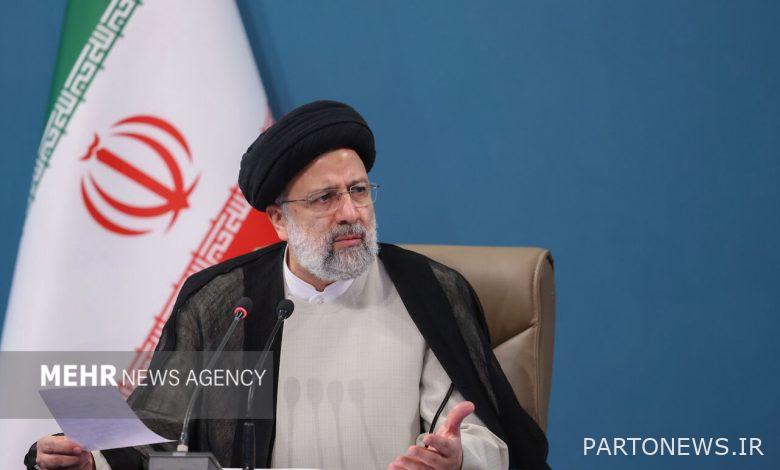 According to Mehr News Agency, Hojjatoleslam Seyed Ibrahim Raisi instructed the Minister of Cooperatives, Labor and Social Welfare to appoint a working team immediately today (Wednesday) in a cabinet meeting, referring to some protests against the demilitarization in the implementation of the democratization and subsidy justification plan. The declassifications should be examined and he stressed that justice should be done in paying subsidies.
He went on to say that "diligent pursuit" is the key to success in doing things and stressed: If a decision or resolution is not pursued seriously, no matter how much manpower and budget is used, the work will still not proceed and in a way The meeting remains on paper.
The President also expressed his sorrow over the train derailment on the Mashhad-Yazd route, offered his condolences on the death of a number of our compatriots in the incident, and issued orders to expedite the investigation into the causes of the incident and the injured and survivors.
At the beginning of his speech, congratulating Imam Reza (AS) on his blessed birth and explaining the meaning of the famous hadith of the Golden Dynasty, Ra'isi stated: "Wilayah is the most important issue in Islamic society and all religious leaders have emphasized the issue of false guardianship."
The President called justice the most important element in the province of Haqqa and said: a just government and society will not be formed only with the presence of a just Imam at the head of society and all pillars of governance and agents must have justice so that people can taste the sweet taste of justice.
He stated: All those who serve as a people's government in every part of the thirteenth government, should seek justice and act with justice by establishing their own just Imam.