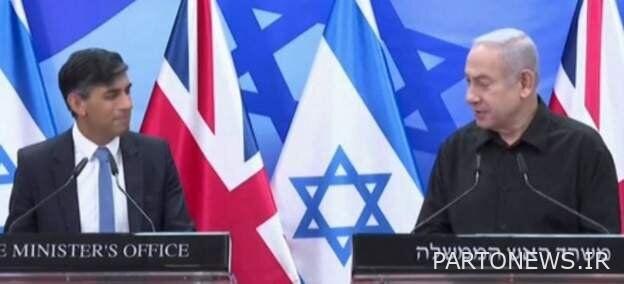 According to the online economy report, quoted by Isna, Shahab news agency announced that British Prime Minister Rishi Sonak, in a meeting with Israel President Isaac Herzog in Tel Aviv, ignored the crimes committed by the Zionist regime in Gaza and said: "You have a right to yourself." Defend and ensure the return of hostages (Zionist prisoners in Gaza).
He said: We condemn the attacks of Hamas and we want to allow aid to reach the people of Gaza.
The Prime Minister of England emphasized to the head of the Zionist regime: I am in Israel to support you and to stand by you against "terrorism".
Sonak continued: "I agreed with the President of Israel on the importance of immediate humanitarian support for the Palestinians who are suffering in Gaza."
Herzog addressed the British Prime Minister and said: BBC should introduce Hamas as a "terrorist" organization.
Sonak also met with Benjamin Netanyahu, the Prime Minister of the Zionist regime. In this meeting, Netanyahu once again called Hamas a "new neo-Nazi and ISIS" and said: We want to destroy the Hamas movement and we must win.
The world stood by you in your darkest hour, he said to Sunak. This is our darkest hour, this is the world's darkest hour. This is a long fight and we need your continued support.
Sonak also claimed that Hamas endangers the lives of civilians and said: We will continue to cooperate with Israel, especially regarding the release of the British hostages.
He also said that he welcomes Israel's decision to ensure that aid is allowed to enter Gaza. The UK will increase its aid to the region and work to provide more support to the people there as quickly as possible.
Sonak added: "We are all shocked by the scenes of hospital explosions this week and mourn the loss of innocent civilian lives everywhere."